C – I imagined something different than what was served.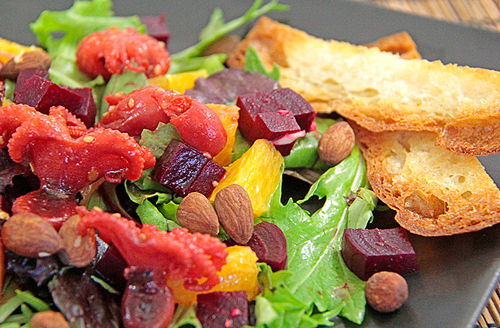 I really tried to like it. But, it kept on getting worse and worse as I ate it. I can't believe I have to do this. I have to send it back. It wasn't what I expected at all. There wasn't any flavor. The large octopus legs were overcooked and chewy. That was the thing I was looking forward to the most.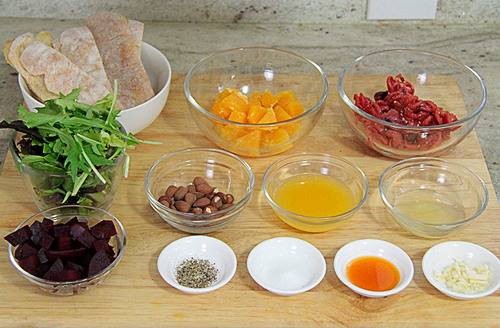 Wow, definitely not worth the $15 for a salad. It wasn't even a salad? Not in my book. Ok, enough negativity.

I had to make this the way I was expecting. Something with actual lettuce and flavorful octopus. I couldn't find fresh, raw octopus so I bought pre-made ones. The best pre-made that I could find were marinaded baby octopus. The baby octopus weren't tough or overcooked. They were nice and tender. Perfect to serve cold with the salad.

I liked the orange and the beets, but the Cafe Rouge salad was so one dimensional. There wasn't any color variety, since they only used orange beets and orange. I needed it to pop a little more. Purple beets did the trick. Colorful and a bit sweeter than orange beets.

Since I bought already marinaded octopus, I needed to make this salad blend well with the octopus seasonings. Orange juice and a little sugar to make it sweet. Tart from mustard and lemon juice. A touch a salt and pepper to round out the dressing.

It was delicious! This is what I wanted in the restaurant. Crispy lettuce, crunchy almonds with tender octopus. Flavorful fruits and vegetables with a great dressing. This was what I was expecting. I am glad I was able to execute it a lot better at Be Mindful. Be Human.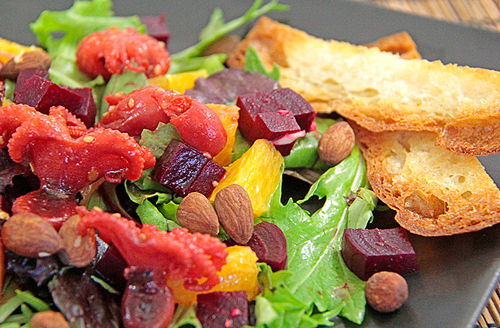 | | | |
| --- | --- | --- |
| Cafe Rouge Redux: Octopus, Orange and Beet Salad | | |
Prep time: 20 mins
Total time: 20 mins
Ingredients
2 Tbsp orange juice
1 Tbsp lemon juice
Salt and pepper to taste
½ shallot, minced finely
¼ tsp mustard
Pinch of sugar
Pinch of red chili flakes
4 Tbsp grapeseed oil
Marinaded octopus
1 orange, peeled and segmented out, cut into small pieces
1 red beet, boiled, peeled and cut into ¼ inch pieces
1 cup mixed greens
¼ cup toasted almonds
Toasted bread slices
Instructions
Mix the orange juice, lemon juice, shallots, mustard, sugar, red pepper flakes salt and pepper into a mixing bowl.
Slowly drizzle the grapeseed oil into the bowl while whisking. Whisk until the dressing is emulsified.
Place a tablespoon of dressing into the orange pieces. Mix well.
Place a tablespoon of dressing into the beets. Mix well.
Place a tablespoon of dressing into the mixed greens. Toss until dressing is covered.
Place mixed greens onto the serving plate.
Top with oranges.
Then add beets to the plate.
Distribute the octopus around the plate.
Sprinkle almonds around the plate.
Drizzle another tablespoon of dressing around the plate.
Place toasted bread slices on the side of the plate.
Serve.
Enjoy!
I think going to a restaurant can be a challenge, sometimes. What looks or sounds good can be disappointing. I couldn't believe I had to send it back. I still can't get over it.
On the bright side, I got a new idea to bring back. Great idea … needed a better execution.