C – When I attend a meditation retreat, the mushroom-barley soup they serve us is one of my favorite soups.
It's an amazing soup. It's the first soup they serve you. It always feels like a gateway drug that makes you want to stay. This soup isn't their mushroom-barley soup. It's nothing like it. I think it's better.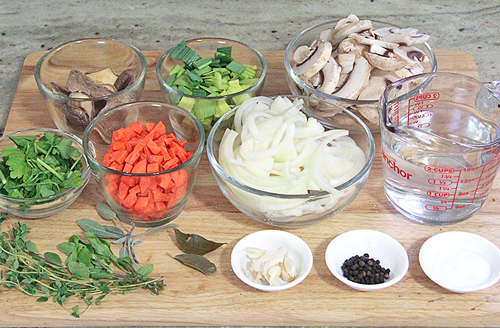 I am really amazed this mushroom-barley soup could be even better than the one at the meditation center.

I know the reason why my meditation center wouldn't serve this mushroom-barley soup. It has some wine in it.

It also has a lot of very expensive mushrooms. Not many people would serve porcini and shiitake mushrooms in a simple soup like this. But, it's so worth it when you do.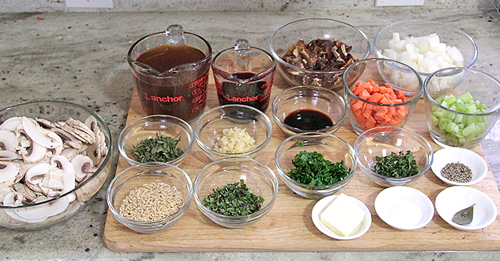 It's delicious. It's worth every penny. It's one of those soups to make to impress a vegetarian friend. They won't know what hit them.

Jim and I both agreed this soup had a perfect balance of flavors. There was a great sweet quality from all the vegetables. I loved the savory quality, also. I think it was the best part.

The mushrooms and herbs really gave it a great umami taste. It's one of those dishes I really didn't want to end.

I also loved all the great textures in the soup. I love that there wasn't too much barley. Cheap soups always put in too much barley to save money.

Yup, this is not a cheap soup. The perfectly cooked barley was a nice surprise.

The mushrooms were nice and hearty. They almost made it feel like there was some meat in it.
| | | |
| --- | --- | --- |
| Vegetarian Soup and Stew Week: Mushroom-Barley Soup | | |
Prep time: 30 mins
Cook time: 2 hours 30 mins
Total time: 3 hours
Ingredients
1 yellow onion, thinly sliced
1 leek top (green part), chopped and washed
4 cloves garlic, in their skin, crushed
1 ounce dried shiitake mushrooms
1 tsp salt
½ tsp peppercorns
½ pound white mushrooms, sliced
2 small carrots, chopped
6 sprigs parsley, coarsely chopped
3 fresh thyme sprigs
2 fresh marjoram or oregano sprigs
2 fresh sage leaves
2 bay leaves
9 cups cold water
6½ cups mushroom stock
½ ounce dried porcini mushrooms, soaked in ½ cup warm water for about 10 minutes
1 Tbsp unsalted butter
1 medium-sized yellow onion, diced
Salt and pepper to taste
6 cloves garlic, finely chopped
½ cup dry red wine
¾ cup carrots, diced
¾ cup celery, diced
⅓ cup pearl barley
1 bay leaf
1½ pound white mushrooms, thinly sliced
1½ Tbsp olive oil
Soy sauce to taste
1 Tbsp parsley, chopped
1 Tbsp thyme, chopped
1 Tbsp marjoram, chopped
1 Tbsp, sage chopped
Instructions
In a large pot, pour just enough water to start the onions cooking.
Add the onion, leek top, garlic, shiitake mushrooms and salt.
Give the vegetables a stir. Cover the pot and cook gently for 15 minutes over medium heat.
Add the remaining ingredients and cover with 9 cups of cold water.
Bring the stock to a boil, then simmer, uncovered for 1 hour.
Pour stock through a strainer, pressing as much liquid as you can from the vegetables. Discard vegetables.
Make the stock, strain it and keep warm over low heat.
Pour the porcini through a fine strainer and save the liquid to use later. Finely chop the porcini, discard any pieces that are gritty or hard. Set aside.
Heat butter in a pot and add the onions, ½ teaspoon salt and a pinch of pepper. Cook until softened. About 5 to 7 minutes.
Add the porcini mushrooms and half of the garlic. Saute for 2 minutes.
Add ¼ cup wine and the porcini liquid. Cook for 1 to 2 minutes, until the pan is nearly dry.
Add carrots, celery, barley, bay leaf and 4 cups of stock.
Bring to a boil, cover the pot and cook over medium heat for 30 to 40 minutes, until barley is tender.
While the soup is cooking, sear the white mushrooms in a saute pan. Work in batches to assure browning. For each batch, place ½ tablespoon of oil in the pan over high heat and add half of the mushrooms. Add ¼ teaspoon salt and some pepper. Let the mushroom liquid just evaporate and let the mushrooms stick to the pan. Don't stir them until they get golden brown.
Once golden brown stir for 1 to 2 minutes and add ½ the garlic.
Add a splash of soy sauce, 2 tablespoons red wine and some stock to deglaze the pan.
Add the first pan of mushrooms to the soup pot and repeat with the second batch.
Once the mushrooms have been added to the soup, add 2 cups stock and fresh herbs. Season with salt and pepper to taste.
Serve.
Enjoy!
The broth took a while to make. It was really worth the extra effort. The liquid was nice and silky. It was rich with wonderful flavors.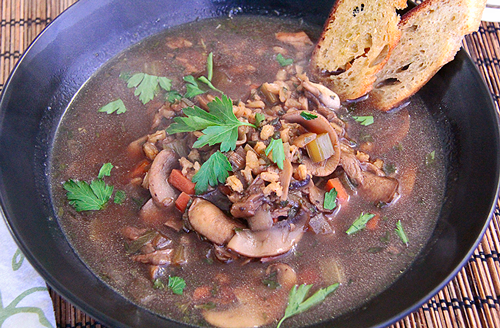 I am so glad we made a lot of this soup. It's so good.
Adapted from: "Fields of Greens: New Vegetarian Recipes From the Celebrated Greens Restaurant" By Annie Somerville