C – This is the best creamy vegetable soup I have ever had.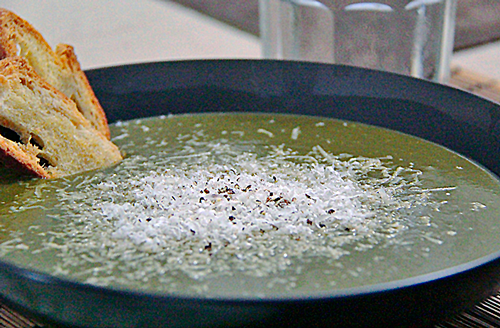 The best part, there's no cream! I am so glad Jim suggested that I look at Annie Somerville's "Fields of Greens" cook book for vegetable soup recipes. Each soup I have tried has been amazing. Of course, since it was so good, there are a few challenges.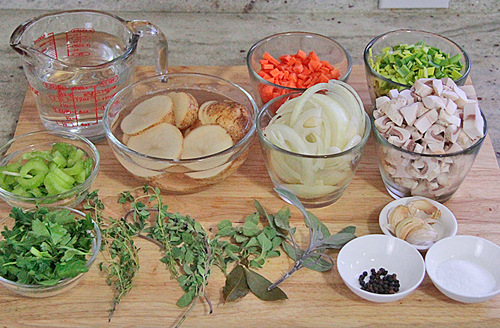 Basically, there are a lot of steps to making a good soup.
This soup requires a homemade vegetable stock. It seems daunting. But, it's faster than Luke's chicken stock recipe. This one takes only a little over an hour to make. It's really worth the extra effort.

I think the best part of the soup is cooking the potatoes, carrots and chard stems. The colors are amazing. A bit scary, since they are so colorful. I am always scared that a soup color will turn out a gross-looking brown.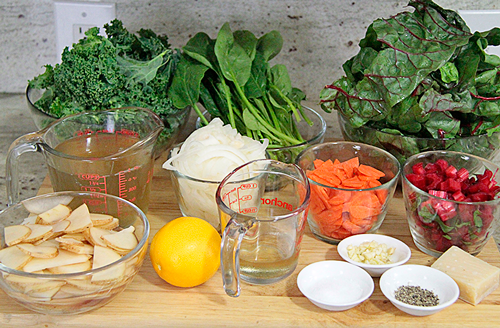 Jim tried to reassure me a few times that it wouldn't happen. I still wanted real proof. After adding three large bunches of greens into the soup, it did reassure me a bit.

I also loved that this step added a lot of flavor and gave it a great texture. Cooking the potatoes all the way down allowed the soup to be really creamy and silky. It was amazing.

The taste test was also amazing. I loved this soup. Sour, salty, savory, a bit sweet and super green. I felt healthier with every bite. The flavors really blended well together.

It's one of those soups where you really have to figure out what vegetables are in there. There are so many. It's complex in taste.

I loved telling my boyfriend what was in it. He was excited and proud of himself for eating all those vegetables. It's was pretty sneaky of me.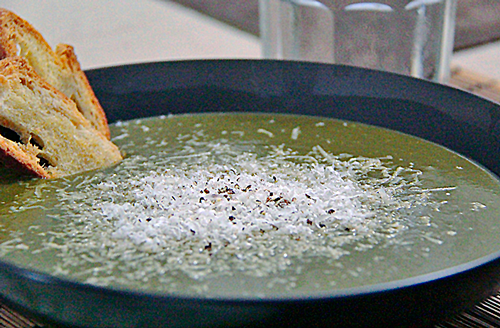 | | | |
| --- | --- | --- |
| Vegetarian Soup and Stew Week: Winter Greens Soup | | |
Prep time: 30 mins
Cook time: 2 hours
Total time: 2 hours 30 mins
Ingredients
1 yellow onion, thinly sliced
1 leek top (green part), chopped and washed
4 garlic cloves, in their skin, crushed
1 tsp salt
2 medium-size carrots, chopped
1 large potato, thinly sliced
¼ pound white mushroom, sliced
2 celery ribs, sliced
6 parsley sprigs, coarsely chopped
6 fresh thyme sprigs
2 fresh oregano or marjoram sprigs
3 fresh sage leaves
2 bay leaves
½ teaspoon peppercorns
9 cups cold water
¼ loaf of French baguette, thinly sliced on a bias
1 clove garlic minced
1 Tbsp olive oil
4 cups vegetable stock
1 tablespoon olive oil
1 large yellow onion, thinly sliced
Salt and pepper to taste
4 cloves garlic, finely chopped
1 cup chard stems, thinly sliced
1 medium sized potato, thinly sliced
1 large carrot, thinly sliced
¼ cup white wine
1 bunch kale, stems removed and leaves washed
1 bunch of green chard, stems removed and leaves washed
1 bunch spinach, stems removed and leaves washed
1 tablespoon fresh lemon juice
Garlic coutons (recipe below)
Grated Parmesan cheese
Instructions
In a large pot, pour just enough water to start onion cooking.
Add the onion, leek top, garlic and salt. Stir the vegetables, then cover the pot and cook them gently over medium heat for 15 minutes.
Add the remaining ingredients and cover with 9 cups cold water.
Bring to a boil, reduce the heat and simmer, uncovered, for 1 hour.
Pour the stock through a stainer, pressing as much as much liquid as possible from the vegetables, then discard them.
Preheat oven to 375 degrees.
Mix garlic and oil together.
Brush the garlic oil over each piece of bread on both sides.
Place in oven and bake until crisp. About 8 to 15 minutes depending on your oven.
Set aside.
Make stock and keep warm.
Heat olive oil in a pot and add the onion, ½ teaspoon salt and pepper. Saute onions for 5 to 7 minutes.
Add garlic, chard stems, potatoes, and carrots. Saute until heated through, about 5 minutes.
Add ½ cup stock, cover pot and cook for 10 minutes.
When vegetables are tender, add white wine and simmer for 1 to 2 minutes, until pan is nearly dry.
Stir in kale, chard, 1 teaspoon salt, some pepper and 3 cups stock.
Cover the pot and cook the soup for 10 to 15 minutes, until chard and kale are tender.
Add spinach and cook for 3 to 5 minutes, until just wilted.
Puree the soup in a blender or food processor until smooth. Thin with more stock if it is too thick.
Season with lemon, salt and pepper.
Garnish with croutons and a sprinkle of Parmesan.
Serve.
Enjoy!
I think I need to name this awesome vegetable soup. It's amazing. I really couldn't stop eating it.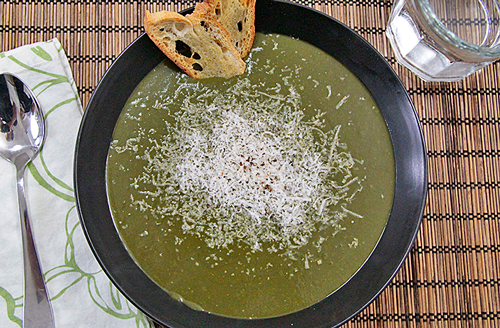 I finished my bowl and started going for my boyfriend's. It's that good.
Adapted from "Fields of Greens: New Vegetarian Recipes From the Celebrated Greens Restaurant" By Annie Somerville.