C – If I could caprese every meal I would.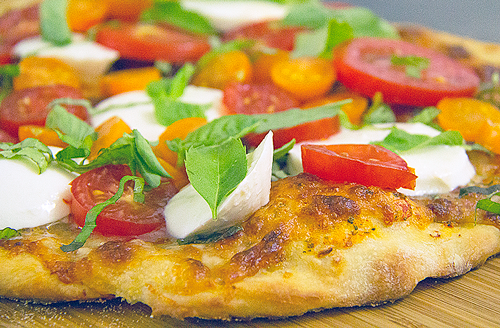 I love the simple combination of tomatoes, fresh mozzarella cheese and basil. It's one of my favorite summer dishes when all of the tomatoes are ripe and the basil is growing like a weed.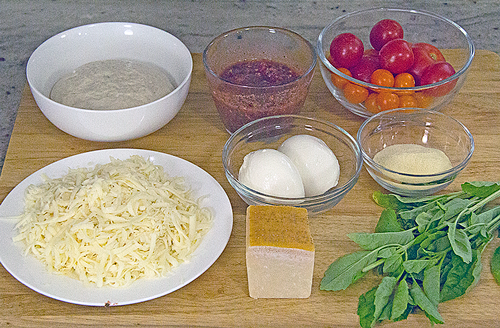 I just wish I could get that mozzarella tree to grow. Life would be great.

I put caprese ingredients on this pizza. It's amazing. This is not a Margarita pizza, with mozzarella cheese, tomato sauce and fresh basil.

This is a caprese pizza. It's loaded with melted and fresh cheese, tomato sauce, fresh tomatoes and basil.

The tomato sauce combined especially well with the crispy, warm, gooey cheese. The mixture of the melty cheese with the fresh basil and fresh tomatoes on top is amazing. It's fresh, yet still has all the qualities of a good, warm pizza.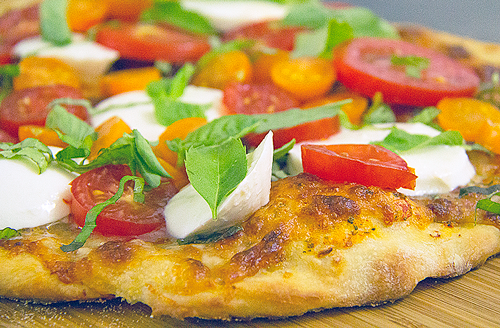 | | | |
| --- | --- | --- |
| Tomato Week 2016: Caprese Pizza | | |
Prep time: 15 mins
Cook time: 12 mins
Total time: 27 mins
Ingredients
½ pizza dough recipe. Bring out the dough an hour before hand to get to room temperature and allow the yeast to activate
¼ cup bread flour for dusting
2 Tbsp semolina flour for dusting
1 cup simple, light tomato sauce of your choice
1 cup dry mozzarella cheese, grated
½ cup grated Parmesan cheese
8 oz fresh mozzarella cheese, sliced
4 cherry tomatoes, halved
2 Champion tomatoes, sliced
10 Sun Gold tomatoes, halved
20 small basil leaves, chiffonade 10 of the leaves
Instructions
Preheat oven to 500 degrees with a pizza stone on the top shelf for an hour before cookimg
Lightly dust a flat working surface with flour and flatten the dough with the palm of your hands. Flatten and stretch the dough into a 12 inch round.
Dust a pizza board with semolina flour. Place the flattened dough on the pizza board.
Top the dough with a thin layer of tomato sauce.
Top the pizza with the dry mozzarella cheese and grated Parmesan cheese.
Slide the pizza on to a pizza stone. Bake for 12 minutes, turning half way after 6 minutes to allow even cooking.
Remove pizza from the oven and top with the chiffonade basil.
Top the pizza with the fresh mozzarella, tomatoes and fresh basil.
Serve immediately.
Enjoy!
Pizza Dough recipe
Eat this pizza quickly. Like with any caprese salad, the longer you wait the less enjoyable it is. Once the pizza is cold, the fresh mozzarella isn't quite as good as when it's fresh.
So eat this when it's freshly made.