C – With practice, things get easier.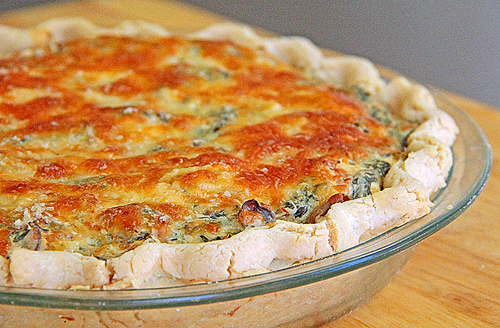 Without practice, it will always be a challenge. Using pie dough is getting easier and easier. I guess practicing during the holidays and with the requests to make quiches, tarts and pies for my husband and his friends has allowed me to practice this year.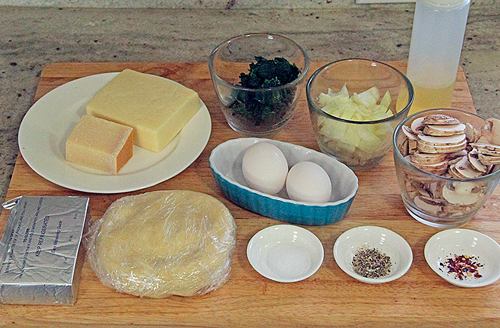 Although, I do feel like pie season is coming to an end for me.

I have been making way too many of these delicious things. We are almost sick of them.

I needed to have more ideas to use this pie dough, so I can get more practice using it. Do you have any new ideas? Please let me know.

I came up with this idea wondering how to make a savory pie without making it a pot pie. This one is simple, but very rich. You really can't eat a lot of it. I usually add a side salad with the quiche to lighten up the dish.

The crust is flaky and tender. I used to par-bake the crust, but it really isn't needed. The spinach and mushrooms have great texture. I love the cream cheese and egg mixture.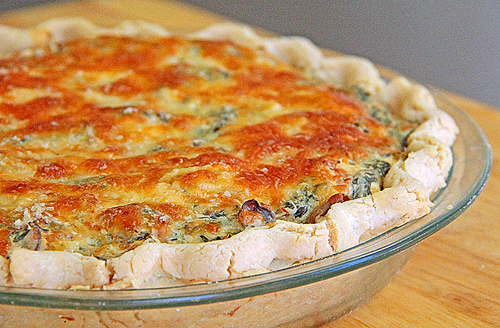 | | | |
| --- | --- | --- |
| Gluten-Free Pie Week 2016: Gluten-Free Spinach and Mushroom Quiche | | |
Prep time: 15 mins
Cook time: 45 mins
Total time: 1 hour
Ingredients
1 Tbsp grapeseed or canola oil
2 cups cremini mushrooms, sliced
½ yellow onion, chopped
4 oz frozen spinach, thawed and water completely squeezed out
Salt and pepper to taste
A pinch of red pepper flakes
8oz cream cheese room temperature
½ cup Parmesan, grated
1 cup sharp cheddar cheese
2 eggs
¼ tsp paprika (optional)
¼ tsp Cayenne pepper (optional)
1 Gluten-Free pie crust (recipe link below)
Instructions
Preheat oven to 350 degrees.
In a medium saute pan, place oil and mushrooms along with a pinch of salt and pepper on medium high heat. Saute until golden brown on both sides.
Add onions and saute until soft. Add a pinch of red pepper flakes, salt and pepper.
Remove from heat. Place mixture into a bowl to cool slightly.
Add spinach, cream cheese, Parmesan, cheddar, eggs, paprika, Cayenne, salt and pepper to taste. Mix well and set aside.
Lightly sprinkle some gluten-Free flour over a flat, clean surface. Sprinkle some more flour over the top of the dough and rolling pin. Roll dough out to an ⅛ inch thick or to fit your pie pan.
Place rolled dough in pie pan and shape to fit.
Pour spinach mushroom mixture into the pie pan. Spread the mixture evenly.
Top with more cheddar and Parmesan cheese.
Bake for 30 to 35 minute, or until the crust and the top is golden brown.
Remove from oven and let it sit for at least 10 minutes before serving.
Slice up and serve.
Enjoy!
Gluten-Free Pie Crust recipe
I think it's a lot better than adding milk to make a custard. It makes the mixture more dense and filling. It also cooks a lot faster than with milk.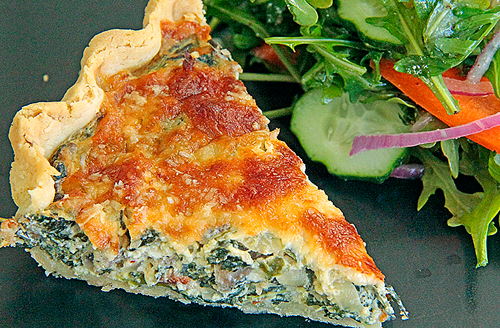 I am so proud of my pie crust making skills. It's getting better and better.