J – This is one of the coolest techniques I learned from Luke.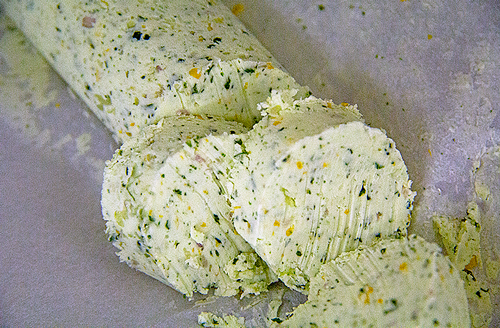 … in addition to the spatchcock cut for chicken. Makes you feel like a pro. Once you get it, you can make it with just about any tasty combination of herbs and spices.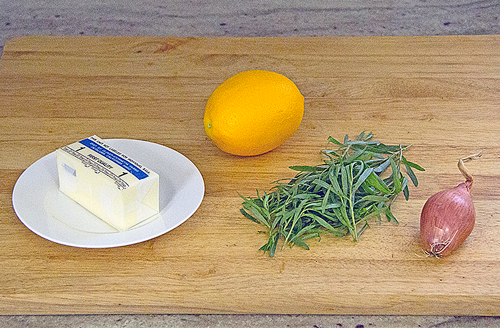 Imagine just one step to get all the spices, flavors and butter you want into a dish.

There is no salt or pepper. Important, because you have flexibility in finishing a dish.

In the case of spatchcocked chicken, I just slip "coins" of compound butter under the skin in about eight places.

Then, I lightly oil, salt and pepper the outside skin and place it on a flat rack in a sheet pan.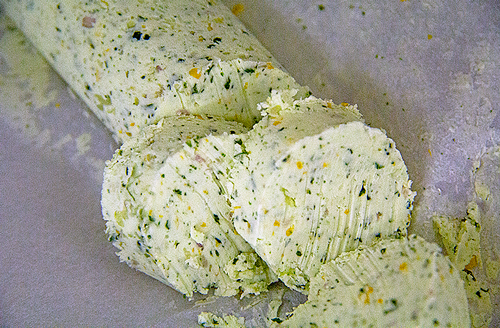 | | | |
| --- | --- | --- |
| The Friday Special: Tarragon Lemon Shallot Compound Butter | | |
Prep time: 30 mins
Total time: 30 mins
Ingredients
1 stick unsalted butter, room temperature
¼ cup fresh tarragon, unpacked
½ lemon, zest
½ shallot, rough chopped
11" square of parchment paper
Instructions
Place the tarragon, lemon zest and shallot into a food processor. Chop until fine.
Add butter and blend until well incorporated.
Place the compound butter slightly off center (front to back) on top of parchment paper. Fold the parchment paper over and push a small baking sheet, held upside down like a long-edge tool, to compact the butter and form a long round stick. Twist each end of the parchment to create a seal similar to a candy wrapper. Place into the freezer for at least 20 minutes to firm up.
Use in flavoring meats and vegetables, or it is great for spreading on bread.
Enjoy!
Roast at 425 degrees until it's 150 degrees on an instant read. No need to flip. The rack is elevated so you get even heat top and bottom.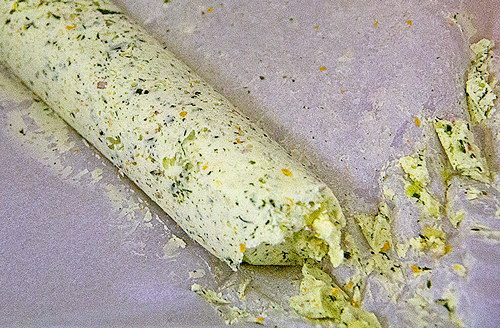 Compound butter holds as long as regular butter in the fridge. Experiment with different combinations. It's nice to have choices.