C – I'm not sure if I made this cake right.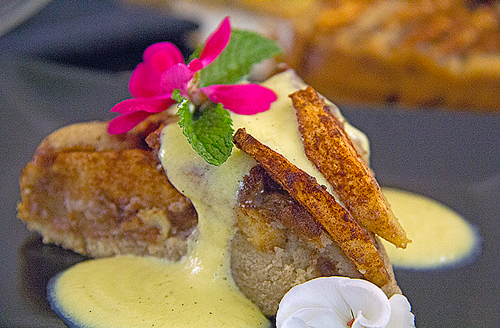 The recipe was a little vague. There were no pictures, no reviews and no words from the chef. So I assumed a few things …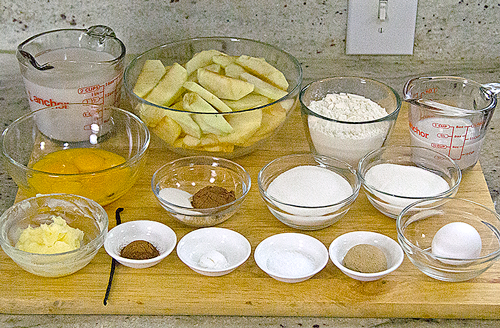 While making this recipe by Marcus Samuelsson, I started thinking about my own recipes that I write. Are they vague or too complicated? I know I have made a few mistakes on my recipes. No one is perfect. We do try to fix them when we see the mistakes.

I had to read this recipe a few times. One of the biggest things I didn't like about the original recipe was not knowing what kind of pan to use. Spring form? Round cake pan? Bundt pan? Silicon cake mold?

It just said to use a mold. What? So, I assumed it was a spring form pan. We also have three different sizes in our pan collection, so I didn't know which sized to use.

I assumed it was the usual 9 inch size. It's the standard size everyone usually uses. But, I am sure any 9 inch round pan will do.

Then came pouring the batter to the pan. Is this right? It's appeared to be a really small amount. Maybe I didn't cream the butter enough.

I guess I shouldn't have been so lazy and creamed it for a full 5 minutes to get more air into the cream and make it really fluffy.
The next step was my biggest confusion. Dump the apples on top. Umm … I don't like dumping things on top, unless I know it's really going to work.

Will all of the apples be touch the batter? So I artfully arranged it. Making sure every piece of apple touched the cake batter.
The cake turned out nicely. The instructions were very vague on how to serve it. I had to have more assumptions on pouring the vanilla sauce over the top. If it could be served chilled our had to be at room temperature.

Maybe I was over thinking this. But, honestly, I needed to make sure I was doing it right to get the best taste from the cake.

The cake was great. I loved the apples. I used a mixture of Fuji and Granny Smith apples to give the cake different textures.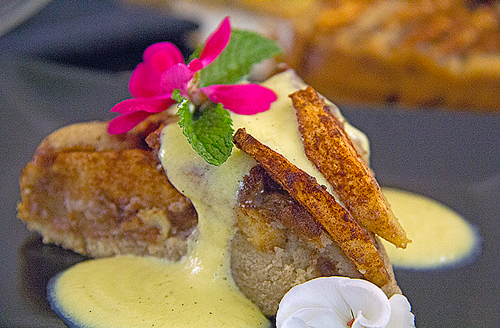 | | | |
| --- | --- | --- |
| Chef and Cookbook Thursday: Apple Cake with Vanilla Sauce | | |
Prep time: 30 mins
Cook time: 55 mins
Total time: 1 hour 25 mins
Ingredients
4 apples, peeled and sliced into thin slices
1 tsp cinnamon, plus 1 tablespoon cinnamon
1 Tbsp granulated sugar
⅓ cup butter
½ cup granulated sugar
1 Tbsp brown sugar
1 egg
½ cup milk
1 cup all purpose flour
½ Tbsp baking powder
¼ tsp kosher salt
1 vanilla bean
2 cups milk scalded
6 egg yolks
½ cup granulated sugar
A pinch of kosher salt
Instructions
Scrape the vanilla bean into scalded milk.
Whisk yolks and sugar.
Add a little hot milk to the yolk and sugar mixture. S
pour back into the hot milk.
Stir continuously with the wooden spoon over a low heat until it starts to thicken. Make sure it doesn't come to a boil.
Strain and let cool. Or chill and serve cold.
Serve over apple cake.
Enjoy!
Preheat oven to 350 degrees.
Toss apple slices into a bowl with 1 tablespoon of cinnamon and 1 tablespoon of sugar.
Melt butter and brush a 9" spring formed mold with the a little of the melted butter. Let the remaining butter cool to room temperature and add ½ cup of sugar and the brown sugar. Whisk the butter and sugar until fluffy. About 5 minutes.
Add egg with milk into the mixture and whisk.
Stir in the flour, baking soda and teaspoon of cinnamon.
Pour into the mold and spread out evenly.
Arrange slices of apple on top.
Bake for 40 – 55 minutes or until there is no cake batter remaining on a toothpick when tested.
Let cool.
Serve with Vanilla Sauce.
Enjoy!
I loved that it wasn't too sweet and the vanilla sauce complimented the cake well. It didn't overpower itself by being heavy. It was nice and light. I could see myself serving this after a great meal.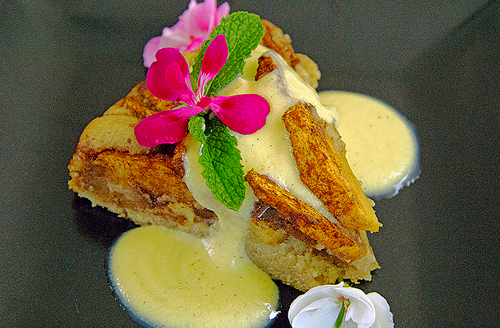 Was I over thinking this recipe? Maybe. But I am glad I did. It turned out nice … and I think I wrote more specific instructions for it.
Adapted from: http://www.foodnetwork.com/recipes/grandmas-style-apple-cake-with-vanilla-sauce-recipe