J – Herb-infused oils are magical.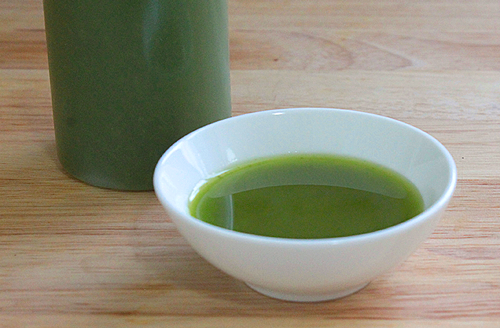 Typically, they are used as a finish on warm or hot dishes and release their aroma with the increase in temperature. A little like finishing salts. The affect can be subtle or powerful, depending on the herb. On a recent Sunday brunch journey to enjoy Luke's cooking, I tried a sweet-potato hash with lardons, Fresno chili, sunchokes and mushrooms topped with poached eggs and finished with a chive-infused grapeseed oil.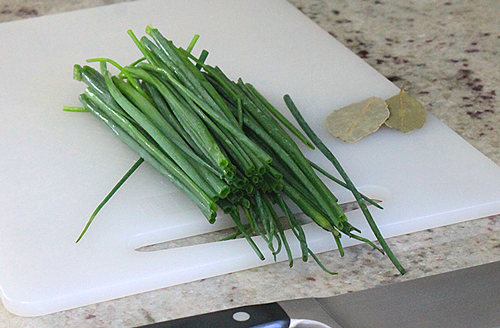 Delicious. The aroma of the chives was released by the heat of the dish. Since aroma is a large part of taste, the experience was all the richer. Of course, I knew I could get the recipe … hehe.

When I asked him, Luke's comment was in character: "That will take 5 minutes. So, what else are we doing?" Five minutes, if you know what you're doing. Otherwise, forget it. There are a couple of tricks. As usual.

First trick. Do not overheat the herbs in the oil. Very low heat, not even a simmer. Second trick. Use really good, neutral-flavored oil. The herbs are the star of this infusion. Once we had the ingredients on the counter, it didn't take much more than 5 to 10 minutes to get the job done.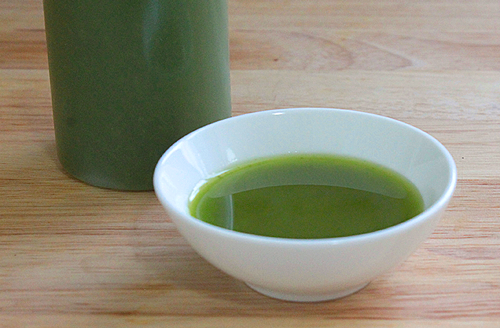 Recipe type:
Sauce, Techniques
Prep time: 5 mins
Cook time: 5 mins
Total time: 10 mins
Ingredients
3 bunches of fresh chives, divided
8 ounces of good grapeseed oil (Use just about any good oil you like. This one is particularly neutral in flavor.)
2 bay leaves
Instructions
Rough chop two of the chive bunches.
Heat the oil on a low simmer in a small sauce pan. Add the chives and bay leaf.
Heat on very low until the chives start to turn dark.
Medium chop the last chive bunch
Strain chive oil from the pan and add the fresh chives into a good blender. Discard the heated herbs.
Puree on high for several minutes. Let cool.
Store in an 8 oz squeeze bottle in the refrigerator.
Serve at room temperature or slightly warmed.
Enjoy!
The result was great.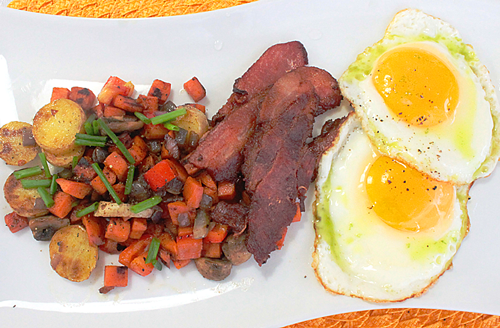 Of course, we had to try it on Christina's version of sweet-potato hash and eggs. Fabulous. Then, we tried dipping warm sour dough bread into the slightly warmed chive infusion. Subtle and yummy. I could also image a bit of white balsamic paired for dipping as well.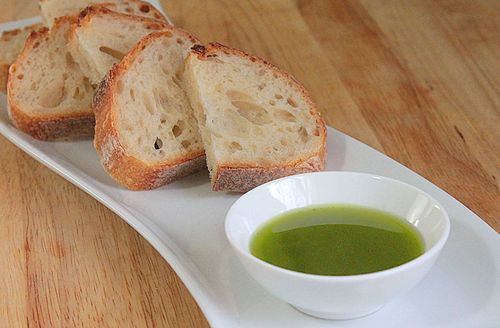 Thanks, Luke, for another great treat.