Update and Redux: C – Chocolate cookies that are flourless. It's one of the best things on Earth.
C – I was in the middle of the bake-a-thon …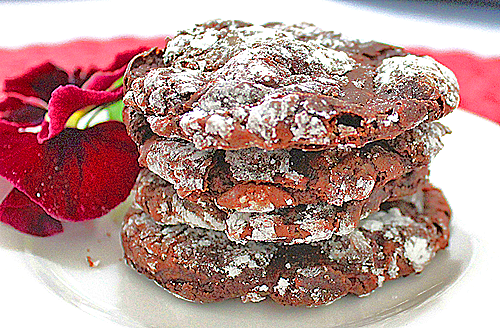 Two cookies down. Lots more to go. Hour three was going well. There was no stopping me … Well, there was one thing. I actually had to work. A two-hour client meeting that I needed to be in. Yikes!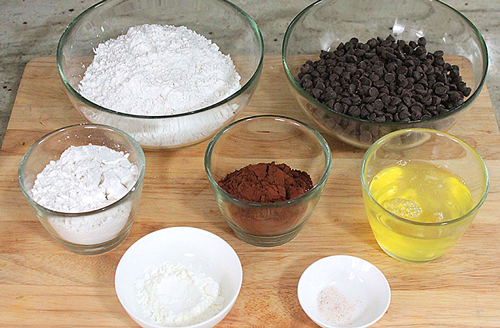 It was rescheduled to the middle of the bake-a-thon. This doesn't look good for me. I didn't have any time to spare.

Thank goodness Be Mind. Be Human. invested in a few new toys like a new oven, a bigger food processor and a hand mixer. Can't wait until we get a bigger kitchen so we can fit a stand mixer in there. Right now, this kitchen is too small for one.
No more whipping things for hours by hand. I was so glad I didn't have to whip this up by hand. I don't even want to think about how awful my arms would have felt afterwards. Thank goodness I had a machine to do all the hard work.

These flour-less dark chocolate cookies were amazing. They tasted like crispy chocolate marshmallows. Light and fluffy, but really rich in chocolate. People at the hack-a-thon really liked it.

I am so glad these were a big hit. They were pretty hard to make with that hand mixer. Next time I make these it will be with a stand mixer. Using a hand mixer to beat eggs whites to soft peaks is easy. But, making a marshmallow fluff with this takes much longer. It was a tough 20 minutes watching over the mixture and whirling it about with the hand mixer. This is where the bake-a-thon was getting to my patience. Is it done yet? Is it done yet? Maybe, now? Nope.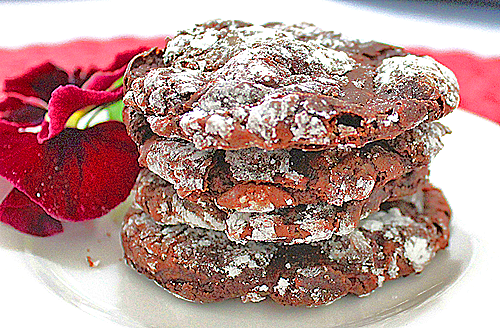 | | | |
| --- | --- | --- |
| Flour-less Dark Chocolate Cookies | | |
Prep time: 25 mins
Cook time: 15 mins
Total time: 40 mins
Ingredients
1½ cups bittersweet chocolate chips
3 large egg whites, room temperature
2 cups powdered sugar, divided (plus ½ cup for cookie coating)
½ cup unsweetened cocoa powder
1 Tbsp cornstarch
¼ tsp salt
Instructions
Preheat oven to 350 degrees
Line baking sheet with parchment paper.
Melt 1 cup chocolate chips in a double boiler. Cool slightly.
Using stand mixer, beat whites in large bowl to soft peaks.
Gradually beat in 1 cup sugar.
Continue beating until mixture resembles soft marshmallow cream. About 15 to 20 minutes.
Whisk 1 cup sugar, cocoa, cornstarch and salt in medium bowl to blend.
On low speed, add dry ingredients into meringue mixture.
Mix lukewarm chocolate mixture and ½ cup chocolate chips (dough will become very stiff).
Place ½ cup sugar in bowl. Roll 1 rounded tablespoon dough into ball; roll in sugar, coating thickly. Place on prepared sheet. Repeat with remaining dough, spacing 2 inches apart.
Bake until puffed and tops crack, about 10 minutes. Cool on sheets on rack 10 minutes.
Transfer to rack to cool.
Store in an air tight container.
Serve.
Enjoy!
The cookies turned out great. I wish the instructions would have told me not to place them so close. They spread out. A lot of them didn't make it into the hack-a-thon because they didn't meet my aesthetic requirements.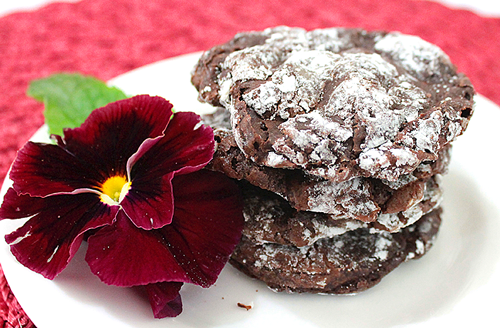 Rich, delicious and great for a big party of people who love sweets.
Adapted from: http://www.picklee.com/2012/02/07/deep-dark-chocolate-cookies-butter-flourless/