C – I was a bit skeptical when I heard we were making a vegan gravy.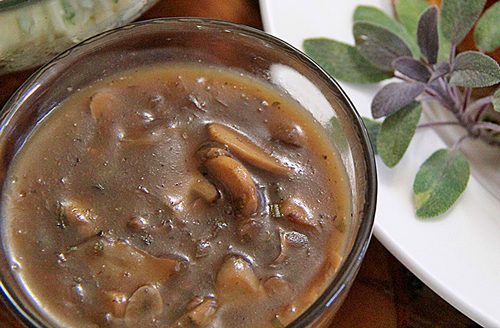 What makes it vegan? Luke isn't one to support things with no meat or dairy products and HE suggested it. I had to see this with my own eyes. Was it going to taste good? Of course, pretty much anything Luke touches will taste incredible. So, why do I doubt.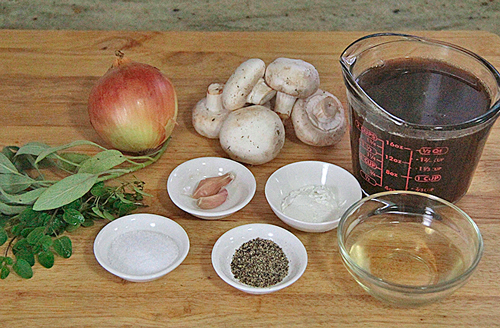 How do you make the gravy thick? A big question. Simple answer, add cornstarch.

This gravy isn't a heavy, creamy gravy, like your normal butter, flour and pan drippings gravy. No. This one is a light, silky gravy that you want to take a bath in.

Luke really did it. And, I doubted him. I loved the mushrooms in the sauce. It just makes it so wonderful. Luke wanted a thick gravy, so our sauce had quite a bit of cornstarch.

It was nice and thick when it was freshly made. But, when we reheated it, I had to add a bit of water to make it thinner.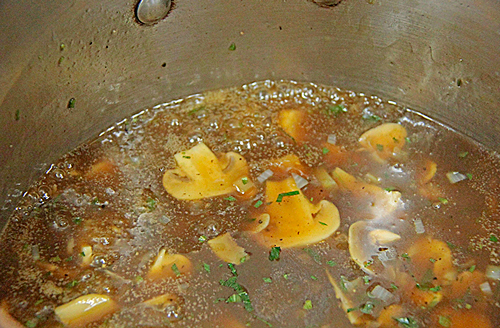 If you add too much cornstarch, it might have a Chinese food quality to it. So, be careful not to keep adding cornstarch.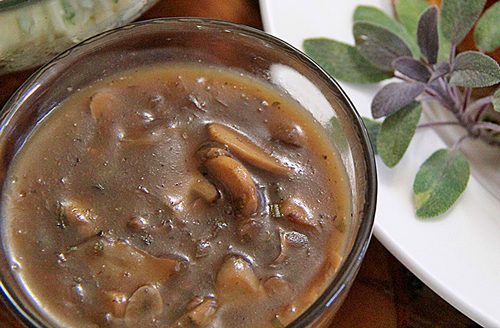 | | | |
| --- | --- | --- |
| Thanksgiving Week: Vegan Mushroom Gravy | | |
Prep time: 15 mins
Cook time: 30 mins
Total time: 45 mins
Ingredients
1 yellow onion, thinly sliced
1 leek top, chopped and washed
4 garlic cloves, skin on and crushed
1 oz dried Shiitake mushrooms
1 tsp salt
½ tsp peppercorns
½ pound white mushrooms, sliced
2 small carrots, chopped
6 parsley sprigs, coarsely chipped
3 fresh thyme sprigs
2 fresh oregano sprigs
2 fresh sage leaves
2 bay leaves
9 cups cold water
2 to 2½ Tbsp cornstarch
6 mushroom, sliced
salt and pepper to taste
¼ cup white wine
½ onion, small dice
2 garlic, minced
2 sprigs fresh sage, minced
2 sprigs fresh oregano, minced
2 cups reduced Mushroom Stock (4 cups reduced by half)
Instructions
In a large stock pot on medium heat, add just enough water to get onions started. About 1 cup.
Add onion, leek top, garlic, shiitake mushrooms and salt.
Stir the vegetables and cover. Cook gently for about 15 minutes.
Add the remaining ingredients and cover with 9 cups cold water.
Bring the stock to a boil, then simmer for 1 hour.
Gently pour the stock through a strainer, pressing vegetables to capture more liquid. Discard the vegetables and the last bit of liquid and sediment in the pot.
Reserve stock for later use. Freezes well. Stock may be reduced by any amount up to 8:1 to conserve freezer space.
Mix 2 tablespoons of cornstarch with equal amount water in a small bowl.
Heat a sauce pot on medium high.
Add a tablespoon of canola oil.
Add mushrooms into the pot and cook for 2 minutes
Add salt and pepper to taste.
Add white wine.
Add onions, garlic and herbs. Mix well.
Add stock and heat through.
Add cornstarch mixture.
Cook until thicken. It still not thick enough mix more water and cornstarch together to make it thicker.
Season to taste if needed.
Serve.
Enjoy!
I think this was the best part of my Thanksgiving dinner. I loved slathering it on everything on my dinner plate.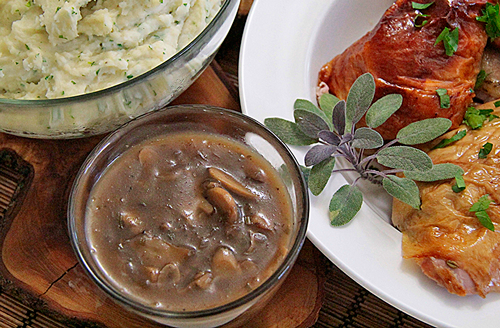 Hope you enjoy. Make a lot.