Update and Redux: C – Add these ingredients to a galette and it will be gone in minutes. This one is perfect for Fall. It's filled with lots of vegetables and fruits. Perfect for snacks, an appetizer or a meal.
C – I am so addicted to Jessica's flaky pie crust.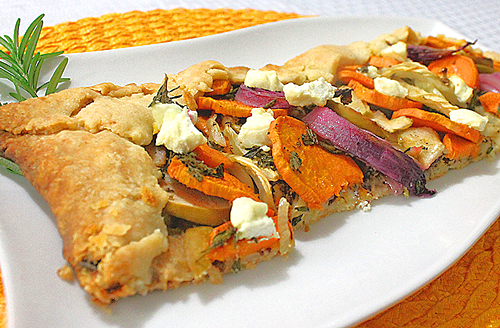 I have been making this crust almost every week. I love how tender and flaky it is. I have been using it for a lot of things. Mainly galettes. Jim is sort of responsible for this … he loves galettes of any kind and has been asking for them. Of course, I wouldn't make them if I didn't think I'd like them. Lucky for Jim that I do.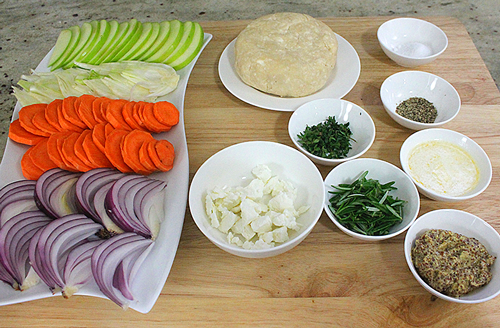 This buttery, flaky and tender dough is easy to work with and tastes so good with anything.
I made a sweet potato, apple, fennel and onion galette, topped with goat cheese. We had it for breakfast, lunch and dinner. It was so good and filling, I had to make it twice.

I loved every bit of it.

There's a surprise in it. Whole grain mustard.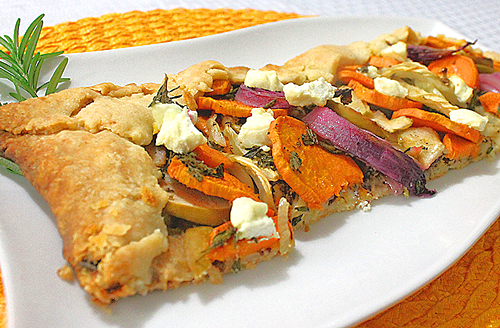 | | | |
| --- | --- | --- |
| Sweet Potato, Apple, Fennel and Onion Galette | | |
Prep time: 25 mins
Cook time: 55 mins
Total time: 1 hour 20 mins
Ingredients
Jessica's Pie Crust Recipe
See instructions under the Apple Pie post [link below]
1 large Granny Smith apple, halved, cored and unpeeled.
1 whole fennel bulb. Trim off fronds and stalks. Clean up bottom of bulb.
1 small sweet potato, peeled
1 small red onion peeled, root end trimmed but intact
3 Tbsp unsalted butter, melted
2 tsp chopped fresh rosemary
2 tsp chopped fresh thyme
Salt and pepper to taste
2 Tbsp whole-grain mustard
⅓ cup goat cheese
Instructions
Cut each apple half into thin slices and put them in a large bowl.
Slice sweet potato, fennel and cut the onion into similar sizes as the apples.
In a small bowl, mix butter, rosemary, thyme, salt and pepper together.
Pour butter and herb mixture evenly on the vegetables. Mix gently.
Preheat oven to 400 degrees.
Roll out dough into a rectangle. Transfer dough onto baking sheet and brush mustard on top of dough, leaving a 2-inch border.
Start 2 inches from the edge, place fruits and vegetables in a layered pattern, overlapping each other halfway. If you have extra pieces, tuck them anywhere you can.
Fold dough over the edge of the filling.
Bake until the crust is brown and the apples, sweet potatoes, fennel, and onions are tender and caramelized. About 45 minutes.
Scatter crumbled goat cheese over filling and bake until melted, about 5 minutes more.
Cool the galette briefly on a wire rack.
Cut and serve.
Enjoy!
Jessica's pie crust recipe in Apple Pie
I didn't think mustard was going to be a good addition. But, I am glad I kept it in from the original recipe. It really brought out the flavors of the vegetables and the herbs. The tangy sharpness of the mustard added depth to every bite. Something seemed to be missing in certain bites without mustard. Nice surprise.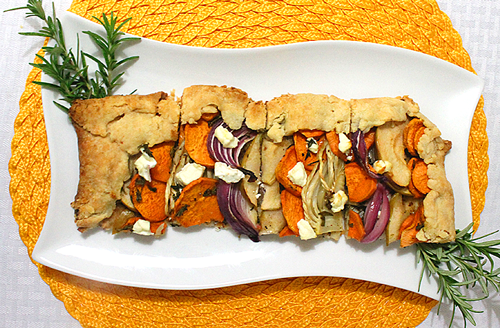 I'm sure I'll be making this again. Enjoy!
Adapted from: http://www.foodnetwork.com/recipes/food-network-kitchens/butternut-squash-apple-onion-galette-with-stilton-recipe/index.html