Update and Redux: J – Sometimes over-the-top is the only way to go. For example, the lowly iceberg lettuce wedge with ranch dressing. Boring. Boring. Boring. No matter what great piece of steak is on the next plate, it's boring. And, Christina was astonished at the $4.00 price tag. This would not do. So, she set out to upgrade this dish to an ultimate, over-the-top presentation. Delicious.
C – Is it really a salad when you have just lettuce and ranch on a plate?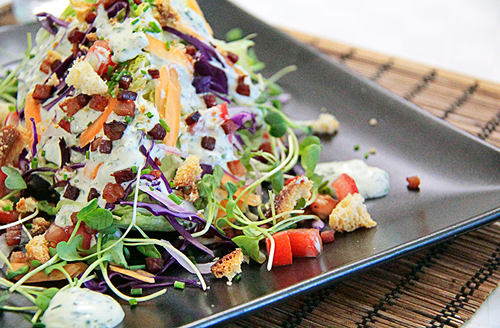 For some restaurants and some people it is. I couldn't believe it when I saw this on a menu. It seemed like a waste of $4.00. It was. Was this the only salad at this restaurant? Yup. It was even stranger when a friend of mine served it at a 4th of July party.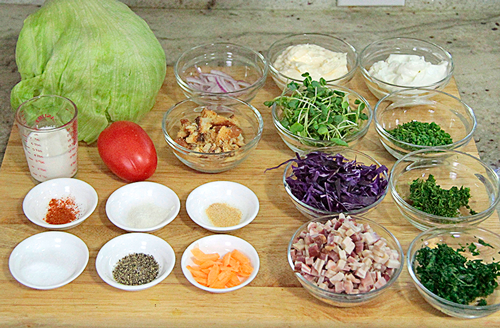 Really? #foodsnob. You couldn't figure out something healthier? Of course, load it up with ranch from the bottle, too. #extremefoodsnob, #ithinkiamgoingtobesick Well, I guess I have to make an ultimate lettuce wedge salad just to get my #'s out of the way.

I actually love iceberg lettuce. It's one of my favorite types of lettuce. I just wish it had more nutritional value. I love the crispiness and the crunch. I even think it is a really flavorful lettuce. Paired with ranch dressing it's the best. All you need to add is a lot of stuff to really make it good.

I really can't eat a plain old salad. I load mine. Occasionally, these salads aren't too healthy. But, it will be loaded with some great things. Like bits of bacon, bread crumbs, homemade ranch dressing from scratch and lots of vegetables to balance out that huge iceberg lettuce wedge in the middle of the plate.

This ultimate salad really becomes filling and delicious. I couldn't believe it was so filling. The iceberg lettuce is full of water and really makes you full after eating it along with the other goodies.
I really liked it. Of course, I can't eat it everyday since ultimate means adding a lot of delicious ranch dressing. Once in a while is alright, though.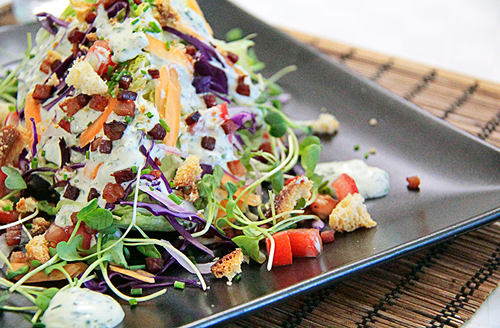 | | | |
| --- | --- | --- |
| 4th of July Week: Ultimate Lettuce Wedge Salad | | |
Prep time: 15 mins
Total time: 15 mins
Ingredients
¾ cup sour cream
½ cup mayonnaise
3 Tbsp heavy cream
2 Tbsp parsley, minced finely
1 Tbsp dill weed, minced finely
¼ cup chives, minced finely
½ tsp garlic powder
¼ tsp onion powder
Pinch of cayenne pepper
Salt and pepper to taste
1 head of iceberg lettuce, cut into quarters
1 tomato, diced
⅛ red cabbage, sliced thinly
½ cup lardon, cut into small pieces and cooked until crispy
¼ cup chives, chopped finely
1 carrot, sliced thinly
2 slices of spring onion
¼ cup fresh pea shoots
Instructions
Place sour cream, mayonnaise, heavy cream, parsley, dill, and ¼ cup chives in a food processor and blend well.
Remove from food processor and place in a bowl. Add salt, pepper, cayenne pepper, garlic powder, and onion powder. Mix well. Taste and adjust seasoning if needed. Place dressing into a squeeze bottle.
Place a wedge of lettuce on a plate.
Squeeze ranch dressing over the lettuce.
Sprinkle red cabbage, carrots, lardon, tomatoes, spring onions and more ranch dressing over the lettuce.
Sprinkle chives over top.
Place radish sprouts around the lettuce wedge.
Dollop a few drops of ranch around the plate for extra dipping if needed.
Serve.
Enjoy!
I think this would make a fun 4th of July salad. A huge salad with lots of good things really feels like Summer.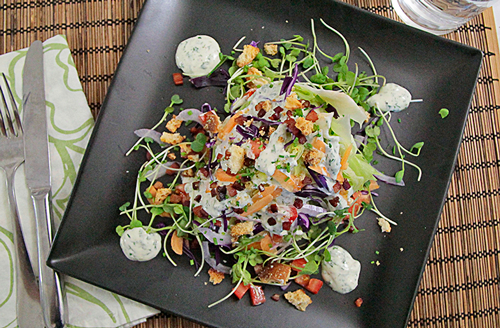 You could set up a salad bar and have people place what ever they want on their iceberg lettuce. Fun, different and creative thing for your guests.