Update and Redux: C – Forget wanting to make jams with your strawberries. Make this hassle free dish instead. I am in love with these roasted strawberries with white balsamic. I put them on top of yogurt, ice cream and eat it with bread. It's so delicious and so much easier than making jam.
C – Strawberries are my favorite fruit.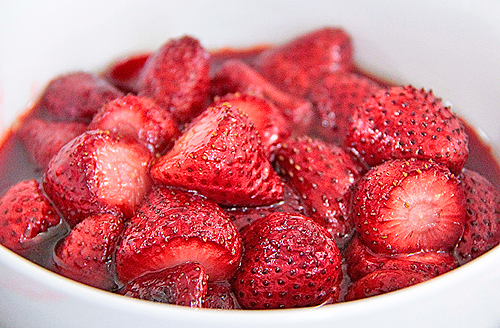 I love when I can find a perfectly ripe strawberry. They are so indulgent. My perfect dessert is a bowl of perfectly ripe strawberries. That will make me very happy.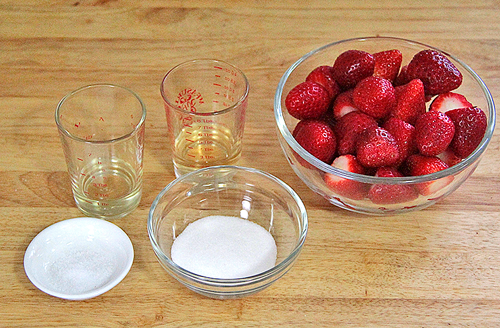 What makes me even happier? Roasted strawberries and ice cream.

I couldn't believe strawberries got even better by roasting them with white balsamic vinegar. Everyone uses red balsamic vinegar. I am not really a fan of red balsamic. It's too acidic and has a strong flavor for me. It also reminds me of eating a salad, since I use so much red balsamic vinegar in salad dressings.

A good quality white balsamic is lighter, less acidic and sweeter than red. I decided to use the white version in the recipe. The results were amazing. Once I topped the ice cream with a few strawberries and placed it in my mouth, a flavor explosion happened.

A truly blissful moment. A very loud, unexpected Mmmmm happened. Neither Jim nor I expected it to be that loud. But, it was. I was a bit embarrassed and not embarrassed at the same time.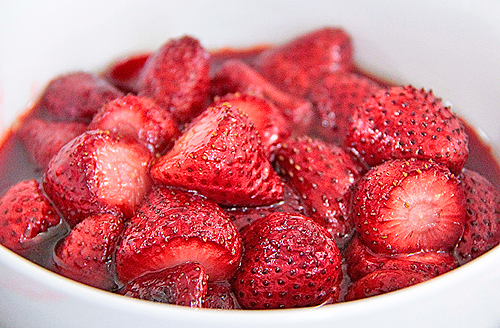 | | | |
| --- | --- | --- |
| Strawberry Week: Strawberries Roasted with White Balsamic Vinegar | | |
Prep time: 10 mins
Cook time: 45 mins
Total time: 55 mins
Ingredients
1 pound fresh strawberries, stems removed
2 Tbsp white balsamic vinegar
2 Tbsp granulated sugar
Pinch of salt
1 Tbsp grapeseed oil
Instructions
Preheat oven to 350 degrees.
Mix all ingredients together.
Place on a parchment lined baking sheet.
Bake for 40 to 45 minutes.
Remove from oven and place in storage container, including all the liquid.
Serve immediately or store for up to a week.
Enjoy!
The strawberry juice squirted inside my mouth. The sweet, salty, slightly sour flavor danced on my tongue. Oh, it was amazing. I love white balsamic vinegar. It really adds to the strawberries and doesn't overpower them. It's an amazing way to enhance your ice cream and enjoy strawberries.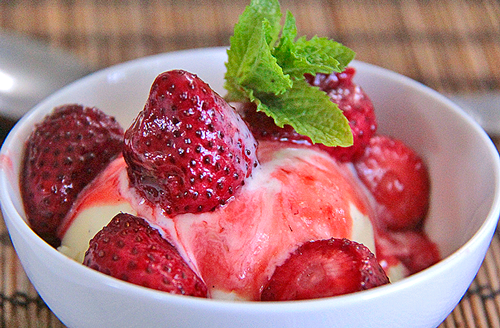 If you are looking for a new way to top ice cream with strawberries … without an extremely sweet syrup … try this. It's amazing.