J – I love spicy sausage.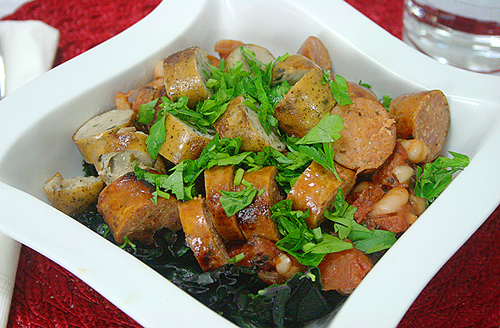 I would eat it straight … if I could say I was being mindful. But, I can't say that. Too much of a good thing is, well, too much. So, I invented this dish. I'm sure I've seen many protein + white bean recipes out there, so I'm not claiming originality.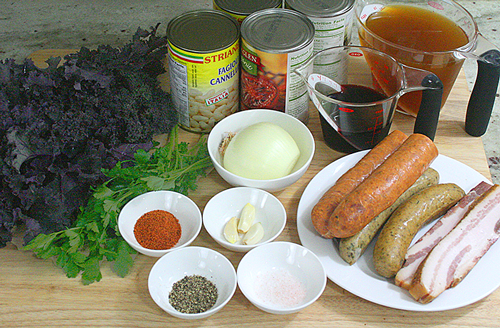 I just really like it. And, it's fast!

Yes, some ingredients are out of a can. If you're a purist, you could do your own white beans from scratch. Or, make your own tomato sauce. I'm not a purist. And, no, I'm not using our Easy Tomato Sauce recipe.

It's really good. But, in this case, it's just a bit too much of a sauce.

I want the tomato sauce to play a supporting role to the white beans and the sausage.

Then, there's Christina's friend Kale. Kale is such a great companion for the white beans and tomato sauce. Taken together, they all let the sausage stand out as the star.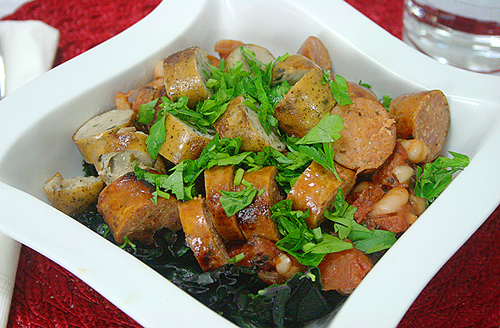 | | | |
| --- | --- | --- |
| Spicy Sausage with White Beans and Kale | | |
Prep time: 15 mins
Cook time: 30 mins
Total time: 45 mins
Ingredients
¼ pound bacon, cut as lardon cubes
1 Cajun andouille sausage, fully cooked, cut in half
2 chicken-parmesan sausages, fully cooked
2 14.5 ounce cans, fire-roasted, diced tomatoes, juice drained and reserved
2 14.5 ounce cans white kidney beans, drained and rinsed
½ a medium yellow onion, small dice
3 cloves garlic, minced
½ cup dry red wine
2 cups low-salt chicken stock
1½ tsp Cajun spice mix
Salt and fresh black pepper to taste
¾ bunch red kale. More if you're feeling healthy
2 Tbsp parsley, chopped
Instructions
Remove kale leaves from stems. Tear leaves into chunks.
Heat salted blanching water for kale. Blanch kale for about a minute. Drain and set aside.
In a large saute pan, cook bacon cubes. Set aside. Reserve bacon fat, leaving 1 tablespoon in the pan.
Saute onion on medium until transparent. Add garlic, mix well and saute until onion begins to turn brown.
Add red wine and reduce until wine is gone. Add reserved tomato juices and spices. Reduce slightly.
Add chicken stock and reduce by ¾ on high heat.
Add diced tomatoes and the reserved bacon pieces. Mix will and reduce heat to low to warm the tomatoes thoroughly.
Add salt and pepper to taste.
Heat grill or flat-top to medium high.
Brush sausages with reserved bacon fat. Heat on grill, turning as they begin to char slightly.
Add white beans to the sauce. Turn heat to medium to heat sauce through. DO NOT boil.
Remove sausages and slice into 1" chunks.
Place servings of kale in individual bowls.
Add white bean/tomato sauce on top of kale.
Add chunks of sausage, dividing evenly between andouille and chicken-apple pieces.
Top with chopped parsley.
Enjoy!
There's another wonderful benefit to this dish. The best one. I get to eat big chunks of spicy sausage and feel reasonably mindful of my health.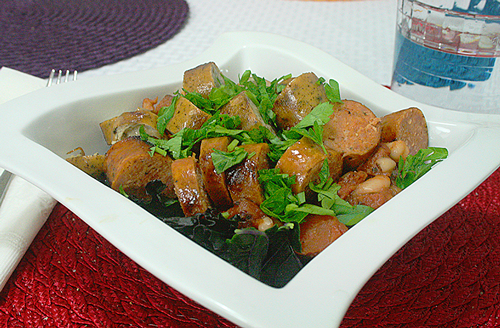 Got to love that!