J – I won't be using canned tomato sauce again.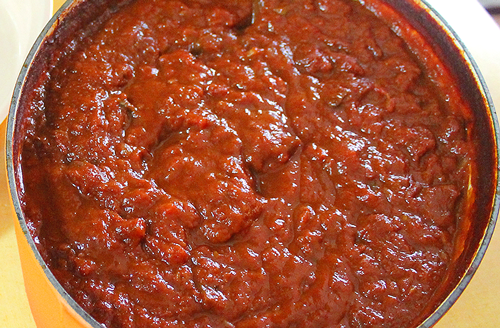 Or, my own thrown-together-at-the-last-minute sauces. I make quite a few dishes with a tomato-based sauce. I always start with the same things: onion, garlic, cans of tomato stuff, wine, etc. and then I throw it together. It's always different. Sometimes I like it. Sometimes not. Well, those days are over!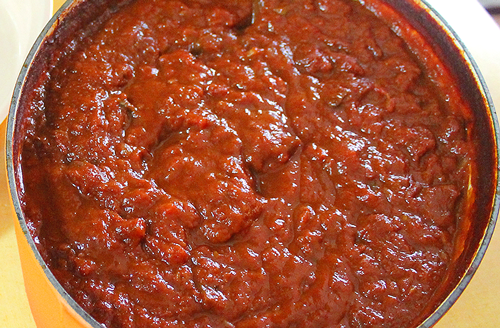 | | | |
| --- | --- | --- |
| Easy and Thick Tomato Sauce | | |
Prep time: 20 mins
Cook time: 1 hour 20 mins
Total time: 1 hour 40 mins
Ingredients
2 yellow onions, small dice
1 red onion, small dice
10 garlic cloves, sliced thin
2 red bell peppers, small dice
1 bunch oregano, chiffonade
½ bunch thyme, chiffonade
½ bottle (375ml) red wine
1 lb mushrooms, sliced thin
2 large (29 oz) cans tomatoes, chopped. Or, use 4 to 5 pounds of fresh tomatoes, cored and chopped.
1 large (29 oz) can tomato puree
1 small (6 oz) can tomato paste
Salt and pepper to taste
Chile flakes to taste
Instructions
Sweat all vegetables in large pot until soft
Add garlic and herbs, deglaze pan with red wine. Reduce wine on medium-high heat
Once the red wine is almost gone, add tomato products and heat to just before a boil. DO NOT boil.
Partially cover pot and reduce to a simmer for about 1 hour
After one hour, if the sauce is to consistency, remove from heat. If you want a thicker sauce, continue simmering.
Add salt, pepper and chile flake to taste
Use immediately or can be frozen. Freeze in one pint containers for ease of use.
When we were making the Vegetarian Lasagne and a Cioppino you'll see soon, Luke used a tomato sauce he made beforehand. I couldn't believe how great it tasted and how easy it was to make.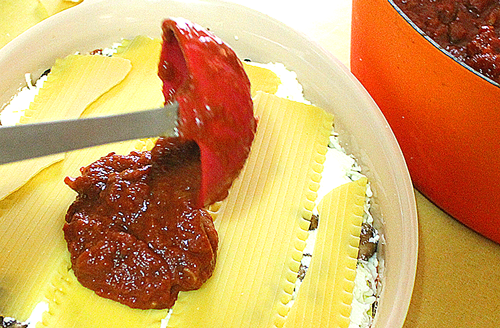 Thanks, Luke, for a great tomato sauce recipe.