J – Discovering another culture's food is awesome.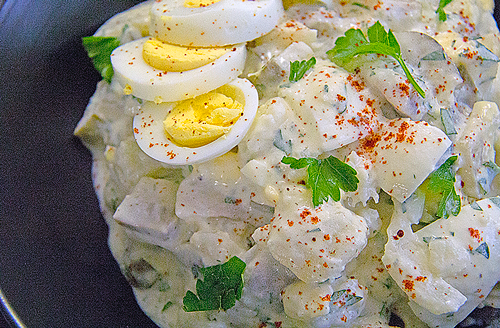 … especially when one's guide is as delightful as my new friend. Polish. Four languages. Mindful practice. Foodie. Charming. Fits right in. This is going to be fun.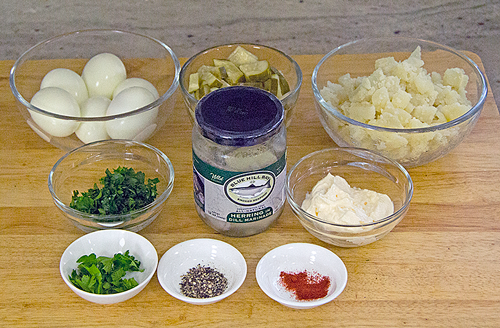 Of course, I have many questions.

Me: What's in a Polish sausage?
She: Which one? There 20 kinds, at least.

Me: What can you make with herring?
She: Lots. Let me show you a simple salad …
With that, we were off to the store for supplies. Wow, herring is cheap! And, I saw five different herring marinades.

Super easy to make. Potatoes take the longest. When they are done and cool, everything assembles in a couple of minutes.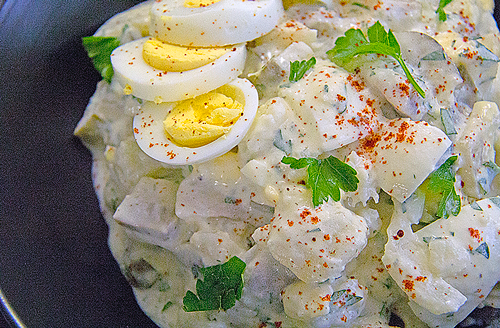 | | | |
| --- | --- | --- |
| Soup/Salad Tuesday: Polish Marinated Herring Creamed Salad | | |
Recipe type:
Sides, Snacks
Prep time: 10 mins
Total time: 10 mins
Ingredients
6 hard boiled eggs, peeled
1½ cups cucumber pickles, sliced into coins and quartered
1½ cups marinated herring, plus marinade juice for flavor
¼ cup parsley, chopped, plus more for garnish
1½ cups boiled Russet potato, peeled and diced
⅔ cup mayonnaise, more or less if needed
Freshly ground black pepper to taste
Smoked Paprika for garish
Instructions
Place cucumber pickles and potatoes into a large mixing bowl.
Cut the herring into bite sized pieces. Add it to the bowl. NOTE: Wear gloves. Herring has a strong smell.
Add parsley, mayonnaise, black pepper and a few tablespoons of the herring liquid. Mix well and taste.
Cut 4 of the hard boiled eggs into quarters lengthwise. Add it to the mixing bowl and mix well. Break the egg whites into smaller pieces.
Slice the 2 remaining eggs for garnishing.
Plate the salad, top with hard boiled egg, garnish with parsley and paprika.
Serve as a side dish, eat it on it's own or place it on crostini.
Enjoy!
This dish is good for about three days in the fridge. But, it's easy to make more. Turns out this salad goes with all sorts of things. Steak. Burger. Crostini. By itself.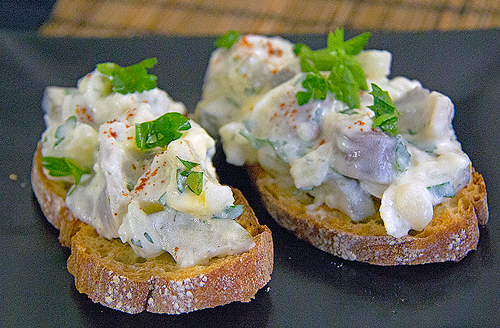 Now, what's the next Polish dish?