Update and Redux: C – On the go or just wanting a sandwich in wrap form? This avocado chicken wrap is perfect for you.
C – I can never figure out where to put the dressing in a spinach wrap.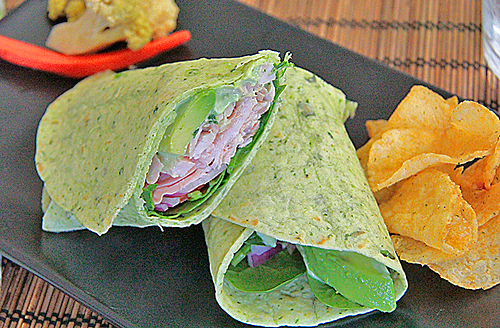 Do you put it on the wrapper or on top of all the vegetables and meat? I got these confused looks one time when I went to a sandwich shop and I asked to put the dressing on the wrapper. The person making the wrap told me it would go soggy before I could enjoy it. She was right.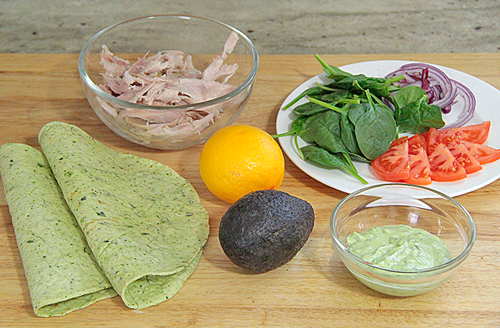 But, I also hate when they put too much of the dressing inside the wrap and the dressing gets all over the place. That's not enjoyable either. Of course, not putting any into the wrap is even worse. A wrap that's dried out and flavorless isn't worth paying for or eating. Asking for dressing to be put in a container so you can dip it later is just plain wrong. What to do? I guess I will just have to make it my own. Or, just suck it up and eat what I bought.

I liked the idea of making a wrap and putting the dressing on top of all of the stuff. That way the wrapper doesn't get soggy and fall apart. I need to make this stuff inside flavorful, so I don't need a lot of dressing. Then, it won't drip everywhere. But, I need enough dressing so the wrap isn't dry.
First off a flavorful roasted chicken. Jim's been practicing his roasted chicken technique. Adding this to the wrap was amazing. Second, a flavorful wrap. We had spinach tortillas. Some times we get wraps seasoned with herbs for chipotle, which is great too.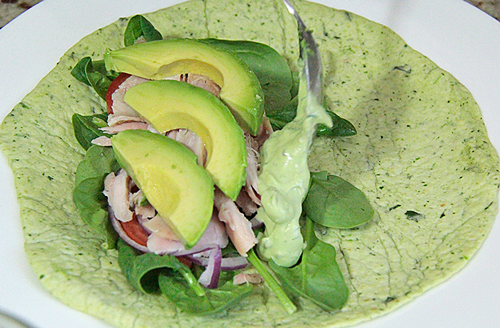 The most important part is adding a well seasoned dressing like the avocado ranch dressing we just made. It is thick and creamy. Healthy, too, if you use it in moderation. Placed on the side of the meat and on top of the spinach so it can spread a bit around the entire wrap. Not just in one spot.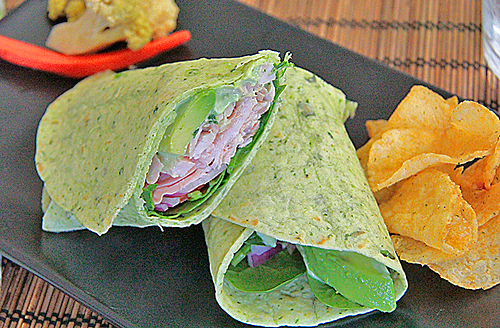 | | | |
| --- | --- | --- |
| Avocado Week: Avocado Chicken Wrap | | |
Prep time: 6 mins
Total time: 6 mins
Ingredients
2 spinach tortilla shells
2 cups roasted chicken, shredded
¼ cup avocado ranch
½ red onion, sliced
1 tomato, sliced
1 avocado, sliced
½ lemon juice
1 handful baby spinach leaves
Instructions
Place tortilla shell on a plate.
Top one side of the tortilla with spinach.
Add half each of the tomatoes, red onion and chicken
Drizzle lemon juice over avocados and place on top of the pile.
Place the avocado ranch on the side of the wrap and not on top. The dressing will spread when rolling. It will cover more of the chicken and spinach that way.
Roll tightly.
Cut in half.
Repeat for second tortilla.
Serve.
Enjoy!
The taste test. A great crispy, fresh wrap that wasn't soggy. Full of flavor. I loved that there wasn't any dressing dripping out of the wrapper. Not mess on my face either.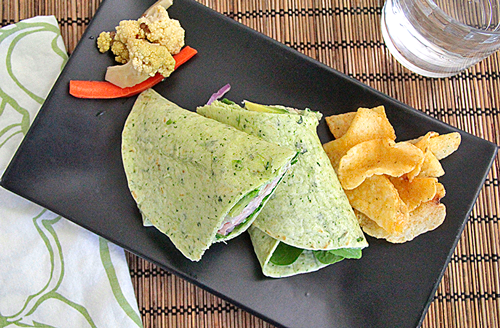 I really enjoyed this wrap. Of course, if you don't like having a small amount of dressing in your wrap, you can always have extra on the side for dipping.