C – Jim says Parisians don't snack.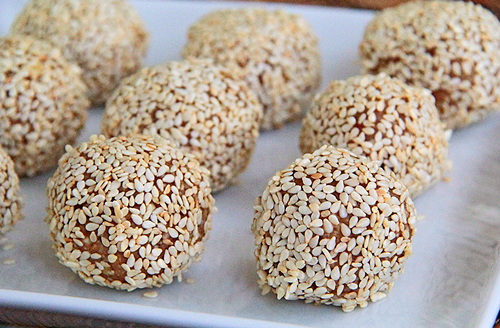 I don't know how that's possible, but good for them. I have to snack. I love nibbling on things. It decreases my chance to have hunger pains and start getting mad at everyone who gets in my way. So, snacking is a good thing.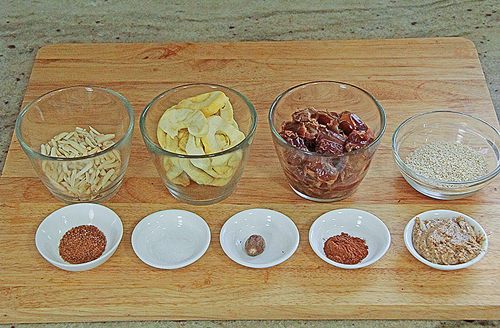 Of course, healthy snacks are better than junk food.

Things like chips and candy are a favorite of mine. But, they usually don't fill me up. They just satisfy me in the moment.

I really couldn't believe how satisfying these apple pie almond butter balls were. One ball and I am satisfied. It's a great quick, sweet snack that can also be a dessert.

One of the best things about these apple pie almond butter balls is that they are delicious fresh. I am used to buying the store bought date/energy balls that are dry and not that great.

These are soft and tender … a little gooey with some crunch from the almonds. I didn't expect they would be so easy to make.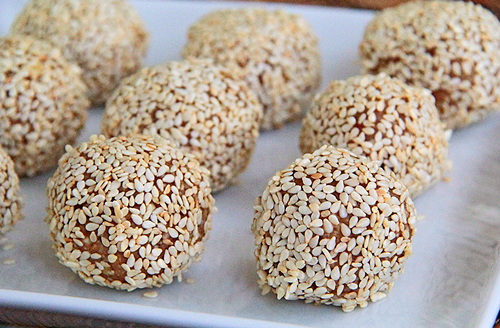 | | | |
| --- | --- | --- |
| Snack Week 2016: Apple Pie Almond Butter Energy Balls | | |
Prep time: 1 hour 10 mins
Total time: 1 hour 10 mins
Ingredients
1 cup dried, unsweetened apple rings
1 cup packed, pitted dates, soaked in hot water for 10 to 15 minutes, drain before processing
½ cup slivered almonds
2 Tbsp raw almond butter
1 Tbsp ground cinnamon
¼ tsp ground nutmeg
1 tsp organic coconut palm sugar
2 Tbsp of water, if needed
¼ cup toasted sesame seeds for rolling
Instructions
Place all ingredients, except the water and sesame seeds, into a food processor.
Blend until fine. If you are having trouble completely blending until fine, add about 1 tablespoon of water at a time until you can blend it well.
Form one tablespoon balls and roll in toasted sesame seeds.
Place in refrigerator for at least an hour before serving.
Serve.
Enjoy!
Snacks are a part of my life and I am not changing it. These are perfect. Just eat one or two.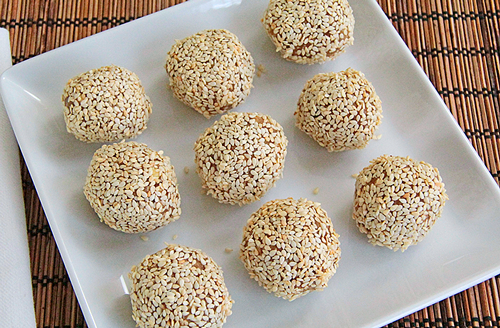 You will be satisfied and not ruin your healthy habits for the day.