C — I am so excited!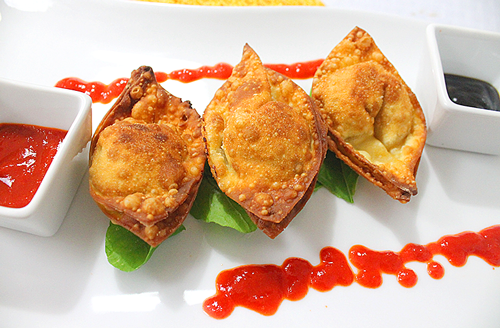 Jim and I accidentally stumbled upon something great. A fresh-made noodle shop in Sacramento. It was such a great find. The Mei Mei Noodle factory is run by a husband and wife team that has been making noodles since 1956. I love them.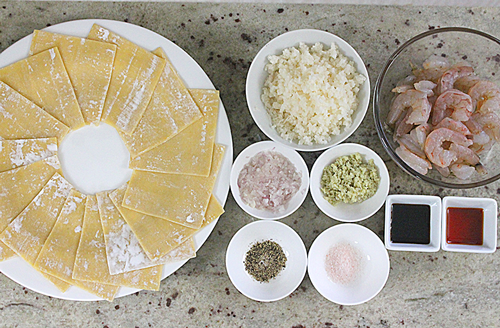 They can barely speak English, but managed to sell me on their delicious noodles. Just point to a number on the menu board and they bring it right out. I love their hand made noodles. They're so fresh. They sell by the pound, and a pound goes a long way. They make unique noodles like carrot and pumpkin. They also make udon, stir fry noodles, thin noodles, deep fried noodles, wonton wraps for fry and soup, dumpling wraps, pot sticker wraps, and so much more. I want to try them all.

I made some noodles for my family the other day and they loved them. Nice soft, sleek noodles. Not chewy like the dried ones you buy at the grocery store. They cook quickly and are super flavorful with any sauce or soup. I don't think I will be going back to dried pastas for a while. I know I mentioned I don't eat pastas a lot because my stomach can't handle it. But when I do, I want it to be good. This is good!

Today, I thought I would try to make my favorite appetizer. Shrimp wontons using Mei Mei Noodle's wonton wraps. Oh yes!
It's a simple recipe with shrimp, teriyaki sauce, salt, ginger, garlic and shallots wrapped in some fresh wontons. I noticed that these freshly made wraps close a lot better than the store bought kind. They wrap quickly and cook very evenly.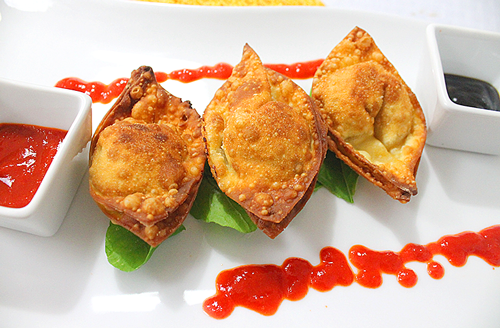 Recipe type:
Mains, Sides
Prep time: 30 mins
Cook time: 10 mins
Total time: 40 mins
Ingredients
15 wonton wrappers
½ pound shrimp, any size, peeled and chopped into small pieces
½ cup jicama, diced finely
1 tsp hot sesame oil
1 Tbsp teriyaki sauce
1 shallot, minced
Salt and pepper to taste
Grapeseed oil for frying
Water
Instructions
Combine shrimp, jicama, hot sesame oil, teriyaki sauce, shallot, salt and pepper. Mix well.
On a plate, place one wonton sheet in front of you, with one of the points pointing towards you. Place a teaspoon of filling in the center of the wonton.
Dab a finger in water and slide along the top two sides to moisten.
Fold top two sides to meet the bottom two sides into a triangle shape. Press the edges to seal them.
Bring the "side" two points together. Apply water to one of the points to make them stick together. Wontons should look like little boats when complete.
Place one inch of oil in a large frying pan.
Heat oil on medium high. Do a chopstick check to see if its ready. Place a chopstick in the heating oil. When small bubbles form around chopsticks, the oil is hot enough.
Place wontons in oil slowly. Make sure you don't crowd the pan with too many wonton.
Fry wontons until they are nice golden brown. Reduce temperature of oil if wontons are cooking too quickly. Wontons should take a minute or two on each side.
Once golden brown, place wontons on paper towels to absorb excess oil.
Serve on platter with hot sauce and soy sauce.
Enjoy!
The wontons were deep fried. Really crispy and cooked thoroughly. I love that shrimp cooks quickly because the wonton shells cooked a little faster than I wanted, even on low heat.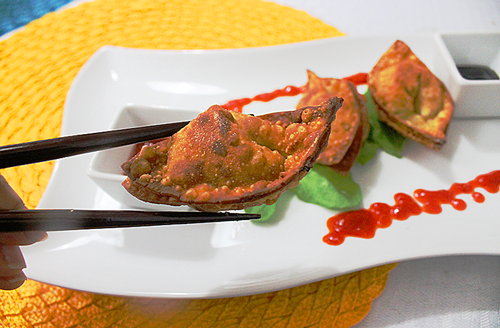 I think it's because of how fresh the dough was. I'll be buying more of these.