C – Vegetarian burgers are usually awful.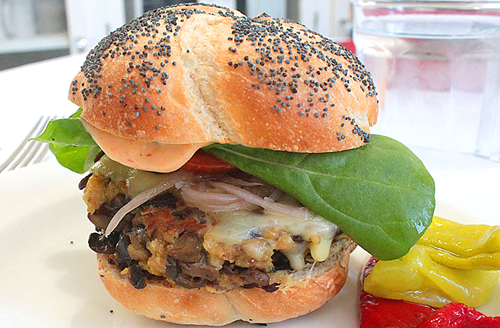 I once went to a restaurant and was accidentally served a vegetarian burger. I almost threw up. I didn't know what was in it. It wasn't a burger. I didn't want to say anything, but it was so disgusting that I had to. It was that bad. Vegetarian burgers usually have some form of grain or fake protein to make you full. Sometimes they are really soggy and fall apart. Other times, they are just hard as a rock. It's mystery, fake meat. I really don't like to eat anything where I have to question every little thing about it. I usually avoid vegetarian burgers.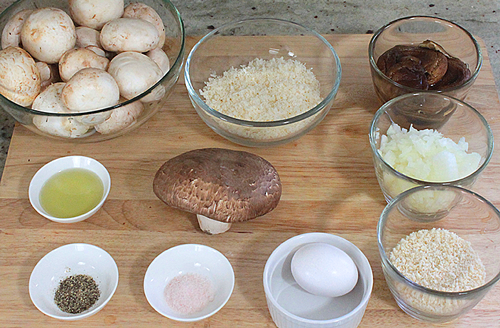 I have made Portobello burgers before. They haven't turned out well either. When you grill the mushroom or "burger patty" it can be a bit tough and chewy, with no taste other than the mushroom. That "burger" usually doesn't leave me satisfied.

I was on a quest to make a vegetarian burger that tasted good. I might have to add some cheese and eggs to the mix. It will still be vegetarian. Since I know that mushrooms can sometimes have a meat texture when made right, they need to be the key ingredient. Cutting them small and cooking them first, before adding other ingredients will make them easier to eat. Adding onions for flavor will be great also. The breadcrumbs, eggs and cheese will be let the small pieces of mushroom form into a burger patty.

The first attempt didn't go as planned. The mushrooms didn't stay together as well as I hoped. I only added one egg to the mix. It needed two. After adding the additional egg, the burger came together well. We topped ours with more cheese and were ready to eat.

The taste test. Jim and I were both hungry, so it might have swayed us a bit. We probably would have eaten anything and it would have tasted good. But, these burgers were really good. I couldn't believe there wasn't any protein in there other than egg and cheese.

I was so proud of myself. The burger really has a lot of flavor. The shiitake mushrooms, onions and cheese were a great combination of flavors. The mushrooms had a smoky taste. The onions were sweet. The cheese gave the burger a good balance of salt. We added some of Jim's favorite pickled red onions on top. A nice addition. It did fall apart a little, but not too much. I was in love with this burger and I didn't want to stop eating it. I was full and very satisfied.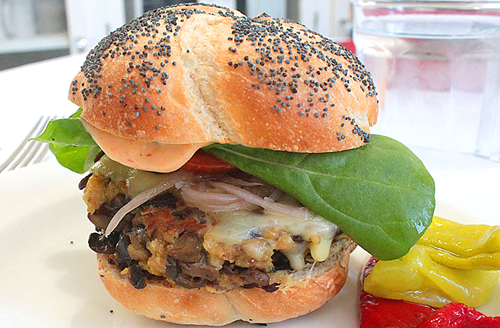 | | | |
| --- | --- | --- |
| Shiitake and Portobello Mushroom Burger | | |
Prep time: 20 mins
Cook time: 20 mins
Total time: 40 mins
Ingredients
2 Tbsp grapeseed oil, divided
10 ounces button mushrooms, ¼ inch dice
1 16-ounce portobello mushroom, ½ inch dice
½ ounce dried shiitake mushrooms, rehydrated, ⅛ inch dice
1 medium white onion, chopped
2 eggs
½ cup Panko breadcrumbs
1 cup Parmigiano Reggiano, grated
Salt and pepper to taste
4 tomato slices
4 arugula leaves
Pickled red onion (optional)
4 tsp of mustard
4 Tbsp Sriracha mayonnaise
4 Hamburger buns
Instructions
In a medium saute pan, heat 1 tablespoon of grapeseed oil on medium high heat.
Add chopped onion into pan. Cook until softened. About 2 minutes.
Add button, portobello and shiitake mushrooms into pan. Cook down until all juices are gone and mushrooms are brown and slightly crispy. About 15 minutes.
Add salt and pepper to taste.
Remove from pan into a large mixing bowl.
Add eggs, Panko breadcrumbs and Parmigiano Reggiano. Mix well.
Form mushroom mixture into four equal-sized round patties.
Heat a clean saute pan on medium high heat with remaining grapeseed oil.
Place patties onto pan. Cook for 2 minutes on each side or until outside is crispy and golden brown.
Assemble like you usually assemble hamburgers.
Serve.
Enjoy!
Jim liked it too. Jim even commented "It was the best burger I have ever had and it's not even a burger."
Now that's a compliment. I was happy. I am looking forward to more meatless meals ahead.