C – One of my boyfriend's friends loves learning to cook.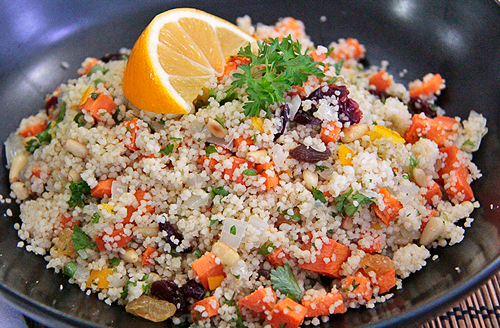 He also loves talking about food and cooking. Of course, he loves taking lessons from me. One night at a bar, he ended up talking about all the things he wanted to learn how to make from me.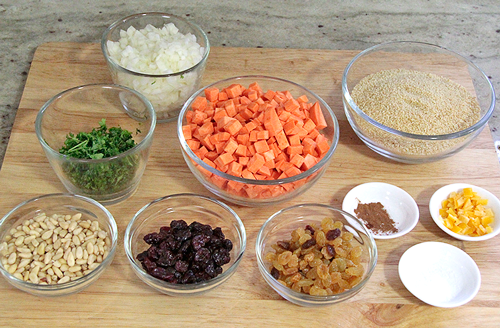 "Can you make Moroccan food?"

"Um … no. I am not sure if I've tried authentic Moroccan food. But, I can always try to figure it out."

I think he was a bit intoxicated because the conversation started to get really random after awhile. I wonder if he recalls the list he gave me.

"First, I want to learn how to make pasta from scratch." he said.

"Easy." I replied.

"Then, I want to see how you make fried chicken." he suggested.

"That's fine. But, it's a lot of work." I replied.

"That's fine. After that Moroccan." he said.

"That one I am not sure of. But, there's always the Internet. We can find anything on the Internet." I said.

Well, promises are promises. I guess I needed to get started. First off, couscous with sweet potatoes and preserved lemons. I am not sure if this is authentic Moroccan. But, I think I am headed in the right direction.

Moroccan spices are a good start. Moroccan preserved lemons even better. Sweet, dried fruit, some couscous. It was really tasty. I loved the balance of salty, sweet and a refreshing kick of lemon.

It was delicious. This would be a great side dish or good eaten all by itself.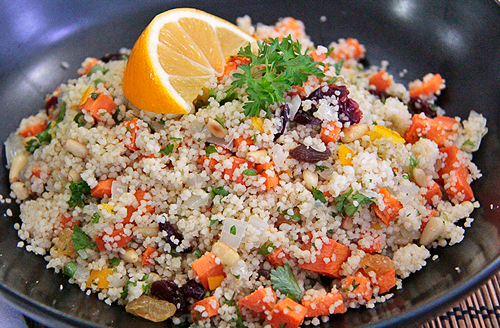 | | | |
| --- | --- | --- |
| Savory Lemon Week: Couscous with Sweet Potatoes and Preserved Lemons | | |
Prep time: 15 mins
Cook time: 30 mins
Total time: 45 mins
Ingredients
1½ pounds sweet potatoes, peeled, small diced
2 Tbsp grapeseed oil
Salt to taste
1 large onion, peeled and minced
1¾ cups water
1¾ cups couscous
1 preserved lemon
½ cup golden raisins
½ cup dried cherries or cranberries, coarsely chopped (optional)
¼ tsp ground cinnamon
1 cup flat-leaf parsley, chopped
⅔ cup pine nuts, toasted
Instructions
Preheat the oven to 475 degrees.
Toss the sweet potatoes with 1 tablespoon of oil and light salt in a large baking dish or pan.
Cook on the upper rack of the oven until the potatoes are just tender, about 15 minutes. (Don't overcook.)
While the sweet potatoes are cooking, heat the remaining tablespoon of oil in a saute pan and cook the onions over medium high heat with a bit of salt until translucent.
Add the sweet potatoes and onions into a large bowl.
Cut the preserved lemon in quarters. Scoop out the insides and reserve. Remove the rind from the skin. Cut the skin into ¼ inch pieces.
Add them to the sweet potato/onion mixture. Then, press the reserved flesh through a strainer to extract the liquid. Add the liquid to the sweet potato/onion mixture.
Bring 1¾ cups water to a boil with a teaspoon of salt, turn off heat and add the couscous. Let sit for 10 minutes covered. Once done, fluff couscous with a fork.
Add the couscous to the sweet potato/onion mixture.
Add the raisins, cherries or cranberries, ground cinnamon, parsley and toasted pine nuts. Mix well.
Serve warm. It can also be served at room temperature.
Enjoy!
I hope my boyfriend's friend will like it.
Tomorrow, another Moroccan recipe.
Adapted from: http://www.davidlebovitz.com/2009/11/israeli-couscous-with-butternut/