C – Wow! Mmmmm! Yummm!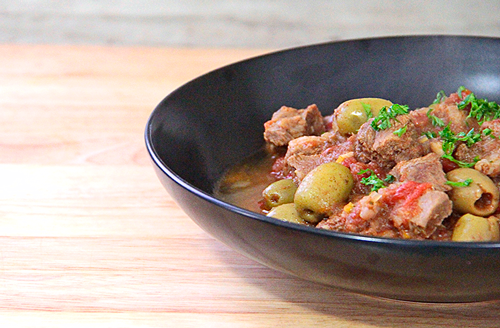 I love it when I find a recipe that makes me moan with every bite. Wow, this stew was amazing. This was one of those rare instances where a stew can make me want to eat and eat and eat. It's nothing like I have ever tasted before.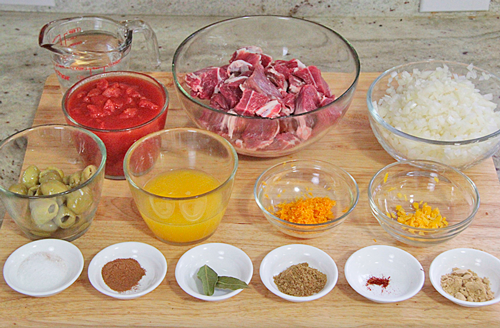 Makes me really want to figure out what the taste was. It's funny that I made this stew and am still breaking down the taste profile.

I love the sauce. It uses the Moroccan preserved lemons I made earlier in the week. A nice lemon quality. It's not too strong, but a little bitter. It blends so well with the tomatoes, herbs and spices.

The olives are my least favorite thing … also one of the best. I really can't describe why.

You bite into one and it has that unique olive taste. Then, there is a nice flavorful quirt of olive juice mixed in with the sauce.

My favorite part has to be the lamb. Of course, we had to use some Nature's Bounty lamb. I love that it's so nice and tender. It absorbed all the wonderful herbs and spices. I loved that they were big chucks of meat in the stew. Mmmmm.
It was a great stew and really easy to make.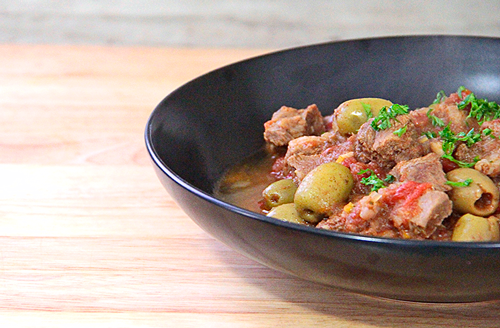 | | | |
| --- | --- | --- |
| Savory Lemon Week: Moroccan Lamb Stew with Preserved Lemons | | |
Prep time: 20 mins
Cook time: 90 mins
Total time: 1 hour 50 mins
Ingredients
3 pounds boneless lamb stew meat, from the shoulder
1 tsp ground cumin
1 tsp ground ginger
½ tsp ground cinnamon
Pinch saffron threads
1 orange, zest and juice
½ bunch cilantro, stems removed
3 cloves garlic
1 tsp kosher salt
2 yellow onions, finely chopped
14-ounce can diced tomatoes, with juice
1 cup water
1 cup pitted green Moroccan (or other) olives, chopped
Minced peel of 1 preserved lemon, optional (recipe below)
Instructions
Trim excess fat and gristle from meat and cut lamb into 1-inch cubes.
Place meat in a large bowl.
In a small bowl, mix the cumin, ginger, cinnamon and saffron. Sprinkle over the meat and set aside.
On a cutting board, mince together the orange zest, cilantro leaves, garlic and salt until you have a paste.
Add to the meat along with the orange juice and stir well to coat.
Cover the bowl and let stand at room temperature for 2 hours, or up to overnight in the refrigerator.
Transfer the mixture to a heavy pot, add the onions, tomatoes and 1 cup water. Bring to a boil, cover, reduce heat and simmer (or bake in a preheated 350 degree oven) until the meat is very tender. About 1½ hours.
Add olives and preserved lemon, if using, to the pot. Cook about 10 minutes more. Turn off heat.
Serve.
Enjoy!
Moroccan Preserved Lemon recipe
Hope I can try more Moroccan things like this.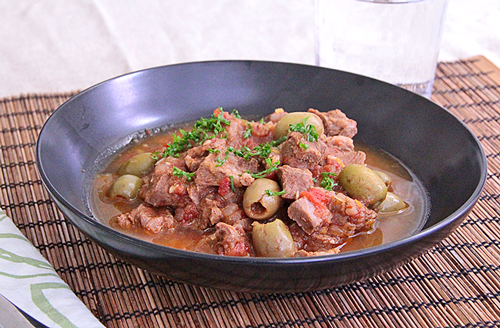 Hope they are all this easy.
Adapted from: http://www.foodnetwork.com/recipes/moroccan-lamb-stew-with-preserved-lemons-recipe.html?oc=linkback