C – My husband is a passionate seeker of good restaurants.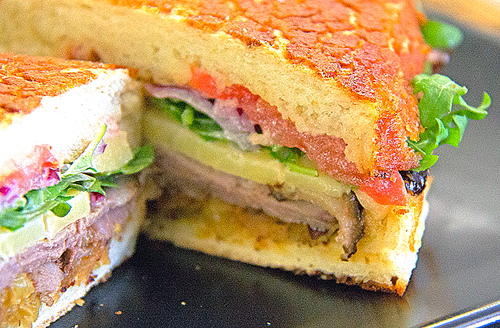 Since I have been with him, my efforts to try out good and new things have increased greatly. Of course there have been many misses. It comes with the territory.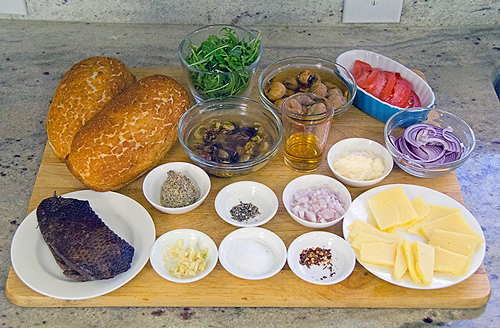 He discovered a smoked duck sandwich one day when I was working away from home, and didn't get to prepare any meals for him. He called me and told me about this amazing sandwich. He said it was delicious and rich.

He really wanted me to try it. He bought one to share. It was delicious.

It was also a bit rich for me. I needed somethings more to help balance it out. I loved the sweet chutney with the smokey duck, crunchy pickled onions and creamy cheddar … but it was really rich.

It would have been perfect if they stuck a piece of lettuce in it. Some would probably disagree.

It was a simple sandwich with great flavor that I could make. We do have a lot of smoked duck in our freezer here at Be Mindful. Be Human. Jim always wants to have some at the ready.

So it was perfect for me to try recreating the sandwich.

I made it spot on. Just added a nice piece of lettuce. It was great. My husband loved it. He said it was better than the sandwich shop. I had to pat myself on the back because I was able to recreate it.

The first few times I made this sandwich tasted great. The fresh lettuce really adds a balance. Sadly, when I made it for this shoot, we used arugula.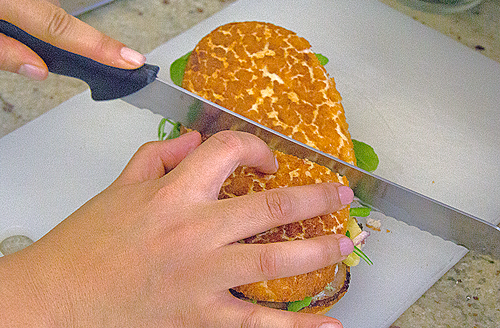 The arugula was a little stronger than I preferred. It was too peppery and green for my liking. I would use lettuce next time, to keep the smokey and sweet chutney taste more prominent.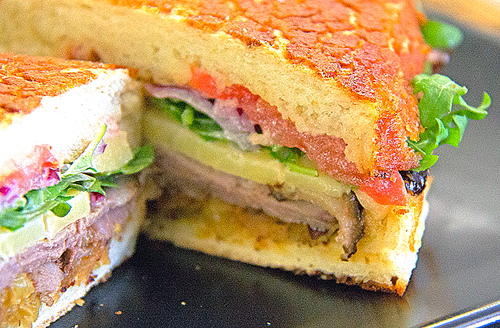 | | | |
| --- | --- | --- |
| Sandwich Monday: Smoked Duck Sandwich with Fig Chutney | | |
Prep time: 20 mins
Cook time: 25 mins
Total time: 45 mins
Ingredients
1 tsp grapeseed oil
1 shallot, minced
1 garlic, minced
10 dried figs, soaked in warm water for 10 minutes (minimum), chopped, save soaking liquid
¼ cup raisins, soaked in warm water for 10 minutes (minimum), chopped
½ tsp ground cumin
¼ tsp smoked paprika
Pinch of cayenne
Pinch of red chili flakes
Salt and pepper to taste
1 tsp white balsamic vinegar
3 ounces smoked duck breast, thinly sliced
1 Tbsp salted butter
1 Dutch Crunch roll, 6 inches long, cut through the center lengthwise
1 Roma tomato, sliced thinly
1 red onion, thinly sliced
1 Tbsp white balsamic vinegar
2 slices white cheddar cheese
1 lettuce leaf
1 Tbsp mayonnaise
1 Tbsp Dijon mustard
Instructions
In a small saute pan, add oil on medium heat. Add shallots and cook until translucent.
Add garlic and cook for 30 seconds.
Add the chopped figs and raisins. Mix well.
Add salt, pepper, cumin, paprika, red chili flakes and cayenne. Mix well.
Add a couple of tablespoons of the dried fruit soaking liquid. Add more if needed to continue to soften about 10 minutes.
Turn off the heat and add a teaspoon of white balsamic vinegar. Set aside.
Mix 1 tablespoon of white balsamic vinegar with red onions and allow it to pickle while toasting the bread.
Turn on a panini press, or a heavy pan or griddle. Place a little butter on the pan. Toast the cut side of the roll. Toast until lightly golden brown.
Spread mayonnaise on one cut side of the roll.
Spread mustard on the other cut side of the roll.
Top the side with the mustard with chutney, then top it with slices of duck, cheese, pickled onions. Place the other half of the roll on top and place it into the panini press.
Press down until golden brown and the crust is crisp. If you don't have a panini press use a heavy pan and place on top of the sandwich and grill one side at a time until golden and crisp.
Once crisp, reopen the sandwich and place tomato slices and lettuce.
Serve.
Enjoy!
To my lovely husband who loves to explore good food and doesn't mind me trying to recreate good things, thank you so much. You surprise me every time you find something new and wonderful.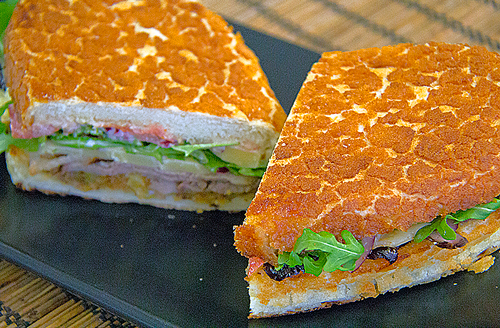 Can't wait to see what you find next.