C – Kids not eating enough veggies?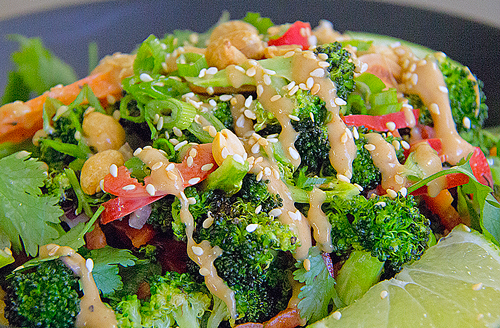 Broccoli still not getting into the mouths of those little ones? Or, just an adult not wanting to eat vegetables? Cover it with peanut butter (hopefully, they aren't allergic) and they will devour it.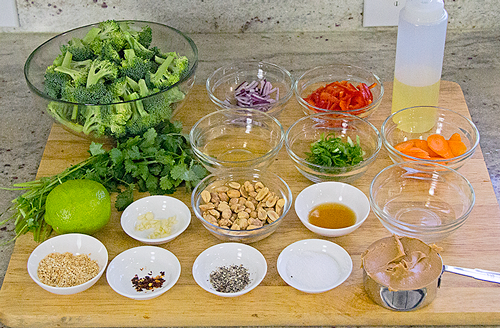 Sad bunches of broccoli on the bottom of my vegetable drawer is typical at my house. It's sad because I do love broccoli when I cook it. But, it just didn't appeal to me until I started charring it in the broiler. It cooks quickly and it turns out to be really flavorful. I added this peanut butter dressing and the broccoli was gone. Fast, too.

This salad was so amazing. I was a bit skeptical when I thought about making it. Would peanut butter taste good with broccoli? Part of me was a little grossed out by it. Then, I thought about one of my favorite snacks is celery with peanut butter.

Why would broccoli and peanut butter be any different?

I was right. It isn't. This salad was great. I loved charring the broccoli pieces to get them tender, yet still have a crunch. The other colorful vegetables are great sources of vitamins as well as fresh textures.

Seeds and roasted peanuts add extra crunchy pieces. Fresh herbs round it out in a creamy peanut butter salad that is really flavorful. It's a delicious salad.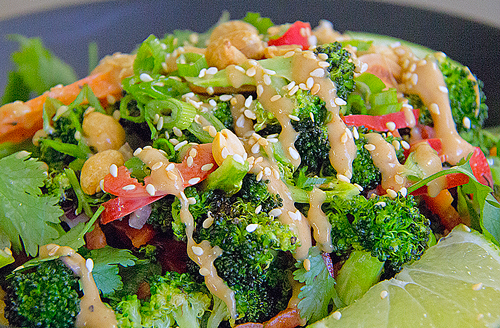 | | | |
| --- | --- | --- |
| Soup/Salad Tuesday: Charred Broccoli Salad with Peanut Butter Dressing | | |
Prep time: 15 mins
Cook time: 10 mins
Total time: 25 mins
Ingredients
A few Tbsp grapeseed or canola oil
4 cups broccoli florets, cut into bit sized pieces
½ cup red onions, sliced into small pieces
¼ cup red bell pepper, julienned
1 carrot, sliced thinly
1 Tbsp toasted sesame seeds
½ cup dry roasted peanuts
Juice of 1 lime
½ cup cilantro, chopped
1 green onion, chopped
½ cup peanut butter, smooth and creamy
¼ cup rice vinegar
1 clove garlic, minced
Salt and pepper to taste
1 tsp sesame oil
A pinch of red chili flakes
2 Tbsp hot water
Instructions
Turn on oven to broil.
Place broccoli on to a parchment lined sheet tray. Drizzle oil and sprinkle salt and pepper over the florets. Toss a few times to make sure the florets are covered in oil and seasonings.
Place under the broiler for about 5 minutes until they charred. Toss and char the other sides for 3 to 5 minutes. Remove from oven and place into a large mixing bowl.
Meanwhile, in a small mixing bowl, mix the peanut butter, rice vinegar, garlic, salt, pepper, sesame oil, red chili flakes, hot water and ½ of the lime juice. Mix well and set aside.
Into the large bowl with the broccoli, add the carrots, red onion, red bell pepper and a few tablespoons of the dressing. Mix well.
Place the salad on a serving plate, top with green onions, cilantro, peanuts, sesame seeds, more lime juice and a drizzle of the peanut butter dressing.
Serve.
Enjoy!
Broccoli and peanut butter will never look the same to me. I love this salad. I need to stock up on peanut butter and broccoli.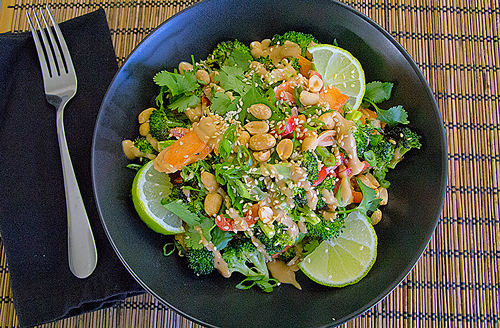 The combo is going to happen more in the future.