C — Another soup. Really?! Jim wants me to make another soup.
With the number of soups I have made on this blog so far, it would seem that I like soups. I don't. It's actually my least favorite type of dish. The only type of soups I like are the ones that are filled with lots of chunky things. It can't have just a smooth texture. If you look at a few of my previous soup posts, none of the soups are smooth and creamy. Every soup has shrimp, lots of veggies or lots of other goodness.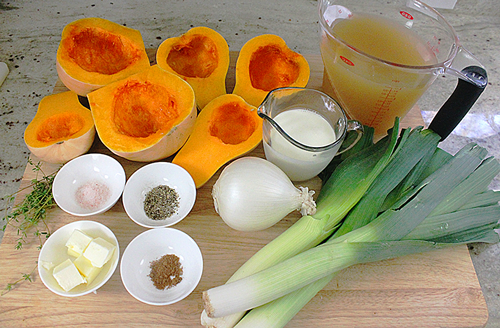 I can't have a plan old smooth and creamy soup. So, when Jim requested butternut squash soup I couldn't believe it. Plain old butternut squash soup with nothing else. Really?!

I have a couple of things against butternut squash soup.
First, the most obvious, the consistency is smooth and creamy. There is nothing wrong with smooth and creamy, but that's all there is too it.
Second, if your butternut squash isn't cooked through, or if it is not matured, there is this strange residue it leaves in your mouth. I have had this happen to me a few times. You can find it, especially, in the store-bought stuff, since they just use butternut squash pieces.

I hope this recipe is better than the ones I have tried before. Mostly, I've tried the store bought-stuff. It has probably been on the store shelf for a few months, and then goes into my pantry for a few more. When there is nothing to eat in the house, it's butternut squash soup to save the day. Then, it hits me to never buy butternut squash soup again from the grocery store. Two or three spoonfuls and I throw it away.
After I make the soup, Jim cleverly suggests that we have the soup as an appetizer instead of a main course.
| | | |
| --- | --- | --- |
| Roasted Butternut Squash Soup | | |
Recipe type:
Mains, Sides
Prep time: 20 mins
Cook time: 1 hour 20 mins
Total time: 1 hour 40 mins
Ingredients
2 pounds butternut squash
2 Tbsp. unsalted butter
3 medium leeks
1 medium white onion
4 cups chicken stock
½ cup cream
¼ teaspoon nutmeg
Salt and pepper to taste
4 Tbsp. creme fresh to garnish (optional)
1 Tbsp. chives, finely chopped (optional)
Instructions
Preheat oven at 350 degrees
Cut butternut squash in halves and remove seeds. Lightly salt squash. Place in oven to bake for 30 minutes. Squash will be done when insides are easily scooped out with spoon. Once cooked, remove from shell with spoon and let cool.
In a large dutch oven or pot on medium heat, place butter and let melt. Once butter is melted, add leeks and onions. Cook until caramelized, about 15 to 20 minutes.
Add butternut squash and saute for 10 minutes.
Add chicken stock and reduce to a simmer. Simmer for 20 minutes.
Add nutmeg.
Salt and pepper to taste.
Turn off heat and let cool.
Blend with immersion blender until smooth.
Once blended smooth, add cream. Taste again to make sure it is seasoned right.
Serve in small bowls with crème fresh and chive garnish.
Enjoy!
Clever man this one. I agree. A few swigs. It's pretty good. I was able to get some advice from Luke and Chris on how to make this soup. Butter, leeks, onions, stock, cream, salt and pepper, and some crème fresh. Not too bad.
I wouldn't order it in a restaurant, but eaten as an appetizer at home is fine. Did I mention that I am not a big fan of soups like this? Of course, Jim really liked it.