J – This dish was worth the trip to Paris …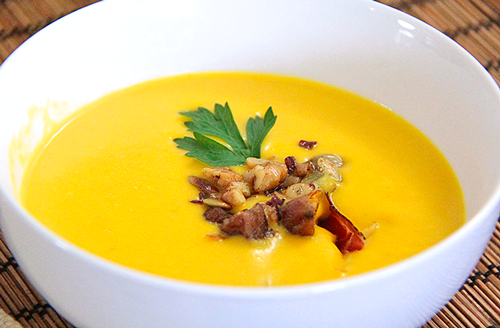 all by itself. Chef Constance proposed this recipe as the entree for the Fall-themed lunch menu we prepared in my class. The idea was to see what the market had, and then prepare some seasonal dishes.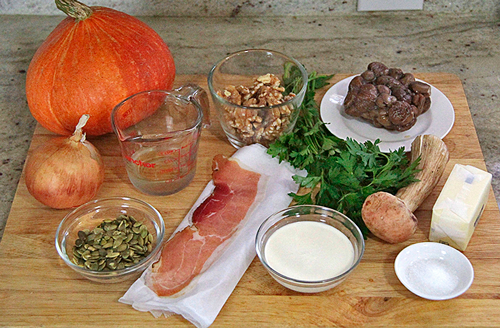 She succeeded.

This veloute took me on a flavor journey not unlike walking through colorful Fall trees shrouded in earthy mists.

Rich and surprising flavors … but not overpowering.

Potimarron, as it is known in France, is a Winter squash that looks a bit like a really large, bright red-orange onion. Typically, they are about 2.5 to 3.5 pounds.

Although Chef Constance allowed that we probably didn't have these in the United States,

I found them at three Farmer's Market vendors within 5 minutes.

I guess we are becoming global really fast.

You don't need to peel them. The skin is very thin and adds to the color and flavor.

Just rinse off, trim the top and bottom and remove the seeds just like with a pumpkin. The seeds can be roasted, too.

Taste test. Just as I remembered. Delicious.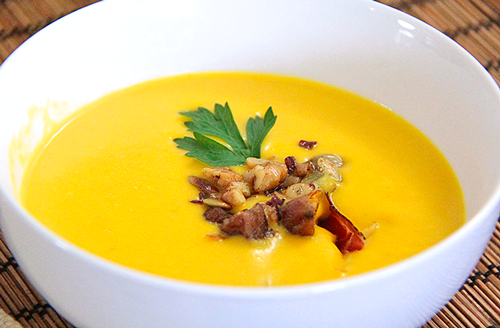 | | | |
| --- | --- | --- |
| Fall Lunch Menu: Red Kiri (Potimarron) Veloute with Chestnuts, Porcini Mushroom, Roasted Nuts and Speck | | |
Prep time: 20 mins
Cook time: 40 mins
Total time: 1 hour
Ingredients
1 Red Kiri (Potimarron) squash, washed, trimmed and seeded.
1 yellow onion, diced
¼ cup dry white wine
1 Bay leaf
4 to 5 Tbsp unsalted butter
1 cup heavy cream
Salt to taste
¼ pound fresh porcini mushroom, brunoise dice
½ cup walnuts, chopped
½ cup shelled, toasted pumpkin seeds
½ cup prepared, roasted chestnuts, small dice
¼ cup flat-leaf parsley, picked but not chopped + 6 leaves for overtop garnish
1 Tbsp canola oil
2 Tbsp butter
Salt and pepper to taste
¼ pound Speck, sliced thinly
Instructions
After seeding, cut red kiri into similar-sized chunks
In a large pot, saute onions on medium high with oil until translucent.
Add white wine and deglaze.
Add squash and bay leaf. Cover with water.
Bring to a boil, then simmer for 30 minutes or until fork tender.
Remove bay leaf. Spoon squash into blender with partial amounts of liquid. Blend well. You will need to work in batches.
Add butter and cream and blend well again
Combine all batches into a bowl. Return to rinsed out pot.
Reduce as need to desired thickness.
Salt to taste.
Keep warm and set aside for serving.
In a saute pan on high, add canola oil and butter. Add porcini and saute until crisp.
Add chestnuts and stir.
Add walnuts and stir.
Add pumpkin seeds and stir.
Saute until lightly browned.
Add butter. Mix well.
Add parsley and stir in for about a minute.
Spoon servings of nut mix into soup bowls.
Add speck overtop.
Pour veloute from small pitcher around each bowl, hiding bottom ingredients.
Add small amounts of nut mixture on top center
Garnish each with a single parsley leaf and serve.
Enjoy!
This dish would be great as an opener for a special dinner.
Your guests will be impressed … and want the recipe.