C — EEEEEEEP! One more week until Thanksgiving.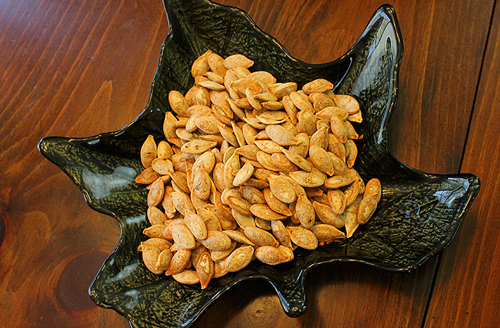 It's my favorite holiday. (When I have control of everything.) Yeah, I am a lot OCD. I can hear Jim laughing now. I love cooking all the food. Making an amazing turkey with mashed potatoes, gravy and a lot of sides.

I usually can't wait until this time of the year. But, this year my plans were thrown off. I usually make a Thanksgiving meal for 35 people with traditional and some not-so-traditional items. Due to a wedding, my plans are ruined. (One of my relatives is having a wedding the next day, of all days.) It's not a traditional Thanksgiving for me and I have no control of it!

Luckily, at Be Mindful. Be Human. we have already started the festivities. Who needs to be thankful for just one day, when we have a week to be thankful. We have lots of recipes to show you. Luke, Jessica, Chris, Jim and I will be making a great Thanksgiving feast for all of us to share.
First a snack. Pumpkin seeds.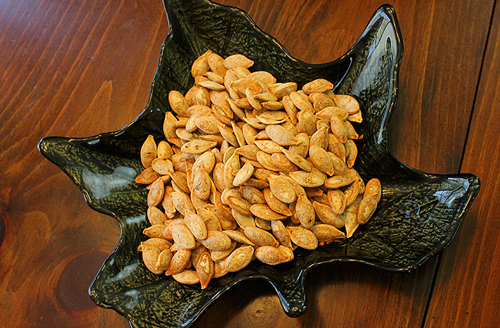 Prep time: 20 mins
Cook time: 1 hour 25 mins
Total time: 1 hour 45 mins
Ingredients
Seeds of 1 pumpkin, cleaned and washed
1 Tbsp grapeseed oil
1 tsp paprika
1 tsp cayenne pepper
Salt
Instructions
Blanch seeds for about 30-45 minutes until skin is soft. Rinse and dry.
Mix with oil and spices. Place on parchment-lined baking sheet in 350 degree oven.
Roast for about 40 minutes.
Cool and serve.
Enjoy!
Luke took the seeds from Jessica's pumpkins and created these lovely spicy pumpkin seeds. These were easy to make and great to serve guests when waiting for dinner to be ready. A little spicy something to whet your appetite. Crunchy for all those people cooking, to relieve stress of having so many people in the kitchen you can't even move. And just enough salt to make you want more. Of course, light enough that you don't get full before the main event. I love the idea of making this a few days in advance and serving it in a pretty holiday dish.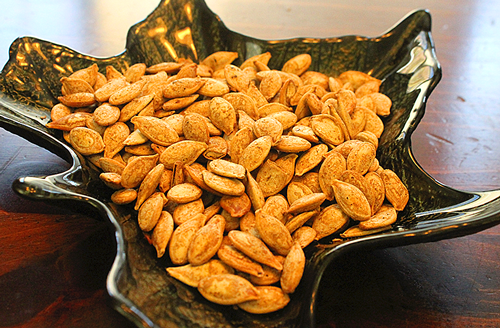 I loved that Jessica brought out her leaf dish for the pumpkin seeds. It seems so fitting. I hope you enjoy our week of Thanksgiving bliss.