C – I love bringing potato salads to a BBQ or a potluck party.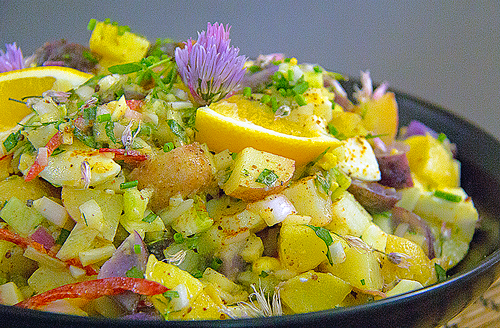 It's really easy to make. It fills people up. It's very flavorful. It can taste amazing with grilled meats. There's only one problem. It can get people sick. I mean really sick … if you leave it out for too long.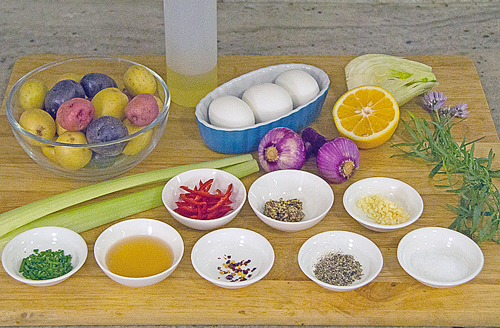 The combination of mayonnaise and leaving it out for an extended amount of time can cause bacteria to grow. It's a big no-no at any party to serve anything that is left out for a long time.

Yeah, you can place a bowl of ice underneath to keep it cold. It's such a hassle to ask the host for ice and a tray. Or, you refrigerate it when you get there. Of course, the host or you forgets to put it out when the food is served. Then, the host gets this great surprise of five pounds of potato salad that is leftover because it wasn't put out. Either way, it leaves a big mess that the host wouldn't like to clean up.

I wanted a way to make a good and flavorful potato salad without making people scared of eating it. Instead of using mayonnaise, I just make it with a vinaigrette. It's not a creamy potato salad but it does a good job.

One great thing about this potato salad is that it can be made a few days in advanced and served. It can be left out for a while. Even if it gets warm, it still tastes good.

It's also healthier. I am surprised at how many people hate mayonnaise. So, this potato salad is for them.

For those people who can't stand having a potato salad without mayonnaise, grab another bowl and divide it in half before serving. Then, add a couple of tablespoons of mayonnaise for them. Mix it up and you have a regular potato salad.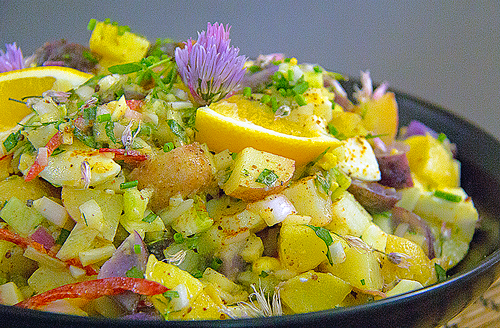 | | | |
| --- | --- | --- |
| Potluck Week 2016: Potato Salad With Tarragon Vinaigrette | | |
Prep time: 15 mins
Cook time: 20 mins
Total time: 35 mins
Ingredients
1 pound tri-colored, baby potatoes
3 hard boiled eggs, peeled and chopped
¼ fresh fennel, diced
2 celery stalks, diced
2 Spring onions or ½ medium red onion, diced
½ Red Fresno chili, seeds removed and sliced thinly
1 Tbsp white balsamic or white wine vinegar
A pinch of red pepper flakes
A pinch of cayenne
1 clove garlic, minced
1 tsp Dijon mustard
2 Tbsp tarragon, finely chopped
Salt and pepper to taste
½ lemon, juiced plus more to taste
3 Tbsp olive oil
Chive and chive flowers for garnish (flowers are optional)
Instructions
Place potatoes in a pot full of generously salted water and boil for about 20 minutes or until the potatoes are fork tender. Once cooked, remove from pot and place in an ice bath to cool.
Cut potatoes into bite-sized pieces.
In a small mixing bowl, place vinegar, red pepper flakes, cayenne, garlic, mustard, tarragon, salt and pepper to taste lime juice and oil. Mix well.
Place all ingredients into a large mixing bowl. Mix well.
Garish with chives and chive flowers.
Can be served immediately or made a couple of days ahead. Store refrigerated in an air-tight container.
Enjoy!
It's pretty simple. It's pretty much the same recipe I would use if I had mayonnaise in it. So, adding some mayonnaise will just make it creamy and rich.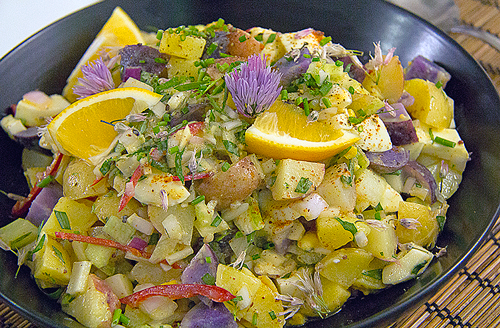 Hope your summer potlucks are wonderful. This recipe should be a great addition to the table.