Update and Redux: C – It's collard greens week. Jim doesn't like collard greens that much. My challenge is to change his mind. He thinks all collard greens are overcooked and not that appetizing. Of course, this recipe was one of the exceptions. Slowly cooked collard greens similar to the Southern way of cooking. Spicy and super flavorful.
C – This time, I will say I like collard greens.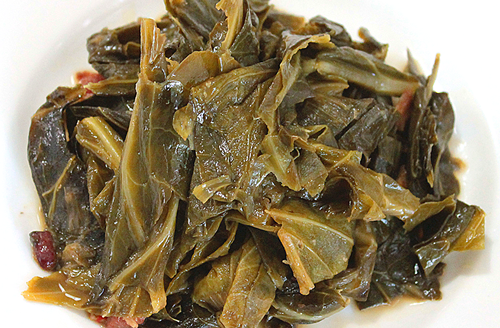 But, never before this. The first time someone made me collard greens was the last time … until now. I never wanted to eat collard greens ever again after eating theirs. I couldn't believe people could eat this bitter green stuff and enjoy it.

This is what happens when you eat something for the first time and it isn't cooked right. You never ever want to try it again. It stays in your flavor-profile memory forever. When you hear how much people like it, you question their taste buds.

When Luke suggest he would make collard greens with bacon for Southern week, I went along for the ride. It was his favorite Southern dish. He couldn't wait to eat it. When they were done, he ate half a plate full of collard greens before anything else. It had to be good.

The person who made it before is known for overcooking their vegetables. So, when you overcook collard greens, they turn sour and bitter. When you cook them like Luke did, they are delicious. But, I was really reluctant when I saw how Luke was making these collard greens. You simmer them for almost an hour. I was really concerned they were going to be bitter, mushy and not for me.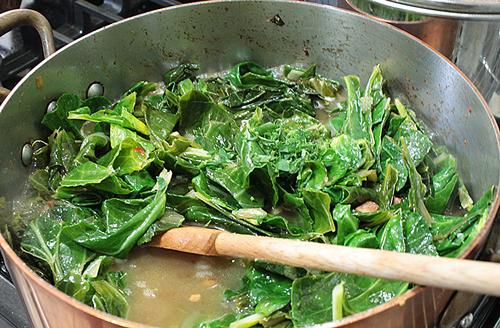 When I tasted Luke's collard greens, they were amazing. They weren't bitter at all! I could still chew the greens. Not mushy. I couldn't believe that he cooked it for that long and they tasted good.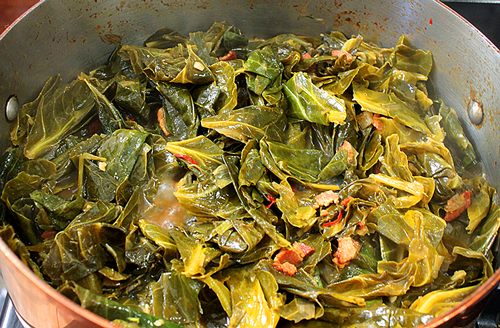 I am not sure if I will be ordering collard greens as a side dish when I go to a Southern restaurant anytime soon.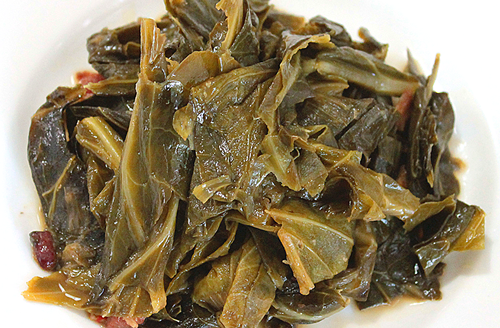 | | | |
| --- | --- | --- |
| Spicy Collard Greens with Bacon | | |
Prep time: 10 mins
Cook time: 1 hour 5 mins
Total time: 1 hour 15 mins
Ingredients
2 spring onions, light green part only, rough chopped
½ pound bacon, cut into half inch pieces
1 Tbsp canola oil
2 cloves garlic, chopped
2 – 4 Thai chilies, to your taste/heat preference
1 bunch collard greens, ribs taken off
Juice of ½ lemon
1 – 2 quarts of chicken stock
2 Tbsp oregano
Instructions
In a large saute pan, place oil and heat on medium high. Place bacon in pan. Cook until crispy.
Add spring onions to pan. Cook until soft and almost translucent.
Add garlic and chilies. Cook until brown.
Add ⅓ collard greens in to pan. Fold and let wilt. Add more once wilted. Continue until all collards are in the pan. Add lemon juice into pan. Mix well.
Stir 1 quart of chicken stock into pan.
Add oregano. Let simmer and wilt for 45 minutes. Turn occasionly. If liquid is reducing to much, add more stock.
Remove from pan.
Serve.
Enjoy!
But, I will be willing to try them if someone made them at home. Just not from that person I tried the first time.
Thanks, Luke, for making this great dish for me to try. It was delicious!