J — Ka Pow!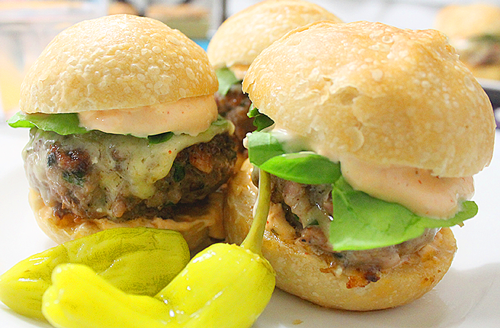 These little suckers pack a big flavor punch. They're decadent. A party-in-your-mouth like there's no tomorrow. They should be, with three kinds of pork in them. And, the seasonings. And, two sauces!
Of course, the original recipe is from Suzanne Goin. Risky territory here, given her complex recipes. I need to convince Christina that it's worth doing. So, discretion being the better part of valor, I immediately simplify.

Suzanne calls for a Romesco Sauce and a from-scratch aioli. Won't fly. I substitute our trusty Salsa Verde and a simple Sriracha-mayo-aioli sauce. A good stand by. All kinds of flavor. Simple prep.

Now for the action. The pork trio benefits hugely with the addition of the herbs and peppers beforehand. This is something you can prepare the day before. It's worth it, but you don't have to. Just a couple of hours in advance will do.

When everything is ready, it's just like doing burgers. Except the result is on a whole other level.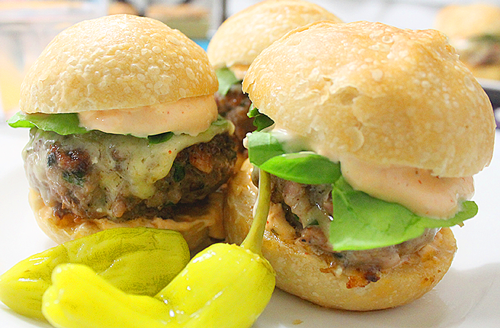 Prep time: 30 mins
Cook time: 6 mins
Total time: 36 mins
Ingredients
¾ tsp cumin seeds
1 Tbsp extra-virgin olive oil, plus more for grilling
¼ cup diced shallots
½ Tbsp minced garlic
½ Tbsp thyme leaves
1 chili de arbol or birds-eye chile, thinly sliced on the bias
1 pound ground pork
2 ounces fresh Mexican chorizo, casings removed if needed
2 ounces applewood-smoked bacon, finely diced
1 Tbsp chopped flat-leaf parsley
6 slices of aged gruyere (the original recipe calls for Manchego, but our store was out so we tried something different.)
6 mini-rolls/buns (about 3 inches in width)
6 arugula leaves, whole
Salsa Verde (See our recipe)
Sriracha-mayo sauce (roughly, 1 cup mayo and 1 Tbsp +/- Sriracha sauce)
Instructions
Toast cumin seeds in a medium saute pan over medium heat until seeds release their aroma and darken slightly. About 2 to 3 minutes. Grind course in a spice grinder. Set aside.
In the same pan, heat on high for a minute. Add olive oil and shallots. Immediately turn the heat to medium low and cook for a few minutes, stirring once or twice until shallots soften.
Add garlic, thyme, cumin and sliced chilis. Season with ¼ teaspoon salt and a bit of black pepper. Cook for about 3 to 4 minutes, until shallots are translucent. Set aside to cool.
In a large bowl, use your hands to combine pork-meat trio, shallot mixture and parsley. Be very careful not to overmix. Season with ¾ teaspoon salt and generous amounts of ground pepper.
Shape the meat into 6 mini-patties, about 3 ounces each. Chill if not cooking immediately.
Grill should be hot. With a charcoal grill, the coals should be "ready" and the heat even.
Brush the patties with oil and place on the grill. Grill first side for about 3+ minutes until they are nicely browned.
Turn the patties over and and place a piece of cheese on top of each one. Cook another 3 minutes or so. While the pork should be cooked through, it can still be a little pink in the center.
While the second side is cooking, slice the buns, brush them with olive oil and place them on the grill, cut-side-down, for a minute or so until they are slightly browned.
When done, remove all from the grill.
Spread srirach sauce on the bottom half of the bun. Place the burger. Add Salsa Verde. Add a piece of arugula. Spread the top half of the bun with sriracha sauce. Cover.
Serve the sliders on a platter.
Enjoy!
Salsa Verde recipe.
These little guys were awesome! Christina devoured them.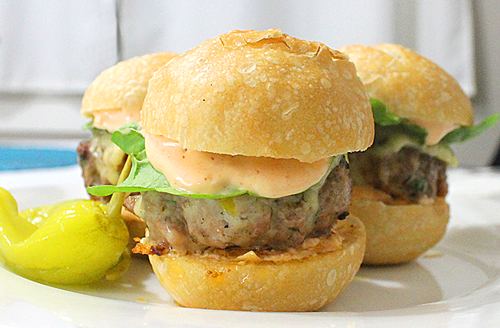 Might have to do them again soon. Maybe for a Be Mindful. Be Human. party.
Adapted from Sunday Suppers at Lucques by Suzanne Goin