C — I will only make this dish once a year.
Jim can ask all he wants, but I am not making it more than once. It's actually his recipe. Somehow, I end up making it. Usually, just to be nice. It takes two days to complete and hours to cook. I think it's one of the most intense recipes I have ever made. But, each time after the first bite, I forget all about the process and want to make it again.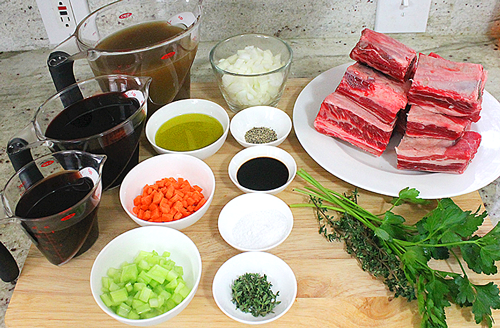 Yeah, it's that good.

Susanne Goin's recipe for braised short ribs is really specific. I am more of a "just throw things in a pot and let it cook" kind of person. But, Jim is usually over my shoulder telling me that I should follow the recipe to a "T." I try my best. Of course, not without some complaining.

These short ribs took forever. I really don't know how they took so long this time. I planned making them at 10am and finished at 1pm. I let all the juices cool and the fat separate to be strained and reduced before dinner. I did everything right. Somehow, I still had dinner on the table later than I wanted. Reducing the jus by half took forever. I usually can't wait this long. But, just for this blog, I did it. Jim noticed the difference. I didn't.

Two days of prep and cooking. Two days of filling the house with the smell of wonderful herbs, strong wine, port and beef. Two days of dreaming of this mouth watering dish. It all came down to a nice and tender, extremely well balanced and delightful piece of well-cooked meat.

Amazing. I think I said Yummmmm… with every bite. Maybe it's worth those two days.

If you want to try something absolutely exceptional and don't mind the wait, try making this dish. It is a flavor explosion in your mouth. NOTE: We call for a rib-butchering style in the recipe, below, which is slightly different than shown in the photos. Not worries. The preparation and the taste are the same.
Prep time: 1 hour
Cook time: 5 hours
Total time: 6 hours
Ingredients
6 beef short ribs, 14 to 16 ounces each. (Ask your butcher to cut them "Korean-style" with about a 1" length for the 3 bones in the rib. Also known as 3-bone, center-cut.)
1 Tbsp + 1 tsp thyme leaves, and 4 whole thyme sprigs
1 Tbsp freshly cracked black pepper
3 Tbsp extra virgin olive oil, more if needed for searing
1 cup diced onion
⅓ cup peeled and diced carrot
⅓ cup diced celery
2 bay leaves
2 Tbsp balsamic vinegar
1½ cups port
2½ cups hearty red wine
6 cups beef or veal stock
4 sprigs flat-leaf parsley
Kosher salt and finely ground black pepper
Instructions
Season the short ribs with 1 tablespoon thyme leaves and the cracked black pepper. Coat them well using your hands, wrap and refrigerate overnight. This is important for full flavor.
Remove the short ribs one hour before cooking. After 30 minutes, season generously on all sides with salt.
Preheat the oven to 325 degrees.
Heat a large saute pan on high for 3 minutes. (Yes, it needs to be very hot.) Pour in 3 tablespoons olive oil and wait a minute for it to heat; almost smoking.
Place ribs in the pan and sear until nicely browned on all three meaty sides. DO NOT sear the non-meaty side. The ribs will fall apart. Work in batches, depending on the size of your pan. Don't crowd or rush it. This should take at least 15 minutes and is important for flavor.
When done, transfer ribs to the braising pan. They should be in one layer, with bones standing up.
In the original saute pan, reduce heat to medium and add onion, carrot, celery, thyme sprigs and bay leaves. Stir with wooden spoon, scraping up all the tasty bits. Cook for about 6 to 8 minutes, until vegetables just begin to caramelize.
Add balsamic vinegar, port and red wine and turn heat to high.. Reduce the liquid by half.
Add beef stock and bring to a boil.
Pour liquid over ribs in braising pan. Make sure all vegetable bits are within liquid. The stock should almost cover the ribs. Tuck parsley spigs between the ribs.
Cover the pan with heavy aluminum foil and place a tight-fitting lid on top. Braise in oven for about 3 hours. Check for doneness by opening pan and piercing meat with a knife. When done, meat will yield easily to the knife. Taste if you are not sure.
Turn oven up to 400 degrees.
Let ribs rest for 10 minutes in their juices and then transfer to a parchment-covered baking sheet. Place ribs in oven for 10 to 15 minutes to brown.
Remove ribs from oven. Let rest.
Strain the juices into a fat-separator, discarding the vegetables. Wait for separation, about 30 minutes.
Reduce sauce by half. Set aside for service.
Serve ribs with blanched vegetables and/or starch.
Top with sauce.
Enjoy!
I almost can't wait until next year to make them again.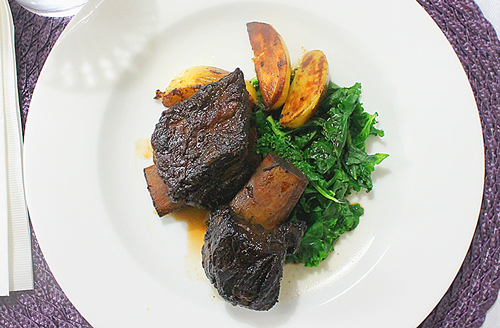 No, Jim, I won't be making any until next year.
Adapted from Sunday Suppers at Lucques by Suzanne Goin