C – Sometimes I wonder "Why hasn't this been made much?" when looking for a recipe online.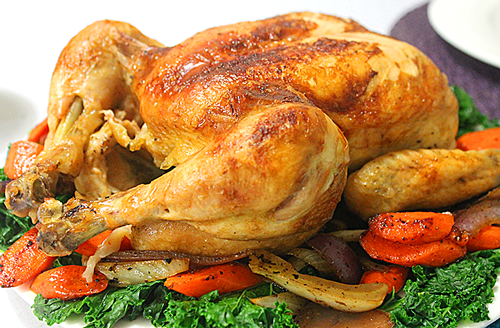 Braising a whole chicken was one of them. We found a few but not too many. Most weren't rated or not rated well. We figured out the reason quickly.
Jim had the first go at making a whole braised chicken and had me critique it quite a bit. The ingredients sounded good; white wine, carrots, potatoes and lots of herbs. But, the suggested cooking time didn't make sense to me. It was too short. Forty-five minutes to cook a whole 4- to 5-pound chicken? That seemed really short. When we took it out of the oven, the outside looked cooked but cutting it open showed that it wasn't. Jim was really disappointed. We had to put the chicken back into the oven and bring it up to temperature … again. He wasn't happy about that, either.

The chicken tasted good when it did finish cooking. After analyzing the recipe, we concluded that the best cooking time for the chicken would mean the vegetables are going to be over cooked. We realized, again, that recipes sometimes are just starting-off points; we don't have to follow them to a "T." Thank goodness!

Jim didn't want to give up on braising a whole chicken, so it was my turn to make one. I thought about past techniques for cooking a chicken. Roasting and braising chickens are usually really different techniques. I usually roast a whole chicken covered and, then, uncovered at the very end to crisp up. When braising, I usually cut the chicken into pieces and cook for a long time.
I had never braised a whole chicken before, partly because of the difficulty in flipping it to brown on all sides. It seemed like a daunting task. I was afraid of ripping the chicken and ruining the skin. But, I just had to do it.

ME and MY BIG MOUTH.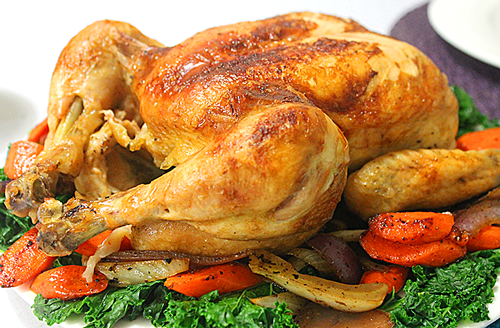 Prep time: 20 mins
Cook time: 1 hour 25 mins
Total time: 1 hour 45 mins
Ingredients
1 whole roasting chicken, about 4- 5-pound
2 tsp kosher salt
1 tsp ground black pepper
1 Tbsp grapeseed oil
1 Tbsp butter
½ cup white onion, chopped
¼ cup celery, chopped
6 medium garlic cloves, peeled and mashed
1 large bay leaf
4 large sprigs fresh rosemary
4 sprigs fresh thyme
1 cup white wine
1 cup chicken stock
Instructions
Preheat oven to 400 degrees.
Sprinkle salt and pepper inside the chicken and truss it.
In a large dutch oven over medium heat, heat oil until just smoking. Add the chicken and brown all sides. About 5 minutes on each side.
Remove the chicken and set aside. Sprinkle salt and pepper over the chicken.
Remove oil and fat from dutch oven, leaving 2 tablespoons in the pot.
Saute onion for a minute. Add garlic and celery. Saute for 2 minutes. Add bay leaf, thyme and rosemary. Saute for another 2 minutes.
Add wine and cook until it is reduced to half.
Add chicken stock. Let it come to a boil.
Add the whole chicken back into dutch oven breast side down. Cover the top with aluminum foil. Then, fit dutch oven lid on snugly.
Place in oven on a lower shelf. Cook for 35 minutes.
Remove dutch oven from oven and flip chicken so the breast is up. Place back into oven with aluminum foil and dutch oven lid back on top snugly. Cook for another 35 minutes.
Remove lid and aluminum foil from pot. Cook for an additional 15 minutes.
Remove from oven and remove chicken from pot. Let it rest for 10 minutes.
Strain juices and let fat rise to the top. Separate fat from juice. Discard the fat.
Carve and serve with pan juices.
Enjoy!
My technique is a bit different than Jim's. I liked the idea of having white wine like Jim's recipe. I thought through the other braised dishes I have made; it is usually low and slow. But, I really didn't want to cook a chicken at 250 degrees for three hours. It seemed too long and probably not worth it. So, I decided a high temperature of 400 degrees for an hour and ten minutes covered, then uncovered for another 15 minutes might work.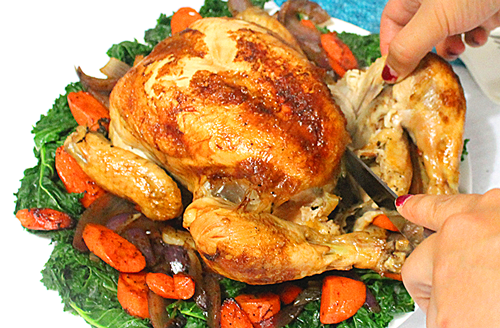 The results were good. After an hour and ten minutes the chicken thigh was separating from the breast. That's a really good sign that the chicken is cooked. Uncover to crisp and we were looking good to go. I served it with vegetables cooked separately from the chicken, so I had more control. The flavors of the chicken were good. The meat was falling off the bone. The white wine sauce really made the dish complete.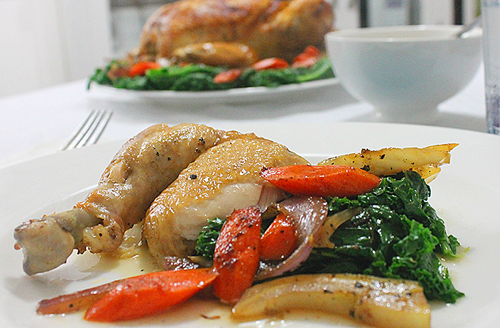 Nice, tender and juicy chicken, that was fully cooked. Just the way I liked it.