J – We have no morals when we cook our morels …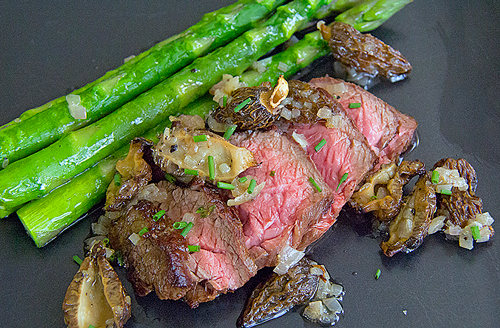 especially with this dish. This one was another Butter Day adventure. And, as with many boundary- pushing dalliances, it was supremely pleasing. Even needed a nap afterward …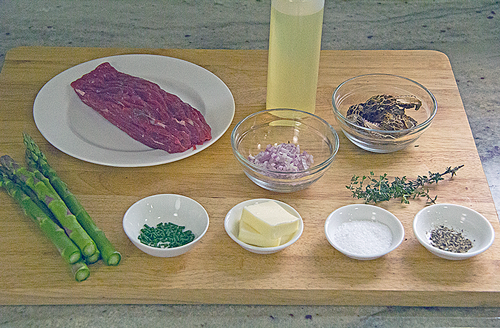 What can I say? We got caught up in a delicious moment.

In the frenzy of it all, more seemed perfectly fine.
It looked so good. Almost too inviting.

Sauteed fresh morels in butter. Blanched asparagus with more butter.
Plump Bavette steak, pan seared and basted in butter.

Just needed to get the timing right … pulling out at the exact moment of perfection.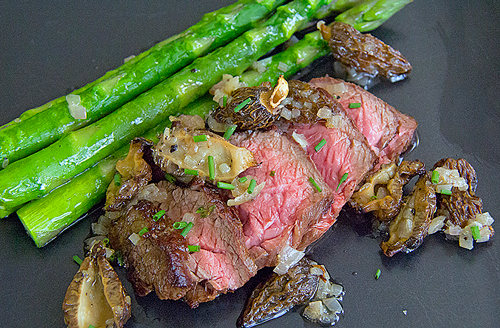 | | | |
| --- | --- | --- |
| Plated Meal Wednesday: Bavette Steak with Morel Mushrooms and Asparagus | | |
Prep time: 10 mins
Cook time: 6 mins
Total time: 16 mins
Ingredients
3 Tbsp canola or grape seed oil
4 Tbsp unsalted butter, divided
1 small shallot, chopped
5 Morel mushrooms, per person cut in to bite sized pieces if too large
5 asparagus spears
4 oz Bavette steak
Salt and pepper to taste
2 thyme sprigs
Chives, chopped for garnishing
Instructions
In a small saute pan, add 1 tablespoon of canola oil and 3 tablespoons of butter. Let it melt on medium heat. Add shallots and saute for 1 minute until translucent.
Add mushrooms, a pinch of salt and pepper and saute, coating the mushrooms with butter and shallots for about a few minutes. Reduce the temperature to low and keep warm.
Bring a pot of water to a boil and blanch the asparagus for 1½ minutes. Remove the asparagus from the blanching liquid and place in along with the mushroom mixture. Keep warm until ready to serve.
Season the steak with salt and pepper.
In a cast iron skillet or heave saute pan, place 2 tablespoon of canola oil into the pan heat it on high heat until smoking.
Add the steak and cook for a minute before adding a tablespoon of butter and the thyme sprigs. Move the butter around to allow it to melt in the pan. Once melted, use a metal spoon to baste each piece of steak. Flip over and continue to baste the steak.
Cook until desired doneness. Remove from pan and let rest for 10 minutes before cutting.
Cut the steak. Place the steak, the asparagus and mushrooms on a plate. Garnish with chives.
Serve.
Enjoy!
The plating just seemed to do itself. Positioning was obvious. Perfect.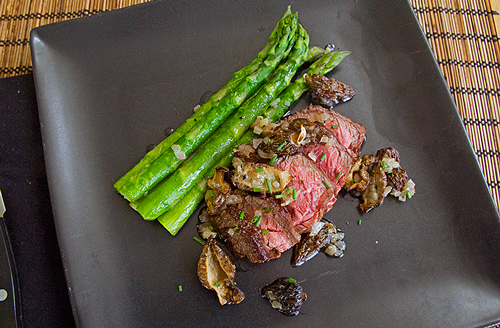 Now, for some tasty morsels of pure deliciousness. Rich. Silky. Perfect flavors. We'll do this again … with much less butter next time.