J – Really fresh ingredients make an amazing difference.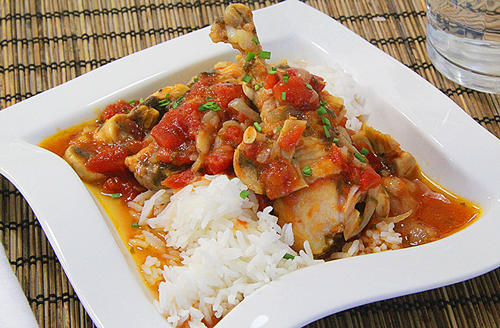 This is especially true with chicken. We didn't realize just how much this matters, until we discovered Shinsin™ Chickens. Now, we can buy fresh chicken on the day it is processed. Wow! What a difference. Of course, we had to celebrate with Chicken Week.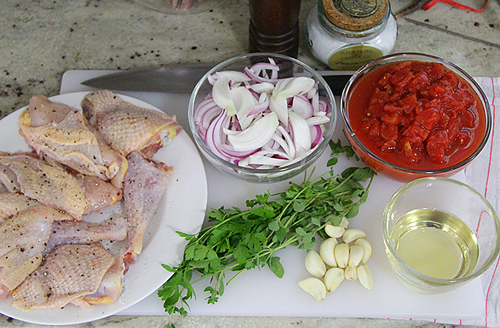 Chicken cacciatore is one of Luke's favorites. This dish makes the whole house smell like an Italian restaurant. No need going to Italy or New York City for great Italian flavor. You can make this home-style recipe in under two hours in your own kitchen.

We used a Shinsen Earth Brown™ chicken because it has a firmer texture and a game-style taste. Perfect for a braised chicken dish.

This dish is quite easy to make. Brown the chicken gently and follow the steps. Of course, make the rice while the chicken is in the oven.

The results were delicious. The chicken was nice and tender, but didn't fall apart. A rich tomato, mushroom, garlic and herb sauce brought it all together with the rice.

Now, all you'll need are red-checked tablecloths and a few Puccini opera recordings (click to listen). Have fun!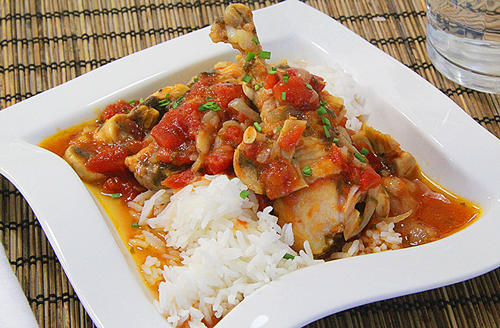 | | | |
| --- | --- | --- |
| Chicken Week: Chicken Cacciatore | | |
Prep time: 20 mins
Cook time: 1 hour 20 mins
Total time: 1 hour 40 mins
Ingredients
1 whole Shinsen Earth Brown chicken, cut into pieces, legs, thighs, wings and breast. Save the back for making homemade stock
1 white spring onion, white onion part only, sliced
1 red spring onion, red onion part only, sliced
12 cloves garlic, peeled and thinly sliced
½ bunch fresh oregano, chiffonade
½ bunch parsley, chiffonade
28oz can diced tomatoes
1 cup white wine
Salt and pepper to taste
3 Tbsp canola oil
3 cups of chicken stock, more if needed (see recipe link, below)
4 bay leaves
3 large mushrooms, cut in to 8 pieces, each
1 Tbsp balsamic vinegar
Fresh chive for garnish, chiffonade
Instructions
Preheat oven to 350 degrees.
In a large heavy-bottomed pot on high heat place 2 tablespoons of oil.
Place chicken in the pot skin side down.
Add salt and pepper to the back side of the chicken.
Brown chicken on all sides. About 4 minutes on each side.
Remove chicken from the pot and set aside.
Reduce heat to medium and add one tablespoon oil to pot. Add onions. Cook until translucent in color.
Add oregano, parsley and garlic slices. Mix well.
Turn heat to high, add wine. Cook until most of the wine has reduced.
Add diced tomatoes with juice.
Add back the chicken. Nestle in between everything.
Add just enough stock to cover the chicken.
Add more black pepper.
Bring everything to a simmer.
Once simmering, place lid on pot and place it in the oven. Cook for 1 hour or until chicken has tender.
Remove pot from oven. Remove chicken and set aside to rest.
Place sauce back on stove on high heat. Add quartered mushrooms. Reduce sauce by half.
Season to taste.
Add 1 tablespoon of balsamic vinegar.
Remove bay leaves from pot and discard.
Place chicken back into pot and reheat chicken.
Serve with rice on the bottom of the bowl, top with chicken and sauce. Garish with chives.
Enjoy!
Homemade Chicken Stock recipe
Thanks, Luke, for a great dish.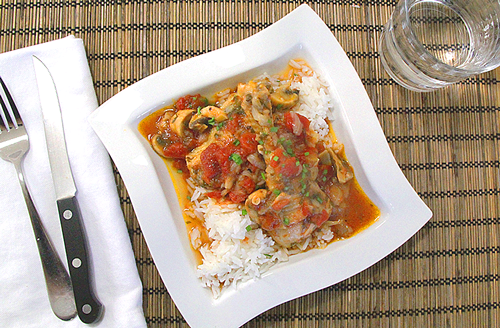 You can get fresh Shinsin Chickens daily from our friends at New American Poultry at 8612 Younger Creek Dr. in Sacramento. No more looking at sell-by dates or worrying where the bird came from.