Update and Redux: J – What's the first and best thing to make with homemade pork carnitas? Restaurant-style enchiladas, of course. When we did this dish, originally, we were all amazed at the difference in flavor when you use homemade carnitas and homemade enchilada sauce. Wow! Well, here they are again. Please enjoy!
C – Oh wow! This dish was so good.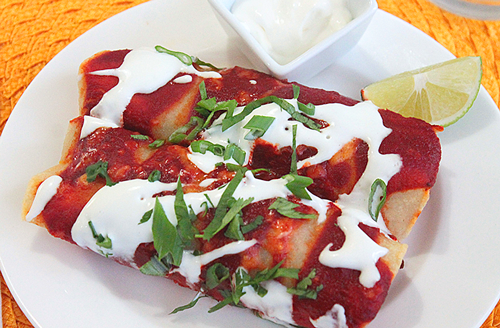 Maybe I was really hungry since we did take so long to make these. It was worth it. The pork carnitas and enchilada sauce took quite a while. I was so glad when those two recipes were done. It was so simple to assemble enchiladas after they were done. I think these were the best restaurant-style enchiladas I have ever eaten.

Whenever I order enchiladas at the restaurants they have too little meat, too much sauce and too much cheese. All I feel like I am eating is cheesy-enchilada-sauce-soup with corn tortilla. Oh, yeah, we are too cheap to give you a lot of meat, so here's a speck just to say it's a pork enchilada. Thanks, restaurant. I won't be ordering that again.

The meat is the most important part of the enchilada for me. The sauce has to be lightly coated just to enhance the flavors of the corn tortilla and the meat. The cheese doesn't have to be all gooey. Just enough to make it look pretty and add a hint of cheese taste to it.

Luke just made the best one. If Jim didn't eat his share, I would have eaten it all. I loved the sauce. Luke put a nice light coating of sauce into the carnitas. Then he fried the corn tortilla to make them soft and easily to work with.

Finally, he added a light coating of enchilada sauce, topped it with a drizzle of sour cream and lime mixture and finished with a sprinkle of cheese.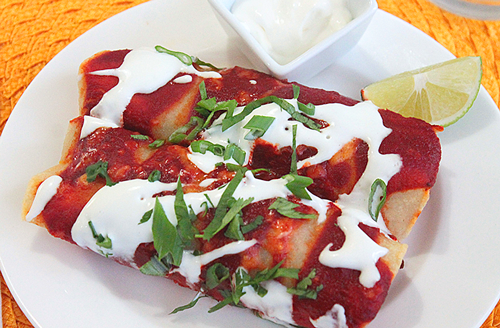 | | | |
| --- | --- | --- |
| Restaurant-Style Enchiladas | | |
Prep time: 20 mins
Cook time: 20 mins
Total time: 40 mins
Ingredients
¼ yellow onion, sliced thinly
Canola oil
2 cups + ½ cup enchilada sauce, divided
2 cups pork carnitas
¼ cup cheddar cheese, shredded
4 corn tortillas
1 green onion, chopped
1 Tbsp cilantro, chiffonade
¼ cup sour cream
½ tsp lime juice
Instructions
Preheat oven to 350 degrees.
In a small saute pan, place a teaspoon of oil and heat to medium high. Add onions and saute until partly caramelized. About 5 minutes.
In a small bowl, mix pork carnitas and enchilada sauce together.
In a large saute pan, heat 1 inch of oil on medium high heat. Add tortillas one at a time. Heat until soft. About 5-10 seconds for each tortilla. Remove and let cool for a bit.
In a baking dish, ladle a thin layer of enchilada sauce on the bottom of the pan.
Start assembling enchiladas by placing an equal amount of meat/onion mix in each tortilla. Roll up and place enchiladas side by side in the baking dish.
Drizzle more sauce liberally over enchiladas.
Top with cheese.
Bake for 20 minutes. Remove from oven.
Mix sour cream and lime juice together in a small bowl.
Top enchiladas with green onions, cilantro and sour cream/lime mixture.
Serve.
Enjoy!
Pork Carnitas recipe
Enchilada Sauce recipe
Did I mention it was good? I could eat that all day … if I didn't get fat from it.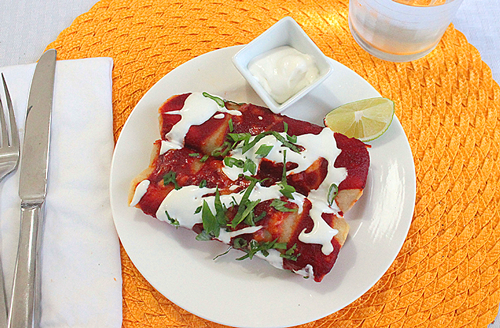 Thanks, Luke, for making the best enchiladas I have ever eaten.