Update and Redux: C – This is one of my favorite dipping sauces in the Spring. It's sweet, savory, creamy and extremely addicting. We love using it with grilled vegetables and meats. There are lots of ingredients in the recipe. But, it's extremely easy to make.
C – Jim was reluctant for me to make a Romesco sauce.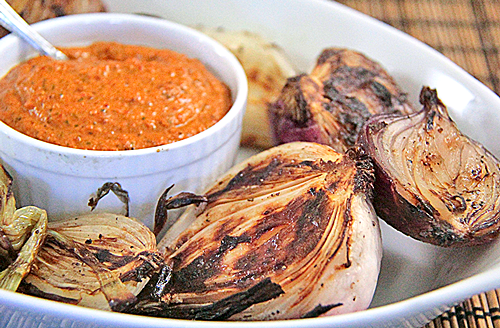 He said there would be too many steps; it's a tough recipe to achieve a good result. I was disappointed. But, I wasn't going to give up. I just had to find one that was easy and prove to Jim it wasn't going to take me all day.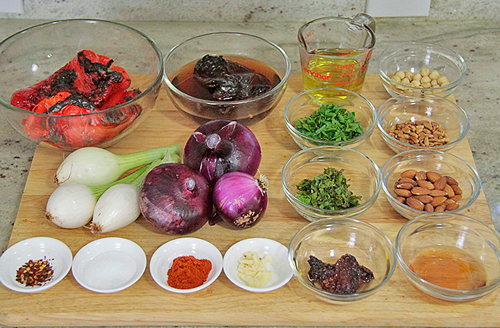 Besides, when you look at the recipe below, you will see all these amazing ingredients. You just know it's going to be a good sauce. I don't think you would care much if it was hard.

I seriously didn't. Of course, the photographer/editor (Jim), would think differently.

Luckily, I found a great recipe that wasn't too hard to make. It's almost foolproof.

Roast and toast a few things. Cut some things up. Throw it all in a food processor and enjoy! I really couldn't believe how fast it was. I don't think Jim believed it either.

The taste test with grilled spring onions was amazing. I loved the nuts and mint in the sauce. The nuts gave the sauce a really nice rich flavor. I loved that I toasted the nuts, too. Toasting allowed the sauce to be complex, crunchy and thick.

The mint was a great addition. The mint brought a nice refreshing twist. A bit like summer. I really loved it.

This Romesco sauce was so good, I wanted to slather it on everything. After the grilled spring onions, I slathered it on toast, then on steak. Jim slathered the last of it on a Pork-a-Palooza Burger.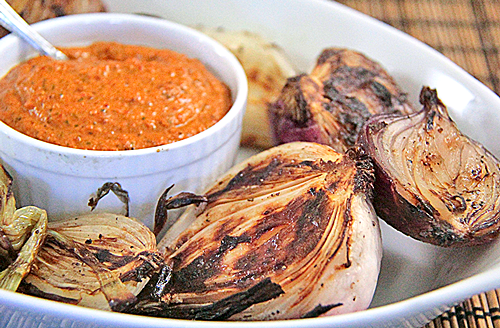 | | | |
| --- | --- | --- |
| Grill Week: Grilled Spring Onions with Romesco Sauce | | |
Prep time: 45 mins
Cook time: 9 mins
Total time: 54 mins
Ingredients
2 red bell peppers, roasted, peeled, stemmed, seeded and sliced
1 ancho pepper, soaked in warm water until tender, stemmed, seeded and chopped
2 oven roasted tomato halves, chopped (see recipe linked below or 2 sun dried tomatoes, soaked in water)
2 garlic cloves, finely chopped
¼ cup almonds, toasted
2 Tbsp hazelnuts, toasted
¼ cup pine nuts, toasted
¼ cup fresh flat-leaf parsley, chopped
2 Tbsp fresh mint, chopped
2 Tbsp sherry vinegar
1 tsp smoked paprika
½ cup grapeseed oil
Salt to taste
1 pinch hot red pepper flakes, optional
6 small spring onions, about 1 to 2-inches
Salt and pepper to taste
2 Tbsp grapeseed oil
Instructions
Put all the ingredients in a food processor, except the oil, salt and hot red pepper flakes. Process to a coarse paste.
Season with salt. Add a pinch of hot red pepper flakes if you want it spicier.
Slowly drizzle in the oil while the processor is still on. Blend well until well combined.
Set aside.
Preheat a grill on high medium high or prepare a medium fire in a charcoal grill.
Trim off the top greens of the onions, so each onion is about 8 inches long. Leave the roots on, and cut the onions in half lengthwise.
Season the onions with salt and pepper and toss with oil.
Cook on both side in a covered grill until charred on the outside. A knife should easily penetrates the bulb. About 4 minutes on each side.
Arrange on a platter and serve with Romesco Sauce. These can be served hot or at room temperature.
Serve.
Enjoy!
Oven-Roasted Tomato recipe
Easy and incredible. I really can't beat that.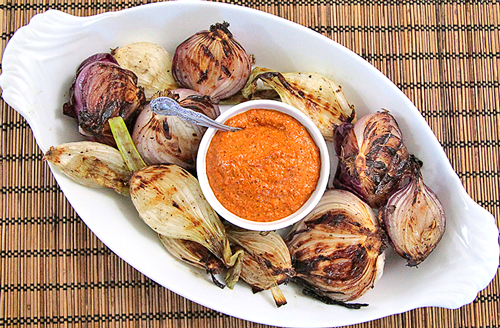 Now, I just need to make more and eat it with everything.