C – I have been making Mexican rice, beans and tortilla chips wrong all these years.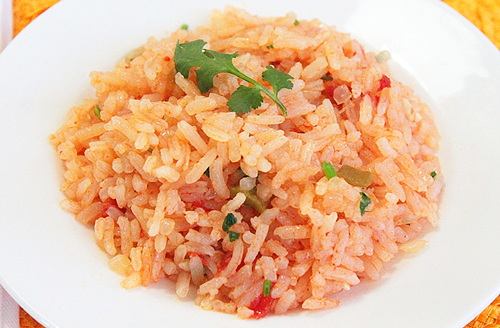 … or maybe just differently. Now I know how to make them the authentic way and will never go back. The rice was the hardest out of all three. It makes so much sense how to make rice this way. It's not just plain white rice. It has lots of spices and vegetables. No wonder it's so good. The recipe adds onions, chopped tomatoes, cumin, garlic and cilantro to the rice. What's not to like?

It took about an hour to cook, but well worth the wait. I loved that I had to saute the rice almost like a risotto before adding the tomatoes and baking it in the oven. Nice pillows of rice that weren't too soft or too hard. Just right. It was perfect as a side dish or in burritos.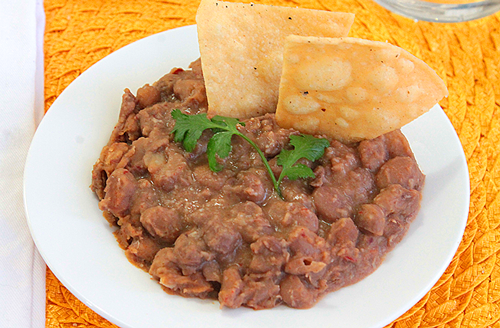 I didn't think beans had such a process to them. Pork fat from the pork we trimmed off from the pork carnitas yesterday was added to the bean mixture, along with a California dried chili. It didn't take too long to cook the beans. Only took about an hour or so, and that's without soaking the beans over night. What made these beans different from the ones that I make?

Luke blends up the pork fat, California chili and about a cup of beans in a food processor to add them back to the strained beans. Blending the beans with pork fat made a bit of a paste to stick to the whole beans. It added lots of flavor to the mix. I loved the perfect salty flavor that was well-balanced with spicy and creamy from the pork fat. It will also go great as a side dish or in burritos.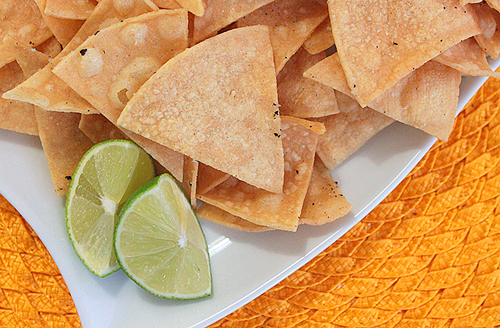 Tortilla chips were similar to how I made tortilla chips. But, one secret that Luke had made all the difference. Buy the cheapest corn tortillas you can find. They made the best crispiest chips. The cheap corn tortillas usually have just a few ingredients versus ones with flavors, or that are too thick. The thick ones make tough chips that are hard to eat.

Simple and cheap ones are better. Also, the type of oil and temperature of the oil will make a difference. We kept the oil registered at a constant 350 degrees. When we placed chips in the pan, the temperature went down and we adjusted it accordingly. It was easy. They are best eaten same-day, but can keep for a few days and still be crispy. I loved dipping them in the beans and salsas.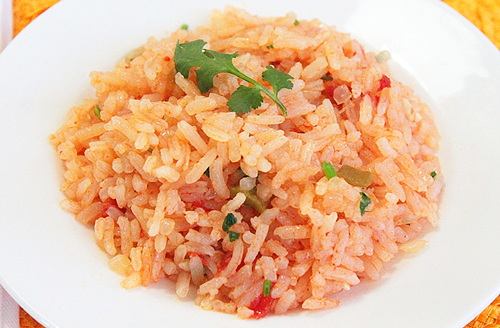 | | | |
| --- | --- | --- |
| Mexican-Restaurant-Style Rice, Beans and Tortilla Chips | | |
Ingredients
1 inch canola oil
Six 6-inch tortilla chips, cut into 8 even triangles
Salt and pepper to taste
1 pound pinto beans
Trimmed pork fat from pork butt (yesterday's recipe)
¼ onion
1 California chili
½ tsp cumin
Salt and pepper
Mexican-Restaurant-Style Rice
2 cups long grain white rice, rinsed
⅓ cup canola oil
¾ cup yellow onion, diced
2 tsp garlic, minced
2 cups chicken broth
1 Tbsp tomato paste
2 Tbsp mild green chilies, canned
½ tsp table salt
1 can (14 ounce) diced tomatoes, with liquid
½ cup fresh cilantro, chopped
Instructions
Heat oil in a large pan to 350 degrees. Measure using a candy thermometer.
When at temperature, lay about ⅓ of the tortillas to oil and increase temperature if it drops too low. Make sure to keep it close to 350 degrees.
Cook tortillas until golden brown and crispy. Flip them once.
Remove from pot and place in bowl with a towel to catch any excess oil.
Salt and pepper immediately.
Repeat with the remaining tortilla chips.
Serve with salsa or eat plain. Best eaten right away. Keeps for up to 2 days.
Enjoy!
In a baking sheet, place bean and sort through to make sure there are no pebbles or any dirt. Wash and place in large pot. Fill with enough water to double the amount of beans.
Add onion, pork fat, and California chili.
Cook the pinto beans on high stir once in a while to make sure that it doesn't stick.
Bring to a boil, once boiled bring temperature down to a simmer.
Add more water as needed until beans are soft and completely cooked through. About 1.5 – 2 hours.
Once done, stain beans and pork fat from pot.
Discard onion and pepper skins.
Place pork fat and 1 cup of beans in a food processor and blend well.
Add back blended mixture to whole beans.
Season with cumin, salt and pepper.
Serve.
Enjoy!
IMPORTANT NOTE: To cool and store, place finished beans on a sheet pan or in a shallow baking dish. Cool to room temperature. A large container of hot beans is so dense that it will not cool properly. This will cause your beans to spoil. Also, the temperature in the refrigerator will warm up and may cause spoiling of other foods.
Mexican-Restaurant-Style Rice
Preheat oven to 350. Bake 30 minutes total, stirring after 15 minutes.
Place rice in strainer and rinse under running water until it runs clear. About 2-minutes. This is important to create a dry, non-sticky restaurant-style rice.
Drain rice, making sure to shake out as much water as possible.
Heat canola oil to medium high in a dutch oven (3qt to 6qt) on the stove top. Drop a few rice grains in the oil. When they sizzle, add all remaining rice. Stir constantly and fry rice until it is light golden and translucent, about 6-8 minutes.
Add onions and stir into rice. Cook while stirring about 2 more minutes.
Add garlic and stir for another minute.
Stir in chicken broth, tomato paste, green chilies and diced tomatoes. Stir well and bring to a boil.
When rice reaches a boil, place lid on dutch oven and place in 350 preheated oven.
Bake 15 minutes then open oven and stir well. Replace dutch oven lid and bake another 15 to 20 minutes until done.
Remove from oven and stir in chopped cilantro. Cover and allow to rest about 5 minutes before serving to allow cilantro flavor to be absorbed by the rice.
Serve.
Enjoy!
Luke didn't have time to show me how to make the rice. It was from food.com. Thanks Luke. I am so glad you taught me these great tips for making beans and chips.
Adapted from: http://www.food.com/recipe/mexican-rice-restaurant-style-323550