Update and Redux: C – This is still one of my favorite pickles. They are great. It's one of those things that takes up space in the refrigerator, but I don't mind it at all. Still crunchy, spicy and delicious even after a few months. I still love the carrots and onions. I had to put more of those in the last batch I made. I was eating them more than the jalapenos … since the jalapenos were quite hot. Love love love these pickles.
C – I am scared of these pickles.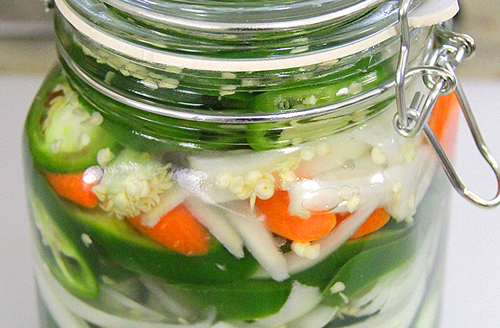 They look really spicy. And, they look so good. I might be crazy eating these. I know I am going to pay for it later. Any Mexican salsa bar would love to have these pickles as a part of their selection. They are a perfect to eat with tacos and burritos.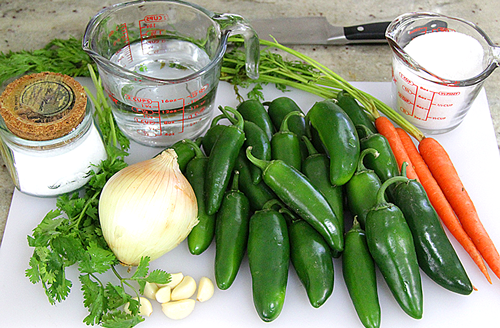 I really loved them. They did burn the heck out of my mouth. But, I think they were worth it. I will do it again and again.

It's definitely jalapeno season. Jalapenos are extremely hot this year. Luke loves spicy and can withstand a lot of heat. But, when he ate one of these jalapenos fresh, his mouth was burning. I knew pickling these would be a problem. After two weeks of waiting for these to pickle, it was the moment of truth.

Were these going to be as hot as I thought? I tried a carrot. Yup! They are really hot! But, to my surprise, the jalapenos weren't as spicy as before pickling. The carrots and onions really absorbed some heat. The jalapenos seemed to give up some heat. Yes, the jalapenos were still hot. But, not as hot as I was expecting. I don't want anyone commenting that I promised it wasn't going to be hot. It was still really hot.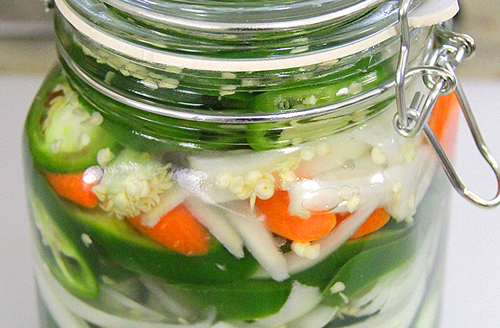 | | | |
| --- | --- | --- |
| Jalapeno, Carrot and Onion Pickles | | |
Prep time: 20 mins
Total time: 20 mins
Ingredients
2 pounds jalapenos, sliced on a bias
3 carrots, peeled and sliced on a bias
½ yellow onion, julienne
2 Tbsp sugar
2 Tbsp salt
2 cloves garlic
5 sprigs cilantro
12 oz white vinegar
8 oz water
Instructions
Place garlic, onions, jalapeno and carrots into jar.
Bring water and vinegar to a boil. Reduce to medium heat.
Add cilantro, sugar and salt. After 2 minutes, remove cilantro from brine. Turn off heat.
Cool liquid to room temperature.
Place liquid mixture into jar. Place jar in refrigerator and let sit for 2 weeks.
Shake once a day to ensure seasonings are distributed evenly.
DO NOT OPEN UNTIL READY.
Open after two weeks to taste.
Serve with tacos or eat as a quick snack.
Enjoy!
I loved the taste of the pickles: sour, salty, a bit sweet and really spicy. We had some with mini shrimp tacos They were delicious and addicting. The jalapenos kept it's crunchy texture and really made it great with tacos.
Thanks, Luke, for making this Mexican delight.