C – I thought making jerky with ground meat wouldn't work.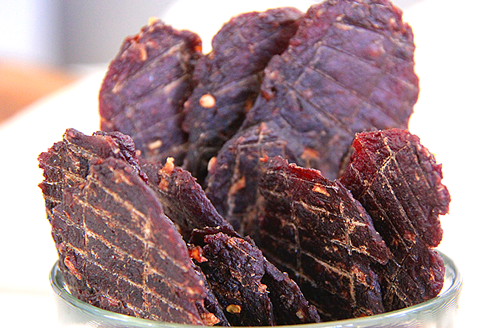 I was wrong. I really wanted to make buffalo jerky, but I couldn't find any reasonably priced top round. Trying to find buffalo meat can be hard sometimes. My local natural food store typically has some available … but, not the cut I really wanted.
Another experiment had to happen. This time with ground buffalo. Ground buffalo is usually the best option for buffalo meat. It seems to be readily available.

I have tried drying ground beef before, but I didn't like the taste. I used a fatty blend of ground beef. Dried fat doesn't taste all that good. It also ended up a bit grainy for me. I think trying a lean ground beef might work well. But, I haven't tried it. I knew buffalo meat is much leaner. It's even leaner than chicken meat. So, it was worth trying. Once marinated overnight, I formed them to thin patties and dried them according to the dehydrator's instructions.

The results were great. I love this jerky. It's easy to eat and really flavorful. Since its ground meat, the seasoning really gets into everything. It really makes this the most flavorful piece of jerky you will ever eat.
I used the same seasoning as the flank steak jerky I made earlier. It's really tasty. It's not tough, since it's ground meat and not mealy like the fatty beef.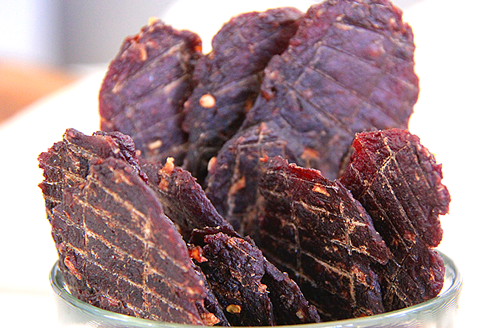 | | | |
| --- | --- | --- |
| Jerky Week: Ground Buffalo Jerky | | |
Prep time: 24 hours 15 mins
Cook time: 7 hours
Total time: 31 hours 15 mins
Ingredients
1 pound ground buffalo meat
3 Tbsp soy sauce
3 Tbsp Worcestershire sauce
1 Tbsp ginger, minced
1 Tbsp mince garlic
2 Tbsp brown sugar
¼ tsp red pepper flakes
1 tsp paprika
Instructions
Place all the ingredients in a bowl, except the ground buffalo. Mix well.
Add ground buffalo to sauce. Mix well.
Store in a covered container and let marinate overnight.
To dry, take a ball of ground meat place in the palm of your hand and flatten it.
Then, place on the dehydrating tray. Dehydrate according to manufactures instructions.
Let cool and store in air tight containers.
Store outside if completely dry or in refrigerator if slightly damp.
Eat when you're in the mood for a meaty snack.
Enjoy!
This is my favorite jerky. My boyfriend and I fight over the last piece every time.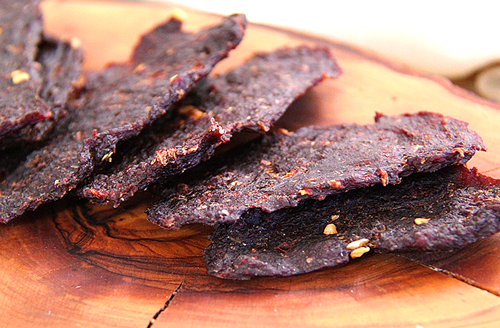 There is something that I really love about it. It's just plain addicting.