C – I am always so curious to try new things at a dim sum place.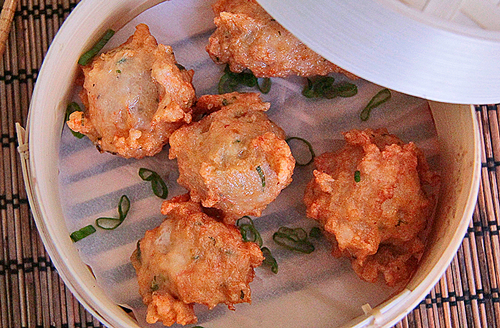 I love the dim sum places where they push carts filled with small food baskets. I love seeing what's inside each basket. The only thing I hate about those places is that I always want to try everything new, as well as have some of my favorites.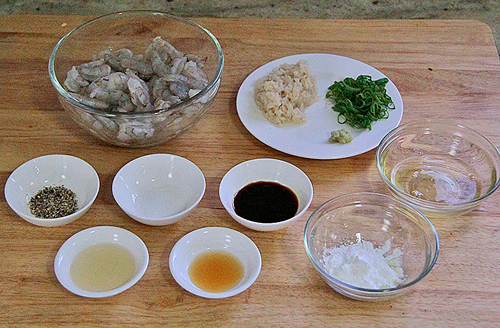 These shrimp balls are one of my new favorite things.

Not all dim sum places have these shrimp balls. So, it's a special treat when I do find them.

Well, since I can't find them everywhere, I thought I would try making them. They are really simple.
Just blend up shrimp and water chestnuts into a food processor. Then, add everything into a mixing bowl to combine. Once ready, drop them into not-too-hot oil and cook until golden brown.

They are really simple to make and are packed full of flavor. It's a great appetizer for parties, since they don't get soggy. Also great for a dim sum night with friends and family, since they are so quick to make.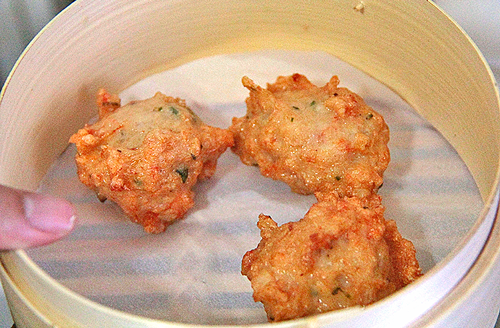 I love the taste, especially with a few dipping sauces available.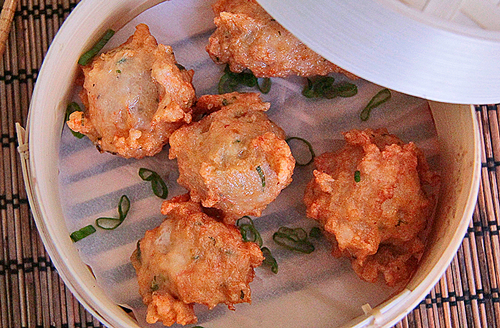 | | | |
| --- | --- | --- |
| Dim Sum Week: Fried Shrimp Balls | | |
Prep time: 15 mins
Cook time: 16 mins
Total time: 31 mins
Ingredients
1 pound shrimp, peeled and deveined
8 water chestnuts canned or fresh, about ½ cup slices, then small dice
½ green onion, finely chopped
½ tsp grated ginger
2 tsp soy sauce
1 tsp rice wine or rice vinegar
½ tsp granulated sugar
¼ tsp sesame oil
freshly ground black pepper, to taste
1 large egg white
2 to 3 tsp cornstarch, as needed
Instructions
Heat the oil for deep-frying to 350 degrees.
Soak the shrimp in warm, lightly salted water for 5 minutes. Rinse in cold water, drain and pat dry with paper towels.
If using canned water chestnuts, run under warm water to remove any tinny taste. Drain. Mince the shrimp and water chestnuts in a food processor.
In a medium bowl, combine the minced shrimp and water chestnuts. Mix in the chopped green onion, grated ginger, soy sauce, rice wine or rice vinegar, sugar, sesame oil, pepper, egg and cornstarch.
Form the mixture into small balls about half the size of golf balls. If too loose to form balls, add more cornstarch. Don't add too much, since they will get tougher as you add more in.
Carefully add the shrimp balls to the hot oil, adding only a few at a time so as not to overcrowd the wok.
Deep-fry the balls, turning constantly, until they are crisp and golden (3 to 4 minutes). Remove and drain on paper towels.
Serve the shrimp balls with sweet and sour sauce, plum sauce or hot mustard.
Enjoy!
The shrimp is flavorful and tender. I love the water chestnuts. They add a surprising crispiness to the balls.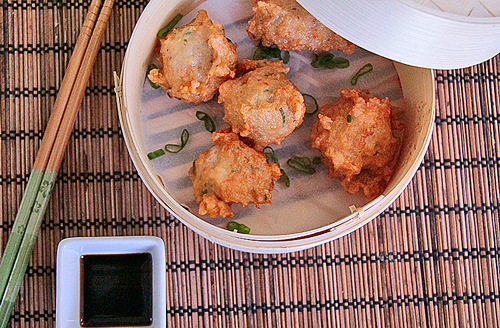 I love shrimp and these shrimp balls are amazingly easy dim sum treats.
Adapted from: http://chinesefood.about.com/od/shrimprecipes/r/shrimpballs.htm