C – My parents and brother used to trick me into eating chicken liver.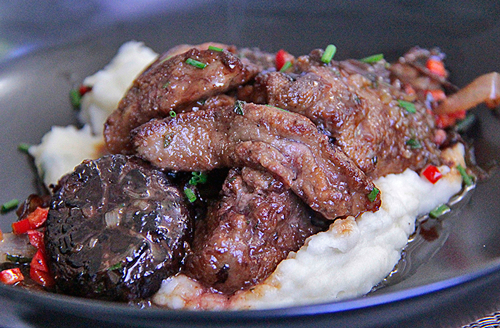 My parents would tell me it's good for me. It has iron in it. It would make me grow strong and healthy. My brother, on the other hand, would say it's one of the rarest parts of the chicken. I would have to fight him for it. He would be the healthiest and the strongest because he ate this stuff.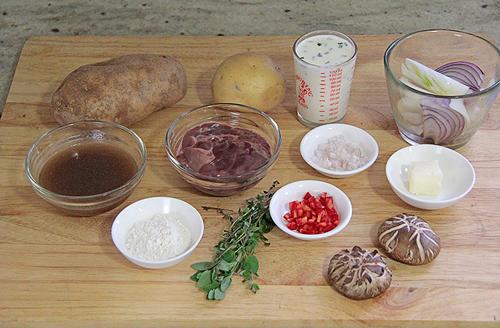 Being siblings and having sibling rivalry, he would always make me fight for the liver. Even if I didn't like it. Of course, he would let me win most of the time. If he let me win all of the time, I would have been wise to his trick.

I hated liver when I was growing up! It had a weird iron taste. The taste would linger in my mouth for a while. And, it had a strange mushy, grainy texture that was also bad.
But, after awhile, my taste buds changed. Liver was good tasting and it had a unique texture. Yeah, maybe I was stronger and healthier for eating it.

When Irish week came a long, I found out one of the traditional dishes was liver and onions. Since we had a lot of duck liver in the freezer, it was time to use them. Luke made this wonderful dish. I was surprised at how good it tasted.

Soaking the liver in milk overnight really helped make the livers have less of an iron taste. Duck liver has a different texture than chicken liver. It also might be the way Luke cooked them. He dredged them in flour and didn't cook them for too long.
Just a few minutes and he was done. Ready to serve. I think I was use to them being overcooked and grainy. So. this is what liver could taste like. Wow!

Of course, Luke made liver even more appetizing with a lot of flavors added to the dish. It wasn't just liver. Onions, mushrooms and peppers on top of pureed potatoes. A wonderful dish.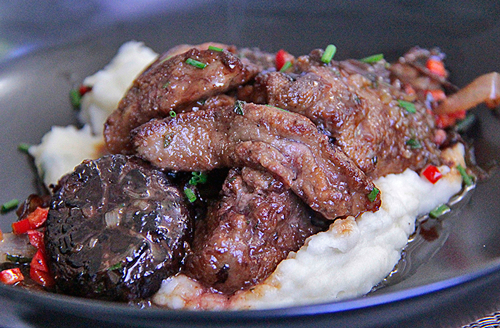 | | | |
| --- | --- | --- |
| Irish Week: Duck Liver and Onions with Potato Puree | | |
Prep time: 10 mins
Cook time: 20 mins
Total time: 30 mins
Ingredients
3 duck livers
1 Tbsp flour
Enough milk to cover duck livers
1 Russet potatoes, peeled cut into cubes
1 Yukon gold potatoes, peeled cut into cubes
½ cup cream
1 tsp butter, cut into 4 small cubes
2 Shiitake mushrooms, stems removed
1 Tbsp sherry
2 Tbsp chicken jus
1 shallot, minced
1 tsp fresh thyme leaves, chopped
1 tsp cream
½ red onion, sliced
½ yellow onion, sliced
½ Fresno chili, chopped
1 tsp fresh oregano, chopped
Salt and pepper to taste
Chives, chopped for garnish
Instructions
Soak duck liver in milk and refrigerate covered overnight or 24 hours before cooking.
In a small sauce pot, place potatoes and enough water to cover. Boil the potatoes until tender. About 15 minutes.
Meanwhile, in a medium saute pan on medium high heat, melt 1 small cube of butter. Add mushrooms whole and cook for about 2 minutes. Add sherry and let it ignite.
Once the flame dies down, add jus, shallots and thyme. Let simmer add one more small cube of butter and let melt. Remove from heat and add cream. Mix well and set aside.
In another saute pan, add oil and heat on medium high. Add red and yellow onions and cook until caramelized. About 10 minutes.
Add salt, pepper, oregano and Fresno chilies. Remove from pan and set aside.
Once the potatoes are done, pour the potatoes into a strainer. Add the potatoes back into the same sauce pan. Add cream. Mash until pureed. Add salt and pepper to taste. Set aside.
Salt and pepper the duck livers, then coat them with flour.
In another saute pan add oil to the pan and heat on medium high. Place livers into pan and cook until golden brown. About 1 minute on each side. Don't overcook.
Add the mushroom mixture into the liver. Mix well.
In a serving bowl, place a large dollop of potatoes in the center.
Top with the chili/onion mixture.
Then top with the liver and mushrooms.
Pour the sauce over the entire pile.
Garnish with chives.
Serve.
Enjoy!
The liver tasted like meat with wonderful sides along with it. Luke really out did himself. I liked it and wish he made more.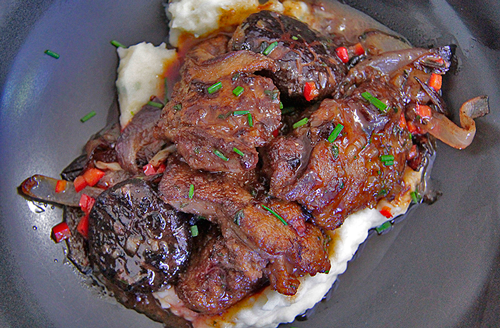 I liked liver. Now, I have a even better appreciation for it. I guess I will have to save my chicken livers to try this recipe out with them.