Update and Redux: J – This dish takes me back to almost the beginning of Be Mindful. Be Human. Luke was doing lots of cooking. We were doing lots of learning … about pretty much everything. How to cut vegetables. How to sear fish. How to plate beautifully. A long list, which included the fact that a common garden weed was the new, hot garnish. Purslane is gourmet. This dish is delicious.
J — My turn!
I've been enjoying seeing Christina discover the pleasure of cooking with — well, watching — Luke for awhile now. He's quite talented. She's having fun.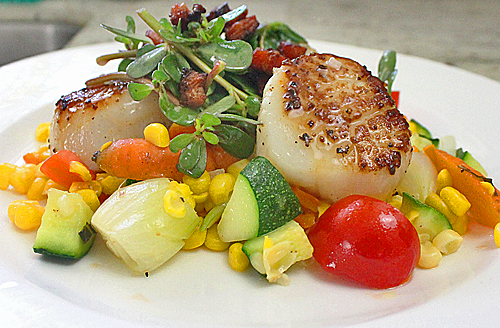 Luke and I have cooked together, periodically and non-commercially, for a number of years.It's always been fun and the food was always delightful. An informal, let's-cook-something get-together, a large party or a small party. His place. My place. They were all fun. I learned a bunch.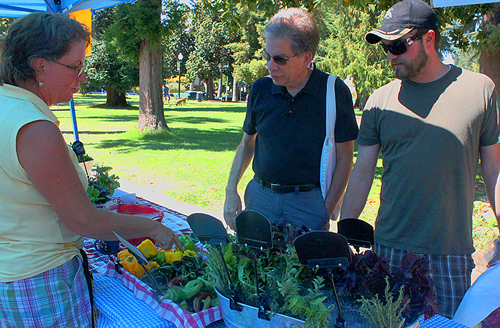 This week, I had scallops. We went to the Farmer's Market the day before. We explored and got some veggies. I was dying for lardons with scallops. Did I tell you that I LOVE bacon in any form?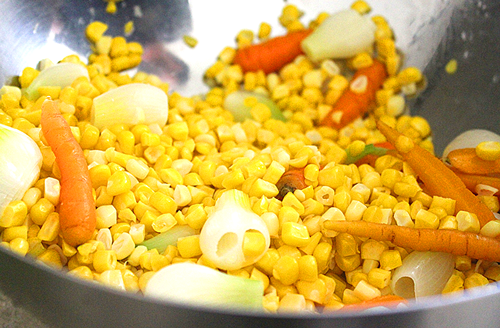 This recipe is typical of our collaborations. It's a great use for the abundance of late-summer vegetables and a little-known "weed" that has made its way into high-end cooking.

And, of course, who can go wrong with huge, dry scallops and the pepper-bacon lardons that are part of the mix.

Time to eat!
Fun, again! And, oh so tasty. Thanks Luke and Christina.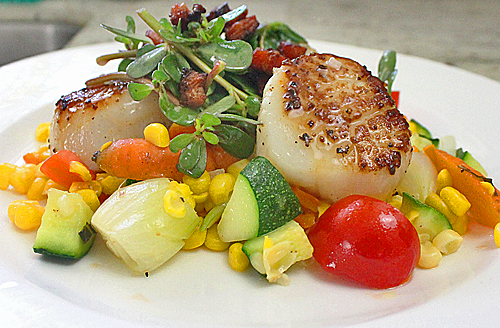 | | | |
| --- | --- | --- |
| Seared Scallops with Purslane and Succotash | | |
Prep time: 60 mins
Cook time: 30 mins
Total time: 1 hour 30 mins
Ingredients
3 ears corn
½ basket cherry tomatoes
3 gypsy peppers, seeded
1 medium zucchini
15 pearl onions
12 baby carrots
5 leaves basil, chiffonade
1 Tbsp. olive oil
Salt and pepper to taste
1 small shallot, minced
¼ lb unsalted butter, at room temperature
Salt to taste
12 large, dry scallops
1 small bunch purslane
¼ lb pepper-bacon from slab, cut into ½-inch cubes
2 Tbsp. grapeseed oil
Instructions
Cut corn off cob
Peel pearl onions
Peel and trim baby carrots
Medium-dice gypsy peppers and zucchini, separately
Quarter tomatoes
Blanch corn, onions and carrots, changing water after each ingredient
Heat medium saute pan on medium-high. Add 1 Tbsp. olive oil. When hot, add zucchini and cook on medium-high until slightly browned. Remove to a large bowl.
Saute gypsy peppers in same pan until soft. Add to bowl.
Combine all ingredients in bowl. Salt and pepper to taste.
Heat small saute pan with ¼ cup water and shallot. Reduce until water is almost gone.
Slowly whisk small amounts of unsalted butter into pan until emulsified.
Salt to taste. Keep warm.
Wash enough purslane for 4 small servings, about 2 cups
Pat scallops dry and season lightly on one side only with salt and fresh ground pepper.
Heat flat-top grill on high until hot. Add grapeseed oil. When it shimmers, add scallops with seasoned side down.
Turn heat to medium-high and sear first side until browned, about 4 minutes
Turn scallops and sear other side until they are medium-rare, about 3 more minutes. Remove from grill.
Cook pepper-bacon cubes until crisp.
Spoon bacon lardons onto purslane and stir in a little of the pan drippings. Mix well.
Serve 3-scallops-each on top of mounded succotash. Dress with purslane-lardons mix.
Drizzle small amount of butter sauce on each scallop.
Enjoy.