C – There's nothing more nerve racking than a professional chef …
looking over your shoulder and saying "I don't think the recipe you're making is working." Luke didn't want to make this recipe. He wanted to watch me make it, instead. Making ricotta cheese is really simple. But, it really can be challenging to see if it's turning out right. It was our first try at making ricotta.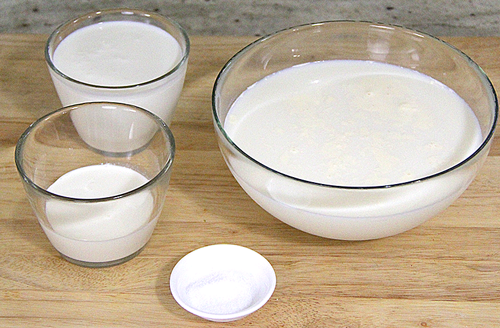 There are a couple of different methods for making ricotta. One of the most popular is using milk, cream, buttermilk and salt. The other is making it with milk, cream, salt and lemon juice. I couldn't find one with buttermilk. We wanted to try making it with buttermilk. It seemed better and more authentic. Luke remembered there was a recipe with buttermilk in a cookbook he had, "The Farm" by Ian Knauer.

It was an easy recipe. But, the instructions weren't clear (as usual). Luke kept on asking me if I was doing it right. I kept on reading the three sentences of instruction and telling him "Yeah, I'm doing it right." Finally, it started to curdle. We were both excited. The house smelled like cheesy goodness. The buttermilk really mixed well and gave off this great aroma.

Once it was strained for 30 minutes, the moment of truth came. Did I really achieve ricotta cheese? Yes, I did. It was the best tasting, most flavorful ricotta cheese ever.
Prep time: 40 mins
Cook time: 20 mins
Total time: 1 hour
Ingredients
1 gallon whole milk
3 cups buttermilk
½ cup heavy cream
2 tsp kosher salt
Instructions
Place milk, buttermilk, cream and salt in a large pot. Slowly bring to a boil on medium low heat.
Stir often to prevent scorching on the bottom of the pot. Stir for about 15 to 20 minutes. Once it comes to a boil, it will look curdled.
Pour mixture through a fine-mesh sieve or strainer with several layers of cheese cloth on top.
Let the cheese drain completely. About 30 minutes.
If the ricotta is too dry add a few tablespoons of the drained water back into the ricotta.
Serve.
Enjoy!
Luke and Jim agreed. I was so happy. I guess it is worth having a chef look over my shoulders once in a while.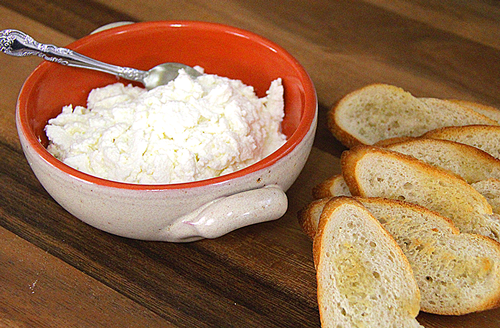 It gives me a chance to show him I can follow instructions well.
Adapted from: http://www.amazon.com/The-Farm-Rustic-Recipes-Incredible/dp/0547516916/ref=sr_1_1?ie=UTF8&qid=1375483330&sr=8-1&keywords=ian+knauer