C – Now is Luke's turn to make something good with fava beans.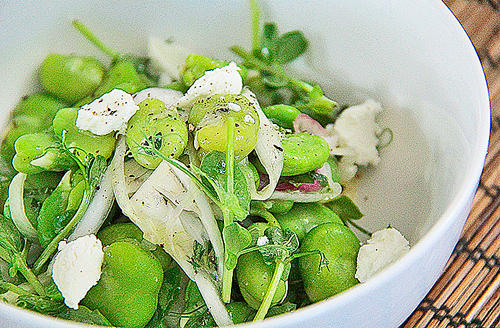 This cold fava bean salad with spring onions and goat cheese is exactly what it sounds like. A few ingredients with lots of flavor.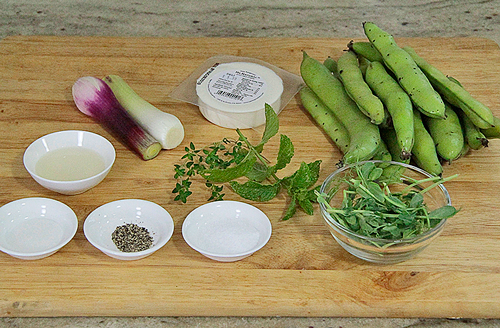 This was the salad that won me over in trying to get fava week going.

It was different and interesting.
Luke pickled spring onions. Blanched and shucked fava beans like a boss.
Threw anything he saw on the refrigerator that looked good in there too. Pea sprouts? Throw it in there too.

It was great and really light. I was surprised you can get a bean salad to feel light and healthy. Usually bean salads aren't. They are dense and you can only eat just a small amount.
I was happy with this salad. Luke didn't put a lot of favas in there. Just enough. He piled on the pea sprouts and the spring onions. It was a really balanced salad.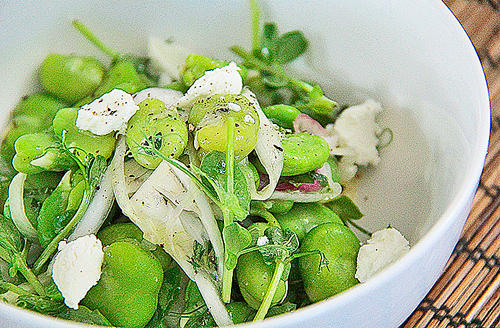 | | | |
| --- | --- | --- |
| Fava Bean Week: Cold Fava Salad with Spring Onions and Goat Cheese | | |
Prep time: 20 mins
Cook time: 5 mins
Total time: 25 mins
Ingredients
1 cup Fava beans, shucked
1 tsp grapeseed oil
2 leaves mint, chiffionade
1 sprig thyme, chiffionade
1 Spring onion, sliced thinly on a bias with a mandoline
1½ Tbsp rice vinegar
1 tsp granulated sugar
¼ tsp black pepper
¼ tsp salt, more to taste
½ cup pea sprouts
2 Tbsp goat cheese
Instructions
Place Spring onions, rice vinegar, sugar, pepper and salt into a mixing bowl and toss until combined. Set aside.
Blanch shucked fava beans for about 5 minutes or until tender. Place under cold water to stop the cooking process. Remove the outer shell of the fava beans.
Toss favas with a little grapeseed oil, salt and pepper.
Add onions to the fava mixture.
Add pea sprouts.
Add goat ½ of the goat cheese to make it creamy.
Place in a serving bowl.
Top with more goat cheese.
Add a sprinkle of salt, if desired.
Sprinkle black pepper over top.
Serve.
Enjoy!
Thanks, Luke, for showing me that I can make fava beans be the highlight of the salad, but not go over board with it.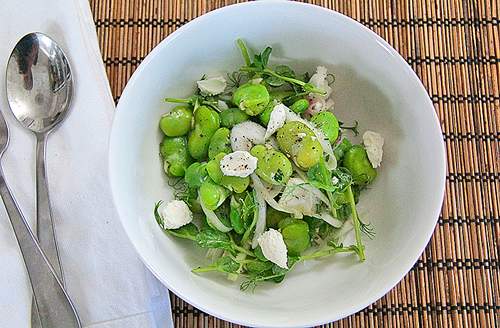 It was a great salad.