Update and Redux: C – Got a cereal lover on your gift list for the holidays? Make some awesome homemade granola. It's the best thing you can give them. This granola is not too sweet, either. Place it into small one-cup mason jars and put a ribbon on top. It's perfect serving size for a bowl of cereal or a snack.
C – Granola has been given a bad rap for too long.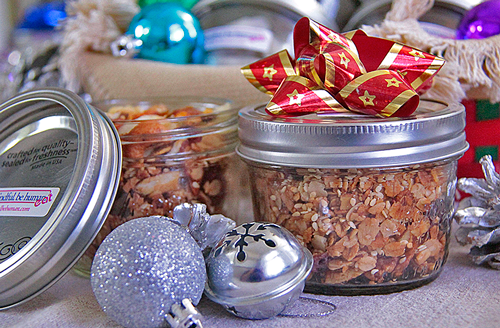 Granola should be healthy and taste delicious, right? I think when most people hear granola, they think of crunchy clumps of oats that are super sweet and loaded with fat. Many times granola is full of oats and not much else. Maple syrup is used, so it's extra sweet.
Jim didn't like the idea of me making granola. He was imagining the worst. I told him that the granola I make isn't like that at all. If you don't know me by now, I like to load my meals with the good stuff.

Lots of nuts, seeds, coconut flakes and fruit. The oats-to-other-stuff ratio is usually 50/50. I don't use maple syrup. I use a light-tasting clover honey and brown sugar. Just to add a bit of sweetness.

One thing that I learned is using an egg white in the mix will really help crisp-up the granola. The granola won't have a powdery consistency. Also, adding the dried fruit at the very end helps the fruit stay soft. Not dry out and be hard as a rock.

Jim loved it. I did too. It's really addicting. Jessica tried some and said it was great. I was happy.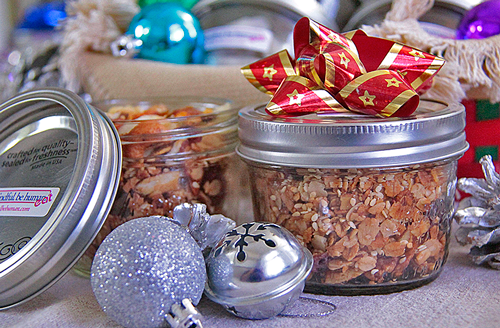 Recipe type:
Mains, Snacks
Prep time: 20 mins
Cook time: 45 mins
Total time: 1 hour 5 mins
Ingredients
1 large egg white, beaten
3 cups old fashioned oats
½ cup each chopped nuts (sliced almonds, pistachios, pecans and walnuts)
½ cup dried coconut
½ cup sesame seeds
¼ cup coconut oil, melted
½ cup honey
2 Tbsp light brown sugar
1½ tsp kosher salt
1 tsp vanilla
1 tsp cinnamon
1 cup dried cranberries
½ cup pitted dates, chopped
Instructions
Preheat oven to 300 degrees.
Combine egg white, oats, nuts, coconut, sesame seeds, coconut oil, honey, salt and vanilla. Toss well to combine.
Spread out on a rimmed baking sheet lined with parchment paper.
Bake granola, stirring every 10 minutes until golden brown and dry. About 40 to 45 minutes.
Let cool on baking sheet.
Once cooled, the granola should be crisp.
Mix in dried fruit.
Serve or store in an air tight container for up to 2 weeks at room temperature.
Enjoy!
This granola isn't that sweet. It makes a great addition to breakfast sprinkled over some fruit and milk. Jim had some with his yogurt and really enjoyed it.
I think this might be a staple in the Be Mindful. Be Human. kitchen for a while.