Update and Redux: J – I can see why Christina has never liked American chicken noodle soup. Compared to Asian chicken soups, they are generally pretty limp in flavor. One big difference is the type of chicken used. Asian chicken soups use the brown chicken that is used in almost all Asian dishes. Much bigger flavor and the meat doesn't fall apart like in typical chicken soups.
This recipe calls for an Asian brown chicken. You can get them at any Asian market that sells fresh poultry. The soup is really delicious!
C – I've never liked American chicken noodle soup.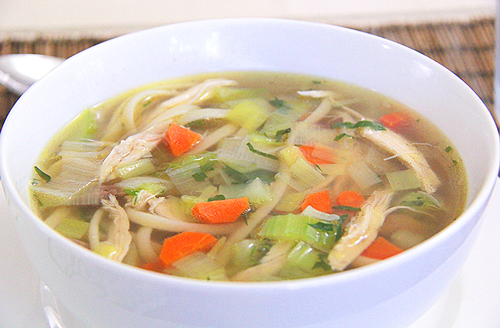 Luke wanted to try making a traditional chicken noodle soup with a Shinsin Earth Brown™ whole chicken. I thought, why would you waste such a good bird on such an awful dish. I guess I've never had a really good chicken noodle soup … until now.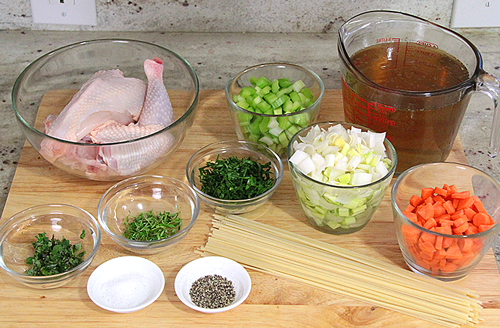 Most of my experience eating chicken noodle soup was in restaurants where they over-salt their soups and usually take the cheap route. They give you about 2 pieces of overcooked chicken and lots of noodles, along with some over-cooked carrots and awful celery.

My other experience of eating chicken noodle soup was from a can. The worst soup ever! Mostly sodium liquid that you add water to and rehydrate. There are no vegetables, teeny tiny bits of what I hope is chicken with noodles. Lots of noodles. I wish they could call it noodle soup and not lead consumers on. I guess you can see why I don't like American chicken noodle soup.

Luke really changed my mind. He converted my hatred for chicken noodle soup into actually liking it. Of course, anything made from scratch usually turns out good. This was the case for this soup. We used a Shinsin Earth Brown™ chicken. It's a brown feathered chicken, not a white feathered chicken. Brown feathered chickens are usually free range and active. They love to roam around and they are a bit gamey in taste because of this. Their meat is also a bit firmer than the usual white chickens you buy at the grocery store.

Brown chickens really make a better soup. The meat is made for soups. The tougher meat is meant to be cooked a lot longer than white meat. So, if you had to keep soup for a long period of time to serve guests at a party or in a restaurant, this is the best chicken for that soup. Luke also used lots of vegetables and only a small amount of noodles. This was my kind of soup. My favorite types of soup are the ones were you have at least one bite of each thing in a spoonful. A piece of chicken, a piece of carrot, some celery, some herbs, a noodle and some of the broth.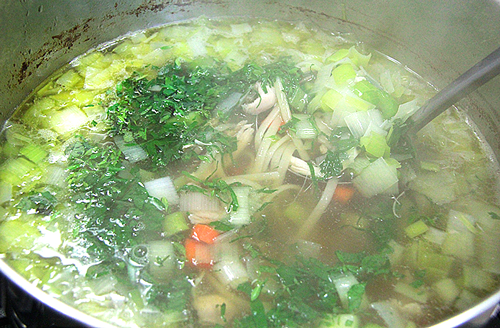 It was delicious. I loved that the chicken wasn't overcooked and the vegetables were still crisp. I loved that there were some noodles, but I wasn't just eating noodles. The majority of the soup was chicken and vegetables.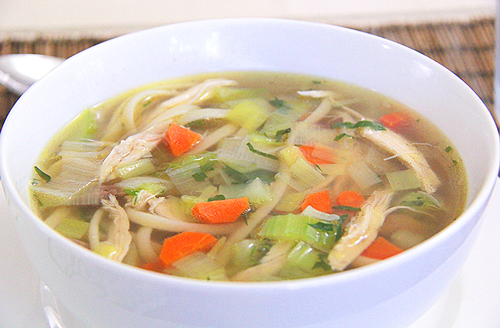 | | | |
| --- | --- | --- |
| Chicken Week: Chicken Noodle Soup | | |
Prep time: 20 mins
Cook time: 1 hour 20 mins
Total time: 1 hour 40 mins
Ingredients
4 quarts homemade chicken stock (see recipe below)
1 Shinsin Earth Brown whole chicken, cut into pieces, breast, wings and leg quarters. Save the back and trimmings for making homemade stock.
2 carrots, medium dice
1 leek, well-washed and chopped, white and light green only
3 stalks celery, medium dice
1 Tbsp fresh thyme, chopped
1 Tbsp fresh oregano, chopped
1 Tbsp parsley, chopped
Salt and pepper to taste.
1 inch round of fettuccine noodles cooked according to package directions. Of course, you can use linguini or papparadelle noodles. Just depends on how wide you like your noodles.
Instructions
Cook noodles slightly less than al dente, to package instructions. They will finish in the soup. Drain and set aside.
In a large pot, bring chicken stock to a boil. Add Shinsen Earth Brown chicken. Lower heat and simmer for 60 minutes until chicken is done. Remove chicken from pot and let cool.
Remove bones and skin from chicken. Cut chicken down to bite-sized pieces.
Add chicken back to pot.
Place carrots, celery and leeks into pot and cook until tender. About 5 minutes.
Add cooked noodles.
Add thyme, oregano and parsley into pot. Cook for about 1 minute.
Salt and pepper to taste. You will need more salt than you first think. There is lots of liquid and no salt in the homemade chicken stock. You'll be able to taste when the flavors come out with the right amount of salt.
Serve.
Enjoy!
Homemade Chicken Stock recipe
My favorite thing was Luke's finishing touches. He added fresh herbs at the end. It really made a difference in taste. It made the soup really fresh and healthy feeling. It was an amazing soup.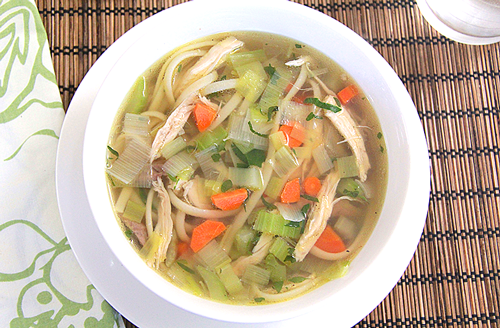 Thanks, Luke, for converting me to an American chicken noodle soup fan. You can get fresh Shinsin Chickens daily from our friends at New American Poultry at 8612 Younger Creek Dr. in Sacramento.