C – Soup Tuesdays!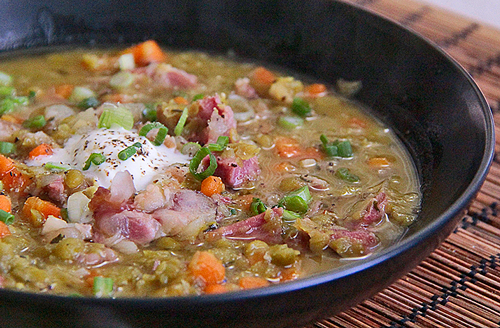 My husband was in awe of a coworker who committed to bringing a new type of bread each week to share with everyone at work. It gave them an appreciation of the art of making bread. Monday's are great. Everyone looks forward to getting this Monday treat.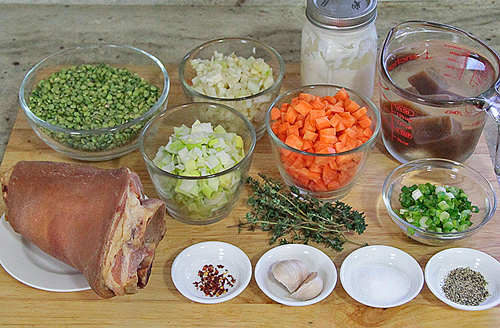 My husband would come home on Monday nights and tell me about this wonderful bread he had that morning. He would tell me that he wished he could do something like that for the team, too.

"It brings the team together and creates a great community." he said. I agreed and asked him what he wanted to do.
"Can we make baked goods?" He asked.
My response was "I don't like that idea. Two days full of carbs and sugar might lead to an unhealthy team."
"Then, what do you suggest?" He asked.
"How about savory soups instead? It will fulfill everyone's 3:00pm hunger cravings without spiking their blood sugar levels. Also, it's healthy and really easy to serve. Just heat it up and have bowls, spoons and ladles for them to serve themselves." I said.

He didn't quite like the idea. But, he went along with it, since I wasn't going to help him with his baking idea.

Soup Tuesday has been a great Sunday date adventure. My husband learns how to shop for ingredients, chop them up precisely how I suggest and cook the dish. I get to spend time with him, as well as practice being patient (There's a lot of practice for me.).

We make the soups on Sunday and he serves it on Tuesday. We bought a hot plate for him to heat up the soup at work. It's almost fool proof. It's become a popular thing that most of his team enjoys. One week we skipped Soup Tuesday and it was greatly missed. The following week, we served chicken noodle soup and it was gone it 20 minutes.

We are starting to take requests now. This split pea soup was our first request. It's a bit of a challenge to take requests, since most of the suggestions I've never eaten or cooked before. Occasionally, we test them out a few times before we decide on making a big batch for the team.

I was lucky to practice making this one. I made a huge mistake. I burned the peas as well as added the whole smoke ham hock before boiling it first. Everything tasted like burnt peas and ham hock.

The second time was different. It actually tasted good. The peas were cooked perfectly. It's a chunky split pea soup with lots of orange carrots and pink pieces of ham hock, without too much of a ham hock taste. It was really good.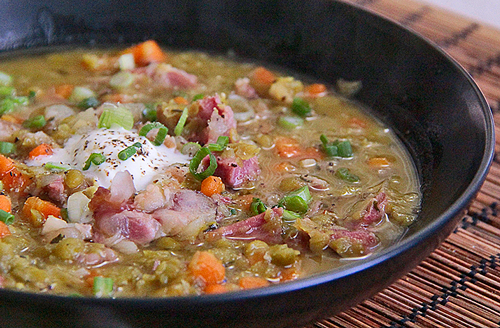 | | | |
| --- | --- | --- |
| Hearty Soup Week: Split Pea Soup | | |
Prep time: 15 mins
Cook time: 2 hours 25 mins
Total time: 2 hours 40 mins
Ingredients
2 pounds smoked ham hock
2 Tbsp grapeseed oil
1 leek, light green and white part, chopped
3 carrots, peeled and chopped
½ fennel bulb, chopped
3 garlic cloves, minced
2 Tbsp fresh thyme leaves
⅛ tsp red chili flakes, more if you want it spicier
2 cups dried green split peas
8 to 10 cups chicken stock, depending on how soupy or thick you want it.
Salt and pepper to taste
Creme fraiche for topping
2 green onions, chopped for topping
Instructions
Score ham hock in a crisscross design.
Bring a large pot of water to a boil. Add ham hock and cook for 1 hour. Add water if needed.
In a dutch oven or heavy pot on medium high heat, add grapeseed oil. Add leeks and cook until soft. About 5 minutes.
Add carrots, fennel, garlic, thyme and red chili flakes. Cook until soft for about 5 minutes.
Add green split peas. Mix well.
Remove ham hock from boiling water and add it to the soup pot. Add stock, also.
Bring to a boil, then reduce to a simmer. Cook for 45 minutes to 1 hour, or until peas are cooked and soft. Stir occasionally.
Remove ham hock. Let cool. Shred into small bite-size pieces. Discard bone. Add ham hock into soup pot. Mix well.
Season with salt and pepper.
Serve with crème fraiche and green onions on top.
Enjoy!
I love these days of making soups on Sundays. We love to share, so it's a great opportunity to make soup for lots of people. I love hearing the team's reaction. They are very appreciative.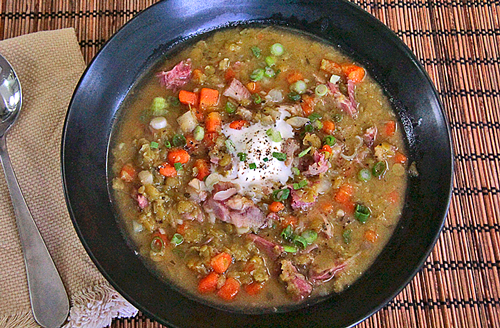 I am not sure how long these Soup Tuesdays will last. But, I am enjoying the experience of making soups with my husband every week.