Update and Redux: C – I have never been a big fan of beans. But, after eating this spicy black bean soup, I started to like beans. I never thought I would. There's something about the combinations of flavors in this soup that makes me want to eat it over and over again. It's one of the most delicious vegetarian soups we have ever made.
C – Have you ever looked at a recipe and imagined what it would taste like?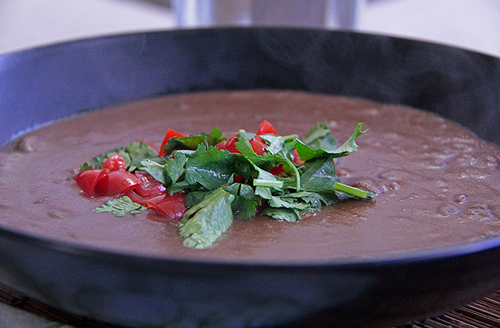 I do it all the time. Since we have been doing this blog, we have been getting really good at imaging what things will taste like. Sometimes, I can even predict something will taste bad just by looking at the ingredients.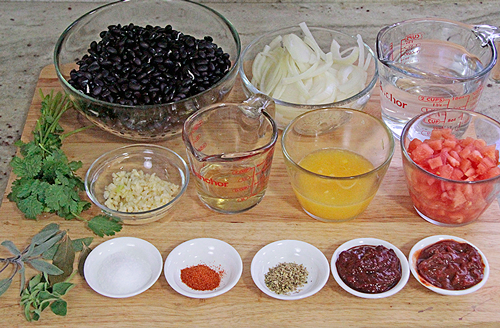 Like, for example, when Jim wanted to make a braised pork and celery root dish. I knew that was going to be a bad experience. It was.

This black bean soup recipe was one that I looked at and immediately thought it was going to be good.

I don't usually say that about a dish with beans. This time I was really excited.

When I made this soup, I discovered that I had underestimated just how good it was going to be. WOW! It was amazing.

This soup was so flavorful. There was a nice spiciness to it. But, not so spicy that you couldn't eat it. I loved all the herbs and rich flavors.

The sherry made a simple soup rich and delicious. The orange added a refreshing taste that was perfect. The chopped tomatoes and cilantro added a bit of freshness that complemented this winter soup really well.

I am still amazed.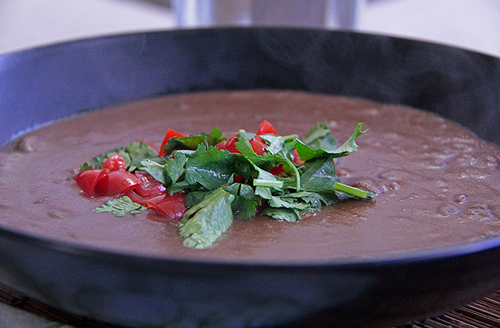 | | | |
| --- | --- | --- |
| Vegetarian Soup and Stew Week: Spicy Black Bean Soup | | |
Prep time: 25 hours
Cook time: 1 hour 20 mins
Total time: 26 hours 20 mins
Ingredients
2 cups dried black beans, soaked and soaked overnight
6 cups cold water
1 fresh oregano sprig
2 bay leaves
2 fresh sage leaves
1 Tbsp olive oil
1 large yellow onion, thinly sliced
Salt and cayenne pepper
½ tsp dried oregano, toasted
8 garlic cloves, chopped
2 Tbsp Chipotle puree (blend 2 chipotle with juice and add 1 teaspoon vinegar)
2 dried Ancho chilis
¼ cup dry sherry
1 fresh tomato peeled, seeded and chopped. Divided.
½ cup fresh orange juice
1 Tbsp chopped cilantro
Instructions
Roast Ancho chilies in a 400 degree oven for 5 minutes until they are lightly toasted.
Soak in water for 10 minutes. Remove tops and seeds. Add to a food processor and grind until fine.
Rinse and drain beans. Place them in a pot with the cold water, oregano, bay leaves and sage.
Bring to a boil, then reduce heat to simmer, uncovered, until the beans are soft. About 20 to 30 minutes.
Heat oil in a saute pan and add onions, ½ teaspoon salt, ⅛ teaspoon cayenne and the toasted oregano.
Cook over medium heat until the onions are soft. About 7 to 8 minutes.
Add garlic, Chipotle puree and 1 heaping tablespoon of Ancho chili puree. Saute for 3 to 4 minutes.
Add sherry and simmer until it is reduced to ½. About 1 to 2 minutes.
Add half the tomatoes and ½ teaspoon salt. Cook for 10 minutes.
Set aside 1½ cup beans and remove herbs and bay leaves.
Combine the rest of the beans and their broth with the tomatoes and onions.
Puree in a blender or food processor.
Pass through a food mill to remove the bean skins and return the puree to the pot.
Add the reserved beans and orange juice.
Season with salt and cayenne to taste.
Cover and cook over low heat for 30 minutes.
Toss the tomatoes and cilantro together.
Garnish each serving with a spoonful of the mixture.
Serve.
Enjoy!
We ate this with tortilla chips. I loved every bit of it.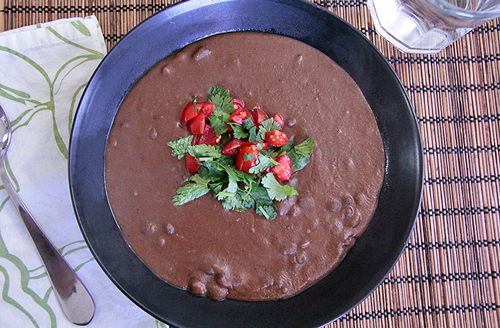 Hope you try it. It was delicious.
Adapted from "Fields of Greens: New Vegetarian Recipes From the Celebrated Greens Restaurant" By Annie Somerville.