J – I can't always go to Paris when I want …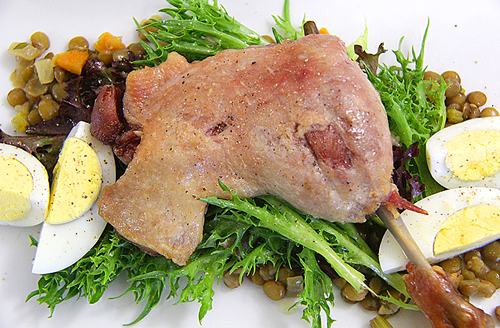 Too bad. But, I can easily go to San Francisco and get my French fix. I have a favorite boutique hotel, a fabulous cafe nearby for un café [coffee] in the morning and several quite-French restaurants in the neighborhood. One evening, I had a wonderful duck confit dinner at Cafe Claude. I felt transported.
Actually, I might be partially to blame for this duck confit madness. After that dinner, I just had to recreate the dish. Of course, one necessary ingredient is duck confit. I mentioned this idea to Luke. The rest is history.

As I recall eating the dish, I had wanted to make a few adjustments. The vinaigrette had too much mustard and the egg was hidden under the frisee. Otherwise, the confit was incredible. Their dish was pretty much a success … but, we can improve it.

This recipe is super easy … once you have the duck confit. You can prepare the lentils in advance. Be sure not to overcook them, because they will cook a bit more when you reheat.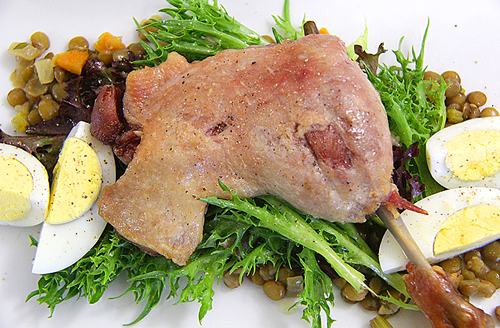 | | | |
| --- | --- | --- |
| Duck Confit with Frisee and Lentils | | |
Prep time: 10 mins
Cook time: 8 mins
Total time: 18 mins
Ingredients
1 duck confit legs
1 Tbsp grapeseed oil
1 hard boiled eggs, peeled and quartered
20 small sprigs of frisee
2 cups cooked Luke's Lentils
1 Tbsp fresh tarragon, chiffonade
1 Tbsp red wine vinegar
½ shallot, minced
Salt and pepper to taste
3 Tbsp olive oil
Fresh ground pepper
Instructions
Preheat oven to 325 degrees.
In a small bowl, place tarragon, shallot, red wine vinegar, salt and pepper. Mix well. Whisk in olive oil slowly to emulsify. Set side until ready to use.
Place grapeseed oil in a small, oven-safe saute pan. Add duck confit and place in oven until heated through and crispy. About 8 minutes.
Place lentils on the bottom of a plate.
Toss frisee in a small bowl with dressing. Place on top of lentils.
Place 2 pieces of egg on each side of the plate.
Place duck confit on frisee.
Top with fresh ground pepper.
Serve.
Enjoy!
Luke's Lentils recipe
Need an elegant and fast weeknight dinner? This is it!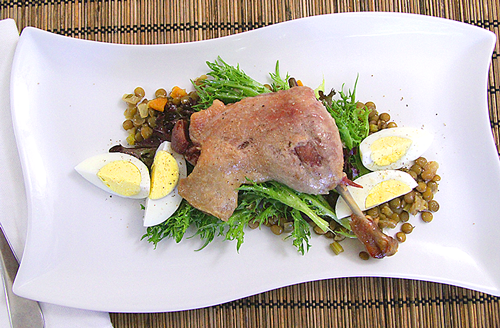 Thanks, Luke. I'm so glad we have a bunch of duck leg confit in the freezer!