C – I wanted to make an avocado ranch dressing, but it didn't happen.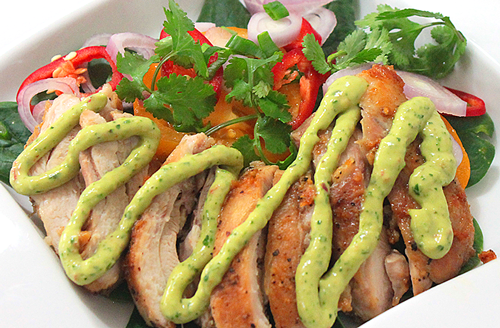 Jim was not at all interested in the suggestion. He liked the avocado part, but disliked the idea of having mayonnaise and sour cream in there as well. Oh well. Maybe I will sneak it in one day when he isn't looking. I have a great recipe and I still want to share it. But, when Jim suggested a lighter dressing, I agreed.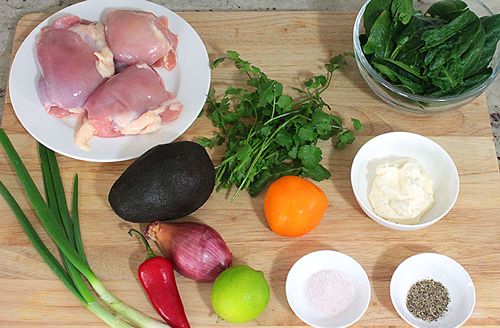 Ironically, this dressing isn't it. This dressing has avocados in it, but it still has mayonnaise. Lots of it too. I almost added a little bit of sour cream, too. But, I didn't have any.

I am starting to learn when I am testing something out like this dressing, I really have to be flexible and adjust as I see fit. I didn't want to add mayonnaise to the recipe, but ended up using some anyway. I wanted make the dressing creamy.

The avocado alone just didn't do it. Besides, I didn't have enough to add more. I also didn't want it to turn into a runny guacamole. Not good. So adding a bit of mayonnaise was the best thing to do.

The dressing turned out great. Creamy, salty and spicy. It was a great dressing for a spinach salad. Spinach is light and has a subtle flavor. Sometimes a good creamy dressing with a lot of herbs is really great for spinach.
Jim loved it and really didn't care that I added mayonnaise to the dressing. It was really creamy tasting and added to the great texture.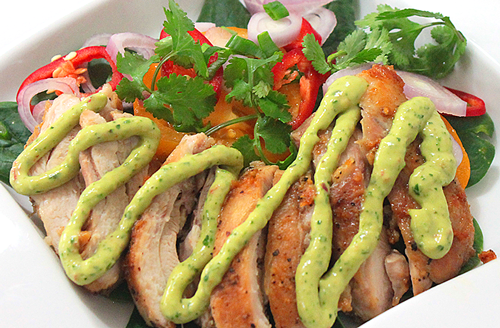 | | | |
| --- | --- | --- |
| Chicken-Spinach Salad with Avocado Chili Cilantro Dressing | | |
Prep time: 20 mins
Cook time: 10 mins
Total time: 30 mins
Ingredients
1 small avocado
1 shallot, peeled and sliced, divided (half for dressing, half for salad)
1 red Fresno chili, top removed sliced, divided (half for dressing, half for salad)
2 green onions, sliced, divided (half for dressing, half for salad)
1 lime, juiced
¼ bunch of cilantro
2 Tbsp mayonnaise
1 tsp white sugar (optional)
Salt and pepper to taste
2 boneless, skinless chicken thighs
1 Tbsp grapeseed oil
1 cup spinach, packed
1 yellow tomato, sliced ¼ inch thick
Instructions
In a food processor, place avocado, shallots, green onions and Fresno chili. Blend well.
Add lime juice, cilantro and mayonnaise. Blend until creamy.
Salt and pepper. Add sugar if you need to add some balance. If dressing isn't as creamy as you want it add more mayonnaise and adjust seasoning accordingly.
Salt and pepper chicken.
In a medium saute pan, place oil and heat on medium high. Add chicken and cook until clear juices are showing. About 4 minutes on each side.
Let rest for 5 minutes.
In a medium bowl, add two tablespoons of dressing on the bottom.
Add spinach and toss well.
Place spinach on serving plates.
Top spinach with sliced tomatoes, add remaining green onions, Fresno chilies and shallots.
Cut chicken into ½ inch strips on a bias. Add chicken to one side of the plate.
Drizzle more dressing on top of the chicken.
Serve.
Enjoy!
Next time, I won't tell Jim about the avocado ranch dressing idea.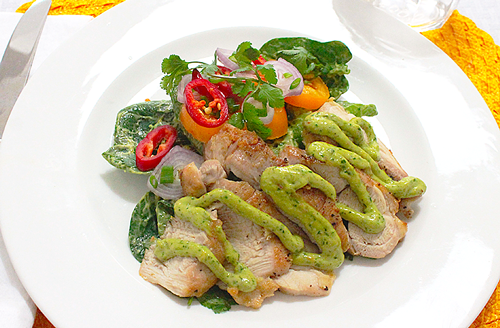 I will just make it. It is all about how you "sell" the dish, right?